Happy Tuesday!
Welcome to our live blog covering all the latest from the CJS newsroom and beyond.
We'll bring you plenty of snaps of our reporters as we look at a typical news day in the world of social distancing.
---
4.25 PM – That's a wrap!
And that's all from us today here at CJS News.
We'll be back to do it all again on Friday. See you then!
---
4.18 PM – And have you noticed the weather?
It's been a scorcher here in Cardiff today – with highs of 17 degrees.
---
3.30 PM – What's coming up on our 4pm bulletin?
Here's presenter Rhys Nelson to tell us more…
---
2.51 PM – A quick update
Here's a quick roundup of what we've been covering so far:
People are calling for Cardiff's parks to have more lighting to help keep runners safe
Protests outside Cardiff Bay police station last night following Sarah Everard memorial
Cardiff Council's new advice for dog owners
Reports of an abandoned horse in Llanedeyrn
---
1.58 PM – Final preparations underway
We're almost ready for our first broadcast of the day!
Our producer Roshni is excited – are you?
Stay tuned for the 2pm bulletin.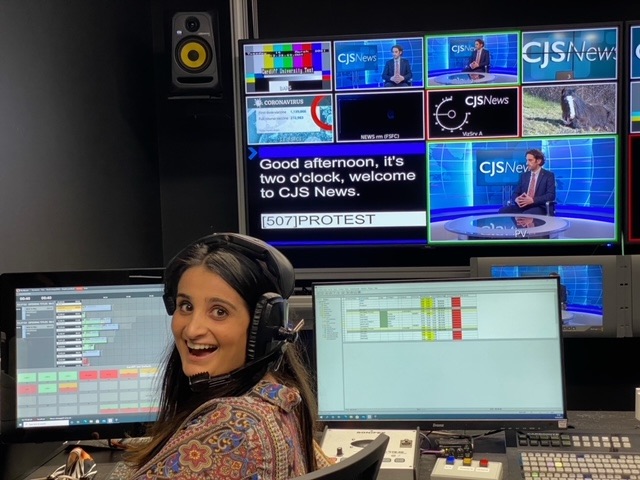 ---
1.27 PM – Some tips for Cardiff dog walkers
Dogs thefts have been on the rise since lockdown.
But here's ten top tips from Cardiff Council on how to keep your pooch safe when out and about walking…
---
12.50 PM – It's editing time…
Our reporters Meleri and Sara are back in the newsroom and are busy editing up content for the 2pm news bulletin…
---
12.16 PM – Getting those rehearsals in!
Live TV can be nerve wracking so it's always good to get the practise runs in early.
Here's newsreader Bertie Adam doing just that!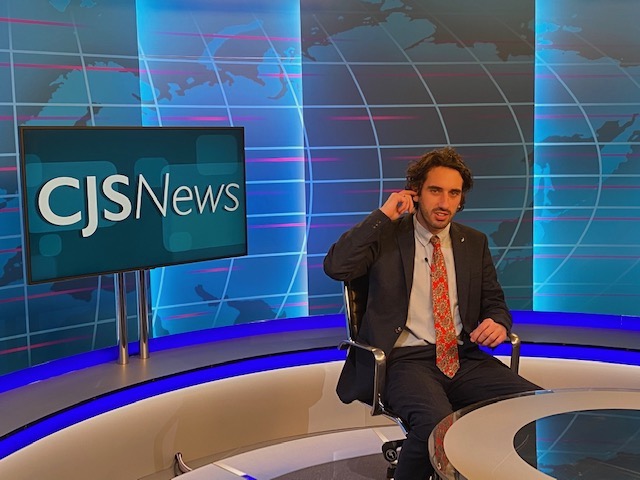 ---
12.00 PM – Reports of abandoned horse in Llanedeyrn
Who said reporting wasn't mucky?!
Alicia Pocock and Henry Payne are on the scene following reports of an abandoned horse in Llanedeyrn.
Here's the latest…
---
11.45 AM – Brighter parks in Cardiff?
Here's reporters Meleri Williams and Sara Dafydd in Llandaff fields this morning.
They're looking into a petition calling for more lighting in Cardiff parks to help make people feel safer.
---
9.58 AM – Interviews (at a distance!!)
It's safety first here in the newsroom today and we're all making sure we keep our distance!
Here's a sneak peak of Alicia Pocock speaking to Councillor Joe Carter about reports of an abandoned horse.
---
9.30 AM – A quick rundown of our news today
So here's a snapshot of what we're covering today here at CJS News:
The latest on protests outside Cardiff Bay police station yesterday
Petition for more street lighting in Cardiff parks amid safety concerns
Cardiff Council's new advice to dog owners to help stop thefts
A horse reportedly left abandoned in Llanedeyrn
---
9.10 AM – What's today's running order?
Decisions, decisions, decisions…
Discussions are underway and our producer Roshni is jotting down the running order for today's bulletins.
Plenty in the mix!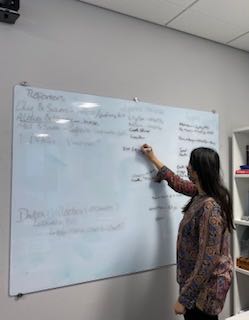 ---
8.30 AM – Editorial meeting begins
It's an early start here in the newsroom – lots of coffee at the ready!
Here's our producers Caleb and Roshni taking notes of everybody's stories – lots of interesting ideas so far…