March 2020 was a devastating time for the live music industry in Wales. The coronavirus pandemic closed the doors of venues across the world and the Land of Song fell silent.
A year on and the future is still unclear. Many have tickets to events they still can't attend and there is very little information on how and when we can return to them safely.
There is also a question mark over consumer confidence. When people are able to return to the music scene, will they feel safe enough?
Caitlin Kneebone-Hopkins, a 24-year-old studying at Cardiff University, is looking forward to getting back to her favourite gigs.
"I miss live music so much, especially my yearly visit to Greenman Festival. I was really excited to go in 2020 and when it was cancelled I kept hold of my ticket instead of getting a refund.
"I wanted to support them, and I also hoped that it would go ahead this summer," she said.
But, despite her desire to return to the muddy fields of music, she has some anxieties about attending such a large-scale event.
"It would mean the world to me for it to go ahead but the logistics of having a festival with so many people is a nerve-wracking thought. There has been talks of a third wave and with how things are going in Europe it doesn't look hopeful.
"I have been keeping up to date with the Dutch festival experiment. This does make it feel much more promising, but I would like to know it was safe."
Could test events help bring the beats back?
The Dutch festival experiment by 'Fieldlab Events' is researching a strategy that could pave the way to a safe return to live music.
They are holding large events that are designed to test ways to prevent and reduce the risk of the virus spreading.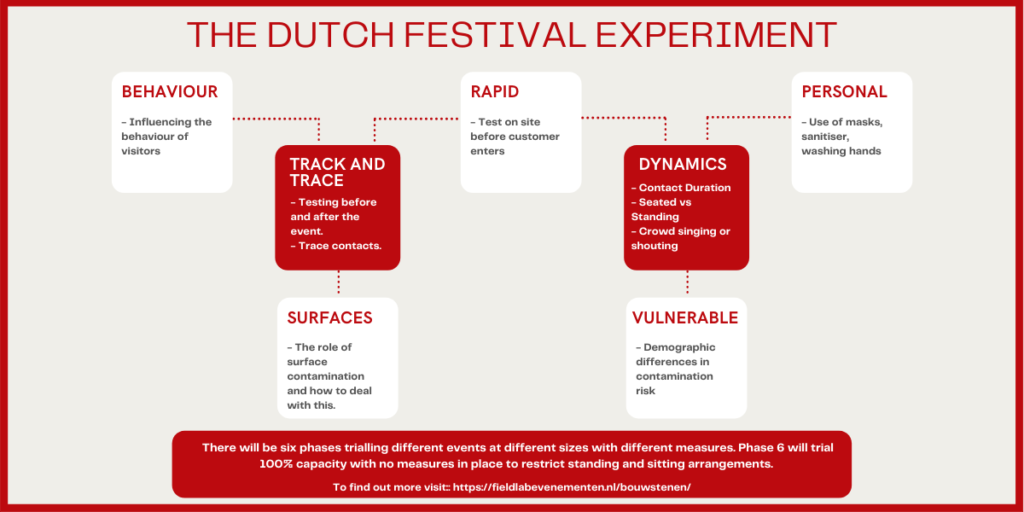 It is this kind of strategy that the Welsh music industry is calling for the government to trial here.
Samantha Dabb is the Welsh Co-ordinator for the Music Venue Trust and supports test events but has concerns about the lack of clarity from the Welsh Government.
"We haven't even been told when we can run test events yet. Of course, public safety has to come first but without these tests we have absolutely no way of planning for the future," she said.
"Live music is not sustainable with socially distanced shows. It's not what we do and it's not why people come. We can run smaller, socially distanced events as a test and then I'd like to see something like that. But, then we would need to reduce social distancing, test that, and see how it goes.
"If the world was to remain socially distanced forever, I don't see a future for live music. That's a really negative thing to say but, unfortunately, that's the way it is."
The UK government has announced that they will be running large scale event trials (highlighted on the graphic), including music events, in England over the next few months. They will focus on covid-19 testing and ventilation.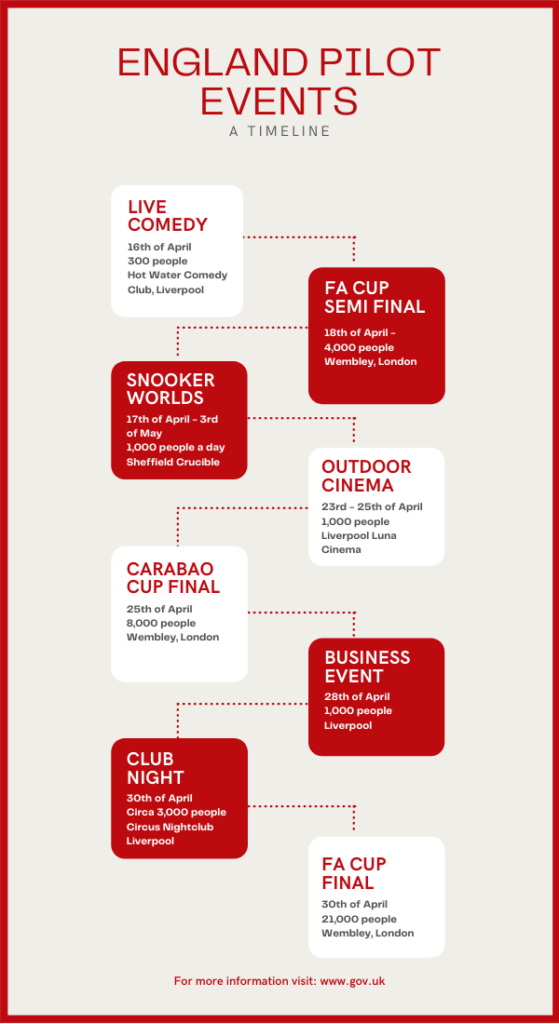 And, what about vaccine passports?
The English research will also consider the role that vaccine passports might play in returning to large scale events.
The Welsh Government have also said they are considering this.
This has been a very noisy debate, largely centred on the pub and hospitality industry, but also from those in the music industry.
Although many people are keen to get back to live events, there is concern amongst those in the industry that it could do more harm than good.
"Vaccine passports are incredibly unfair when there are huge portions of the population, in a lot of cases, those who would most like to attend gigs, that have not been offered them." Samantha Dabb said.
A Cardiff resident and self-employed stage manager, Tomos Derrick, said: "I would do anything to get back to the job I love and the gigs I want to go to. If vaccine passports gave us the opportunity to return to these things, then I wouldn't be against it."
Meanwhile, on the Welsh music frontline
Angie Evans, a director at Fuel Rock Bar in Cardiff, has been at the heart of the city's grassroots music scene for over thirteen years.
For them, it's not concerns over capacity but the experience that their concert-goers will have in their bar.
"It's about how you manage the people that are here. There might be twenty people attending an event, but how do you stop them all from wanting to be at the front by the stage? Or, making them socially distance?
"Even for our performers, there will be rules about singing and how far away they have to be from our audiences."
"We won't always be really busy, but we will have events that are full and that make us profitable and helps us to keep having smaller bands perform."
This is the distinct difference between reopening a pub or bar and getting live music back into these venues.
"I can't see Live Music returning anytime soon because it's not possible to keep going without that atmosphere.
"For us to support new talent and have people enjoy the experience we have to get back to some version of normality."
In spite of these difficulties, Angie is determined to find a way forward.
With the club closed, the team have been making some changes to the venue. They hope this will have a long-lasting impact on their future.
"We never get time to do work, we have like a week at Christmas usually. But, the last thing you want to do as a small business owner is ripping up floors over your holiday.
"So, it's been amazing to have time off to redesign and revamp the space. Fuel's layout doesn't lend itself very well to covid so we decided to change it up. We have moved the bar and create better access to the toilets and areas in the building.
"It's covid inspired but it will also work better when we are back to normal."
It's not all Doom and Gloom…
Getting back to normal is also the guiding thought for Cardiff Student's Union, one of the larger music venues in Wales' capital city.
A spokesperson said: "It would be difficult to imagine how socially distant events would be able to take place in small venues.
"However, we are confident with the successful roll-out of the vaccine programme and the general easing of restrictions across the UK, that we may once again be open our doors this year."
At this stage, it is impossible to see which approach will hit the right key for the music industry. But, one thing is for certain, the answer won't be a one size fits all approach.