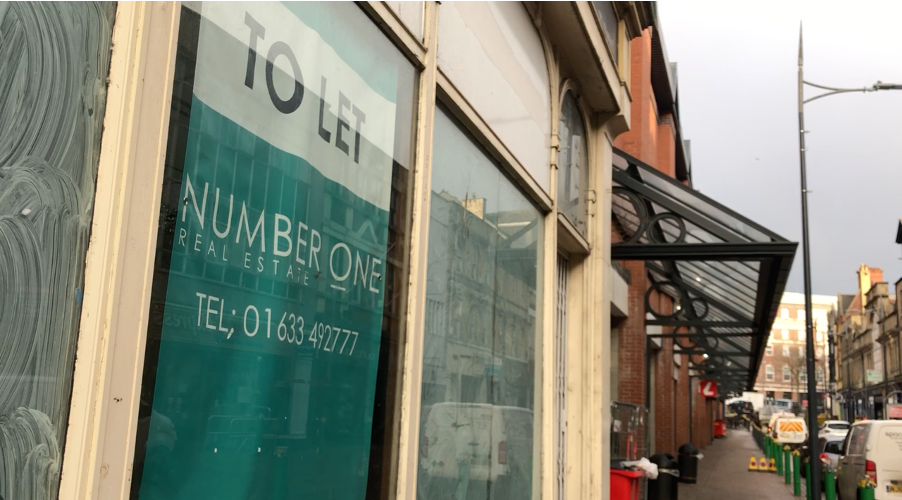 Almost a third of retail units in Newport are currently empty, making it the city with the highest percentage of empty shops in the UK, accoring to new data.
In the last year, more businesses have closed in Newport than the UK average, whilst fewer have opened, accoding to a report by the Centre for Cities.
The report points to a lack of high-skilled jobs in the city limiting the demand for businesses.
The High Street and Cambrian Road were pedestrianised at the start of the pandemic to help businesses stay open whilst socially-distancing.
One shop owner in Newport Arcade told CJS News that this caused parking and accessibility problems, which are to blame for a lack of customers: "The price of parking fees has just gone up and up and up when there's no need.
"People don't have to pay for parking in Spytty, which makes it more attractive. People don't have to pay for parking at Cwmbran, which is thriving in comparison." 
Dean Beddis owns a record shop in the arcade and believes supporting small businesses is the way to restart the Newport's shopping streets. 
"Every town that does well has more independent shops than chain shops.
"You go to Brighton, York, London, people look for the small stuff because you don't know what you're going to get, and in Cardiff with the arcades and the market." 
Newport City Council has hit back at the report, arguing that the real number is 22%, not 30%, saying, "The Centre for Cities assessment does not appear to differentiate between vacant units and units currently being refurbished or redeveloped'."
They point to projects like the transformation of Newport Market, the regeneration of Market Arcade and the Chartist Tower development all as units that the Centre for Cities has counted in their report.