More than two thousand additional residents' parking permits were issued to people living in Cathays in 2021 , compared the the previous year.
A Freedom of Information request (FOI) sent by CJS News found 7,749 permits were given in Cathays in 2021, compared to 5,380 in 2020 and 4,853 in 2019.
Cathays Councillor Sarah Merry said people changing their behaviours due to lockdown could be one reason why the number of permits in the ward has increased.
Whatever the reasons, residents have expressed their frustrations with the parking problems in Cathays.
'Parking affects my quality of life'
Antoinette Samuel has lived on Flora Street for over 50 years and says the lack of spaces affects her "quality of life".
"It's really upsetting, I can't go anywhere or do anything without thinking 'Oh God, I've got to be home by half four'", Ms Samuel said.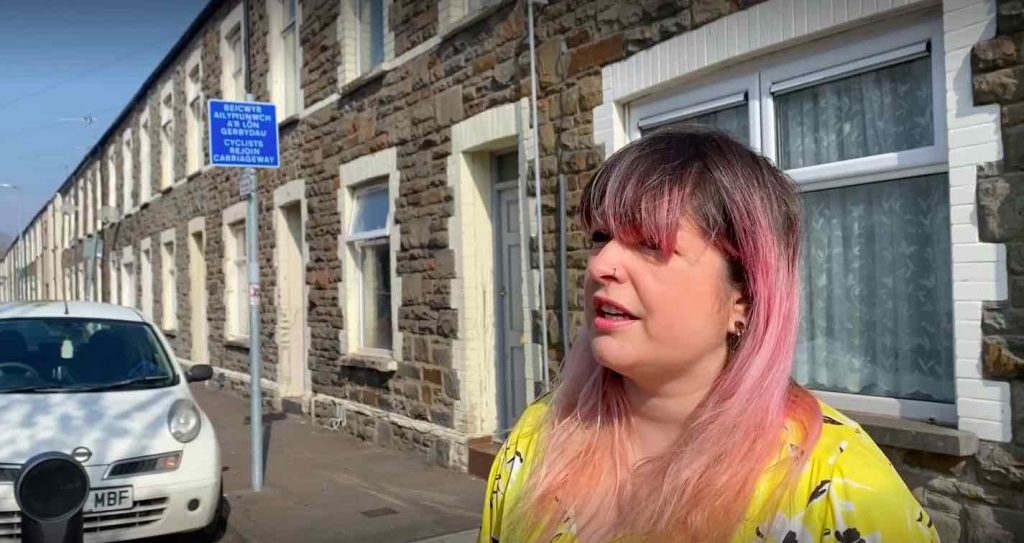 Amanda Butler, who lives a few doors down from Ms Samuel and has lived in her property for 11 years, agrees.
"We've had to change our lifestyle a lot," Ms Butler said. "My partner gets to work about quarter to six in the morning with the hope he can come home and, fingers crossed, he'll be able to park."
Ms Butler said she and her partner often don't use the car on weekends or in the evenings to save the hassle of having to find a space to park their car when they return home.
"We've had to adapt how we live really," she said.
The figures
CJS News sent an FOI to Cardiff Council asking how many residents' parking permits had been given out in Cathays in the past four years.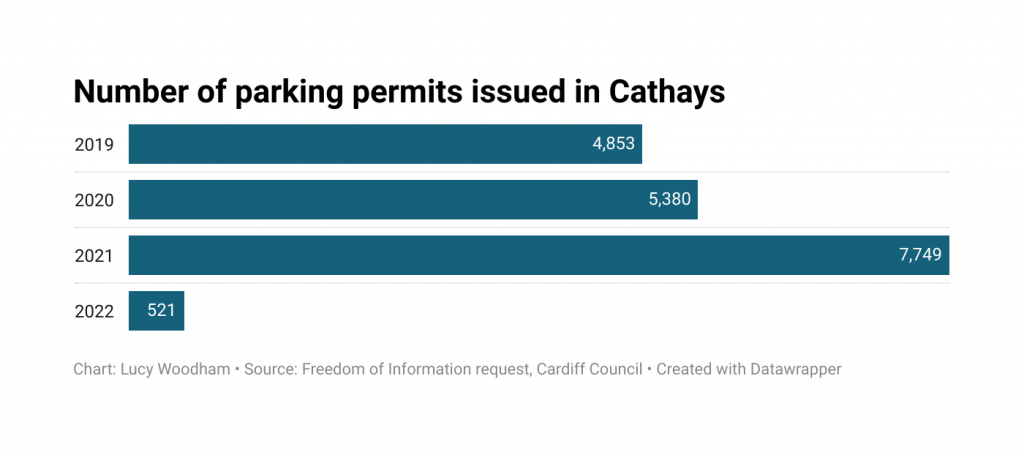 The figures showed a significant leap in 2021, with an additional 2,369 residents' parking permits given that year.
A maximum of three permits are allowed per property: two vehicle permits and one visitor permit.
Permits cost between £7.50-£30, depending on how many vehicles are assigned to the property.
Based on each household having a permit for one vehicle, Cardiff Council will earn nearly £18,000 from the extra permits issued in 2021.
Students in parking in Cathays
Cathays has a large student population and many bring their cars with them to university.
Ffion Evans, a trainee medic, lives on May Street with eight other students training to be doctors.
They each require a car to travel to their work placements in hospitals and GPs across South Wales.
Ms Evans' house struggles with parking and has to rely on free, non-residents parking spaces so they can all use their vehicles. They'd like to see exceptions for students who have to go on placement to be able to have a parking permit lasting the length of their work experience.
"We suggested a placement permit for the people that need the car for getting to different places for their degree", she said. "This could be an exception to apply for an extra permit."
What has Cardiff Council said?
Cathays Councillor Sarah Merry said the increase could be due to changing behaviours in the pandemic.
"Personally we suspect that possibly more students have been bringing cars but we have no evidence for that currently – possibly due to fears about getting home quickly if there was another lockdown and nervousness about public transport", Cllr Sarah Merry said.
Cardiff Council was contacted for request to comment.
Related stories: