Flounder talks to podcaster and TV assistant Emma Tindall about how navigating your 20's can lead to embracing failure in all of its forms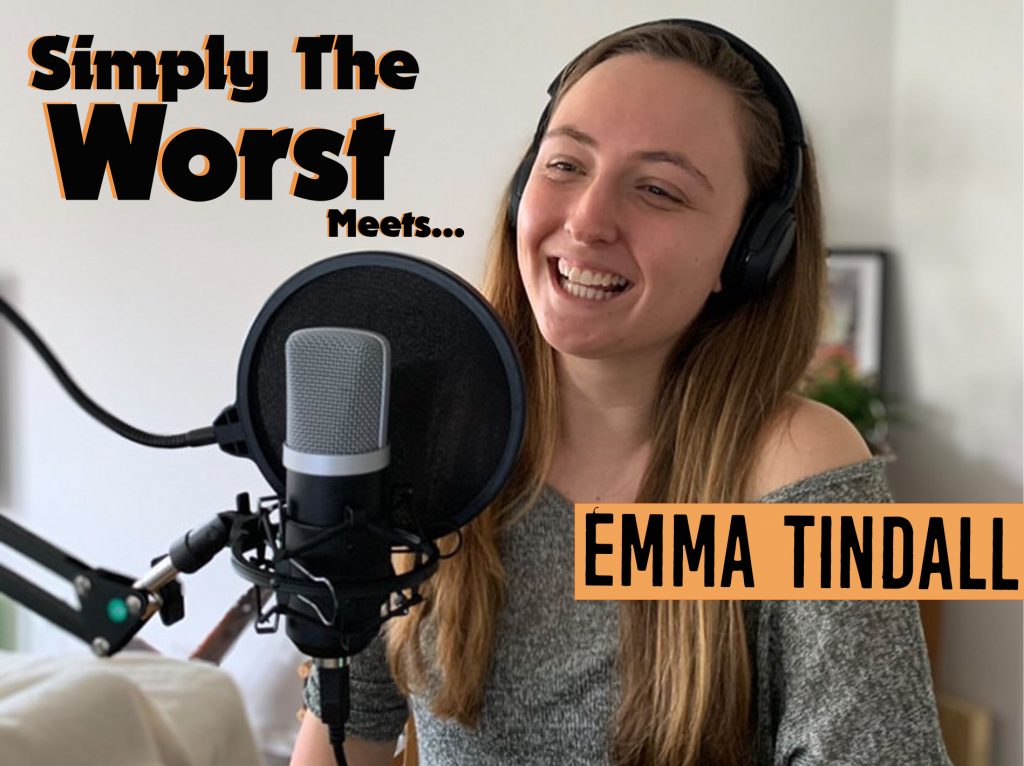 In this episode we speak to the wonderfully wise Emma Tindall, TV freelancer extraordinaire and host of her very own podcast, 20 Not Something, a show for those 20 somethings who haven't quite discovered what their 'something' is yet. Emma's had some amazing guests on the podcast and it's clear she's picked up some neat tips on keeping things in perspective – even when that seems impossible. Here, we ask Emma some burning questions about what to do when you find yourself floundering.
Q

: What was your understanding of failure when you were growing up?
A: I never felt pressure from external factors to succeed. My parents said to 'always do the best you can do and that would be good enough.' That was the ethos I had. I was still definitely terrified of failure, I hated the way it made me feel. In school there is a huge dichotomy between success and failure, we are taught to believe they are the complete opposite of one another.
"The path to success and the path to failure are exactly the same; they just fork off at the ends." When you think of it like that it makes the whole process of dealing with it a lot easier. It doesn't mean the whole thing is a failure, it means that one cog in that particular journey didn't work.
Q: Can you remember , was there a moment in school or later on where you were striving for something and you didn't get it, did you have that moment where you felt like a failure?
A: After uni I graduated and I was really proud of what I'd achieved and then I tried to get into tv where I work now – it is a notoriously competitive industry. I was on several grad scheme auditions and interview processes, I got whittles down from 700 people to 12 and they accepted eight. I fell at the last hurdle and didn't make the last eight. I was gutted.
"I just had so much hope and I thought I'd done all the right things and it just didn't work out."

Emma Tindall
The same thing went on to happen a week later, and then a month later, I just thought to myself, 'how is this fair?' I had done everything, I'd worked so hard at uni and gotten a good grade. That took me a really long time to get over, a year on I was still bitter.
Now I look back I think, 'oh my god, I didn't even want to do that stuff I was applying for'. I know it's such a cliche but you do learn so much from your failures, if I hadn't of failed at that I'd probably be doing something now that I don't even enjoy
Q:
Is that where the inspiration from the podcast came from?
A: Yes, definitely it had a huge impact. I talk to all of my guests and they tell me the same. From failing a degree to failing to look after your house plants, it's a spectrum. What 20-Not Something has taught me was that everyone goes through sh*t, you just have to find the gold in it.
Each guests reminds me that in your 20's you f*ck up so many times. It's like a big reassurance that everythings going to be alright.
Q:
How do you deal with working in an industry that presents a slightly glossier version of life with your own outlook which is celebrating failure? 
A: People say, 'oh my god that's amazing it must be so glam' about the industry, but it's not that. It's the hidden behind the scenes stuff I love so much. It's such an amazing job to be able to make things that people watch on tv.
There is a sense of striving for something and wanting to make your way up for sure, and you can get all encompassed by it, working overtime and not having any holidays. I am a driven person but sometimes I struggle with those internal questions: 'Is this how I want to live my life?' What tv has taught me is that ultimately even if you do everything right it's a very competitive industry.
Q: Do you think that the pandemic has changed your outlook on how we should achieve our goals?
A: I think it's ultimately taught us that we are not in control. I do also believe that you have a level of autonomy over your life and you have control over the decisions you make but I think one thing the pandemic has taught me is that sometimes things happen and you cannot do anything about it. It's a really important lesson because it teaches us how to fail, in that regard, because you can do everything right and it still doesn't go to plan.
Q:
Do you worry with everything opening up again that we're going to very quickly go back to our old ways, forgetting that life is more than working towards a certain goal? 
A: I struggle to believe in a year's time, if we are back to some form of normality by then, we will forget. Once you get through the hard stuff you do start to forget, it's a coping mechanism. I worry that people are gonna forget, even myself when it comes to pubs opening, I can't say no. It's something I need to work on and many other people do too!
Q:
Being in a competitive industry, how do you handle comparing yourself with others?
A: It comes back to the age thing for me. You get into the industry with an entry level job, normally early 20s, and you work yourself up. I was a bit older than the norm and had a complex about that. I was reporting to people classifying as my boss who were younger than me and I found that really tricky because I was thinking, 'Ugh I should be there, I should be them', but I think with the whole comparison thing you cannot compare anyone or anything because we are all so different. If I had done that then I wouldn't have gone travelling or completed my MA. I have to take a step back and realise it is such a waste of time, it is the thief of joy. The only way you can compare yourself to anything is by who you were yesterday. It's a cliche but true.
To hear us fire even more questions at Emma and play some fun Flounder games, listen to the whole podcast on our soundcloud.
To listen to more episodes of Simply The Worst featuring guests like Jackie Weaver and Andrew Loyd click here