The pair have got big attitudes to match their big hair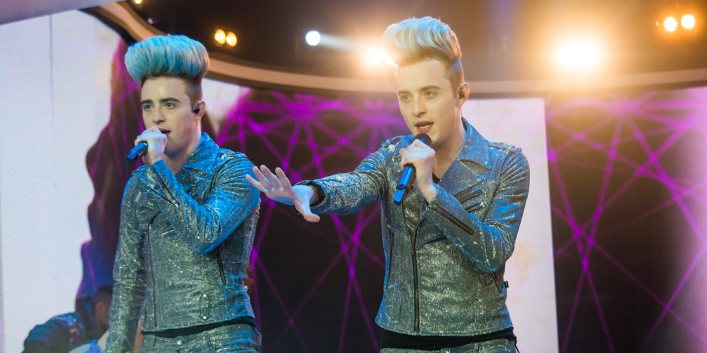 Reality TV stars and pop singing duo Jedward have taken to Twitter to voice their opinions on anything and everyone from Piers Morgan, Keir Starmer, and the Catholic church.
John and Edward Grimes, who shot to fame in 2009 after appearing on the X Factor, have transformed from former talent show contestants to what twitter user @PaddyDuffy described as "anti-imperialist, anti-clerical, take-no-prisoners' activists" over the last few days.
Here are some things they had to say.
No one is safe
Of course, there has been no escaping the news of Piers Morgan's departure from GMB recently, and it hasn't gone unnoticed by Jedward who have been, shall we say, rather vocal about the former presenter in the past, which has resulted in many a Twitter feud.
In the same breath, they even criticised the man who discovered them, Louis Walsh!
It seems no one is safe from their wrath…
What wrinkly white old fart could replace Piers?
Oh wait Louis Walsh!

— JEDWARD (@planetjedward) March 9, 2021
Least of all fellow TV duo Ant and Dec, who the pair called out for not using their platform as a space for change, as they are.
Like @AntandDec are you ever gonna speak out and use your platforms for change! We'll send you a takeaway of common sense

— JEDWARD (@planetjedward) March 14, 2021
Next up on the pair's hit list is politician and current leader of the Labour Party, Keir Starmer.
The pair slam Starmer and call his recent actions as Labour leader 'pointless', although they do admit they don't really know who he is.
Don't really know who you are @Keir_Starmer but get it together your actions are kinda pointless!

— JEDWARD (@planetjedward) March 15, 2021
Down with the institution
It's not only people that Jedward are coming for but whole institutions.
In this tweet, they tag the Royal family to endorse them to take action on Prince Andrew, who has avoided questioning by the FBI regarding his relationship with Jeffery Epstein.
Prince Andrew needs to be locked up! @RoyalFamily

— JEDWARD (@planetjedward) March 14, 2021
This was their reaction to the news that the Catholic church will not bless same-sex unions because, they deem it sinful.
Oh, and they tagged the actual Pope.
The Catholic Church is the main cause of homophobia! It's time they remove their sinful teachings from our schools and Life! You don't own God! 🙏🏼@Pontifex we cannot bless you pic.twitter.com/gIuiUjJbAT

— JEDWARD (@planetjedward) March 15, 2021
They've also come out against the patriarchy and are calling for more women on TV to publicly talk about the issues they face at the hands of men over the promotion of beauty products.
Interesting, to say the least!
Women need the Women they see on TV everyday supporting their cry for help and change,not just trying to promote hair dye kits to them! Enough is enough!

— JEDWARD (@planetjedward) March 14, 2021
After sharing this continuous stream of controversial tweets, Jedward warned their fans they would not be silenced and to pay attention if anything 'suspicious' happened to them.
If something suspicious happens to us! We aren't gonna be silenced! Just for Future reference incase anything happens! ❤️

— JEDWARD (@planetjedward) March 14, 2021
Some people think they were hinting that they may be on someone's hit list!?
Stranger things have happened, I guess.