Critically acclaimed? Who cares.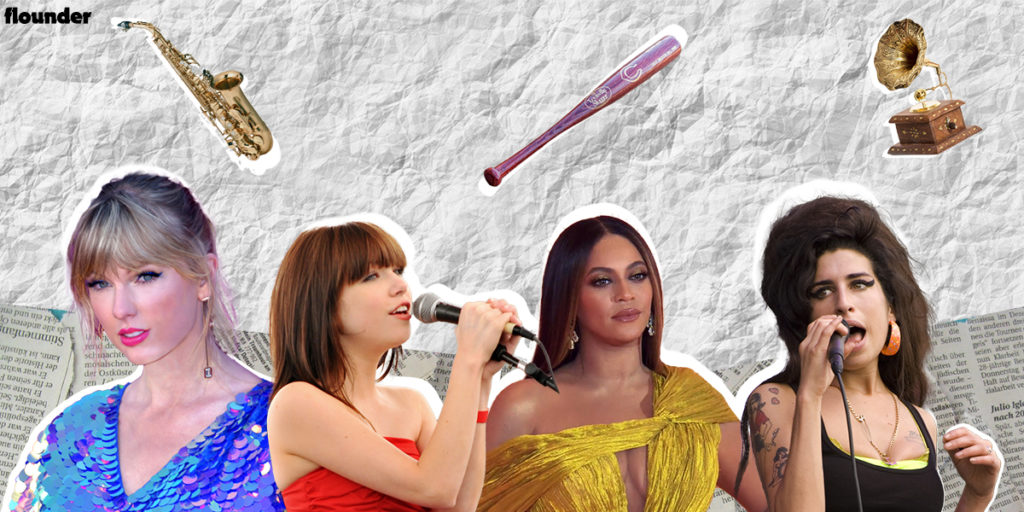 Here are five great albums that were snubbed by the GRAMMYs, including Taylor Swift and Beyonce.
Back To Black – Amy Winehouse
Back to Black catapulted Amy Winehouse to household name status. In terms of nominations, the album did incredibly across the board. In fact, Winehouse was the first British woman to win five GRAMMYs, with notable victories across the 'big four' categories, including Best New Artist and Best Pop Vocal Album. Despite this success, one notable omission was that of Best Album, where it lost out to Herbie Hancock's Joni Mitchell Tribute album, River: The Joni Letters.
Back To Black has stood the test of time, only further cementing itself as a modern classic. Each track encompasses fantastic lyricism delivered via Winehouse's unparalleled vocal style. The album was a complete package beyond its crowning jewel of Rehab, and deserved to be recognised as such.
Lemonade – Beyonce
Lemonade was a cultural reset. Despite dropping unannounced overnight, it set the gold standard for all visual albums, a trend which has seen a notable resurgence since its 2016 release. The album tackled everything from women's rights and liberation, to infidelity, police brutality, systemic racism and more. It was, and remains, a political masterpiece, just as much as a musical one. It shifted the very fabric of relationships pop stars now maintain with politics.
Despite all of its accolades and the nine nominations to its name, it lost out Album of the Year to 25, an album so inoffensive, it makes vanilla seem spicy. We can't say for sure that this reflects a greater trend within the GRAMMY's awarding criteria towards certain groups or genres, but it certainly provides suitable whiffs of injustice. Adele even said herself at the awards that Lemonade should have won; she was probably right. 25 is a thoroughly okay album, but compared to the gargantuan impact of Beyonce's work, it's nothing but a minor background drip into an otherwise stale pond.
Emotion – Carly Rae Jepsen
Really? Of all of the snubs we could have chosen, why choose an album from an artist who is almost exclusively known for her irritatingly catchy 2012 hit, Call Me Maybe? Well, perhaps surprisingly to those who are unfamiliar with Jepsen's work, her musical career did actually continue past her anthemic duo of hits from 9 years ago.
Emotion, released in 2015, is a masterclass in pop. Mirroring the wider societal shift away from generic teen-pop, the album draws from a wealth of 80s synths and retro feel, to great success. Its opening track, Run Away With Me, is one of the greatest pop songs ever written. From its strangely intriguing and unresolving saxophone to its infectious hook, the song is just a taste of the collection of masterfully crafted melodies packed within the album.
Many publications ranked it as one of the best albums of the year; not the GRAMMYs, though. Emotion was left with a grand total of zero nominations across the board. The album remains a fan favourite, but tends to fall on deaf ears of those who still associate Jepsen with her penchant for early 2010s bubblegum pop. Emotion has gone on to succeed without the GRAMMYs and various awards, but it still deserves more attention and acclaim than it currently possesses.
Melodrama – Lorde
Lorde's first album, Pure Heroine, kickstarted an entire genre of sad-girl-bop-pop, spearheaded nowadays by the likes of Billie Eilish. Lorde almost single-handedly shifted mainstream pop away from the exuberant teen-pop sound captured in albums such as Katy Perry's Teenage Dream, which had dominated the charts for years.
When Lorde returned in 2017 with her sophomore album, Melodrama, nobody knew what to expect. From the get-go, the album wastes no time diving headfirst into her strong vocals over an almost house-piano background. The entire album is a masterclass in masking introspective lyricism amidst conventional melodies, thanks in part to the work of Jack Antonoff's production. It is a timeless cult classic.
Melodrama received only one nomination at the 2018 GRAMMYs for Album of the Year, which, as you've probably guessed from its inclusion on this list, it lost. Adding insult to injury, the album it lost to, 24K Magic, was the musical equivalent of a gold-wrapped bread roll – shiny and glamorous on the outside, unimaginative and boring beneath the crust. I don't blame Lorde for gallivanting around Antarctica instead of making new music if that's how her masterpieces are treated. Melodrama deserved so much better.
Red – Taylor Swift
Red, Swift's fourth studio album, is one the greatest albums of the last 10 years. Within, the album jumps from genre to genre, mirroring the confusion and mental turmoil of anyone getting to grips with their early twenties. From the visceral heartbreak exhibited in All Too Well, through the ecstatic feel-good anthems of 22 and We Are Never Ever Getting Back Together, Red is Taylor Swift's magnum opus. Yet, it went home from the 56th GRAMMY Awards Ceremony entirely empty handed.
Remember Get Lucky by Daft Punk and Nile Rogers? Good single, right? But do you remember the rest of the album? Thought not. Well, Random Access Memories actually won Album of the Year in 2013, despite the fact that no one can list more than a single song from its tracklist. What's more, given the calibre of the other albums nominated, which included Kendrick Lamar's Good Kid, M.A.A.D City alongside Swift's Red, Daft Punk's win is downright odd.