New Horizons has provided comfort and consistency in a world that is anything but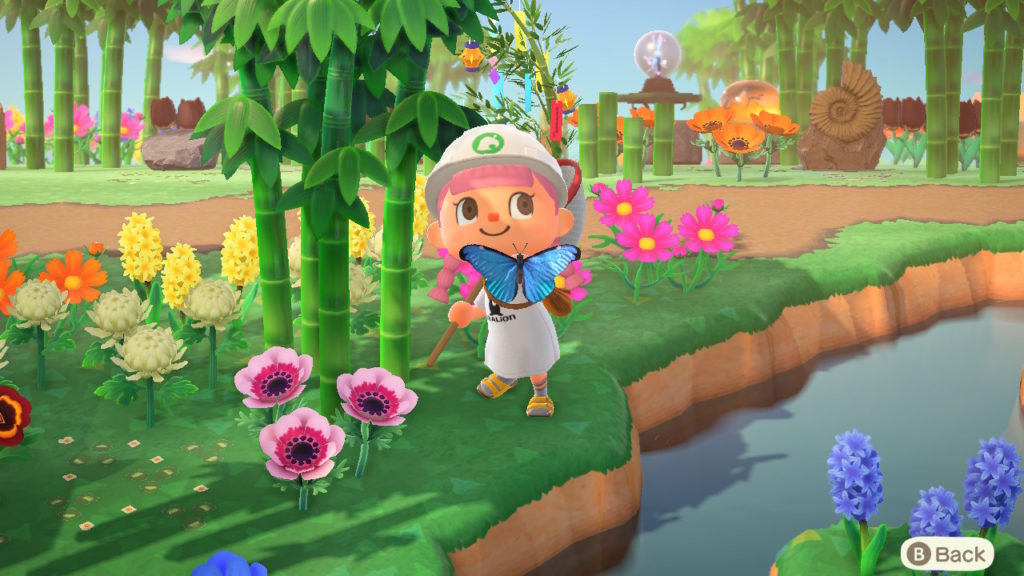 Animal Crossing: New Horizons could simply not have come at a better time than March 2020.
As the world descended into utter chaos, millions of players found refuge in the comfort of their very own private island, marooned away from all talk of the deadly virus sweeping across the world.
Tasked with establishing a functioning society full of animal residents, a shop, and a museum waiting to be stocked with native island creatures – the game was about as close as we were going to get to a world of sunshine and rainbows.
As of February 2021, the Nintendo Switch game has sold over 31 million units, shifting five million digital copies in a single month alone – more than any other console game in history.
If that doesn't give you an idea of the immense cultural impact Animal Crossing had during lockdown 2020, then nothing will.
Basically therapy
In a world failing to keep it together, Animal Crossing provided a place of certainty and consistency. A sanctuary going against everything the pandemic entails.
Its innocent nature, ever-evolving content, and capacity for daily game-play are just a few reasons why it became the lockdown lifeline we never knew we needed.  
Talking to my villagers and seeing my island grow brought me joy and I don't know how I would have managed without that escape
In fact, playing New Horizons helped many cope with their deteriorating mental health during the initial March 2020 lockdown period.
The therapeutic regular routine of the game consists of chatting with neighbours, scouting the shops for the latest products, fruit picking, fishing and de-weeding, to name a few.
As trauma and change therapist, Victoria Browne, explained, "Routine is extremely important for mental health because it has a direct correlation with productivity and mindset."
"When you have a routine, you're more likely to have a regular sleep pattern which can help improve your emotional wellbeing," she added.
The cyclical nature of the game which plays out in real time helped establish that all important routine, allowing players to carry out small repetitive actions which were almost like meditation.
People could be virtually productive even when productivity in real life was not possible due to mental health setbacks.
With Tom Nook (the game's shady island manager) constantly breathing down your neck for bells on a daily basis, he leaves you very little choice but to get up everyday and simply get grinding.
While you may think the pressure of paying off your mortgage (yes – even this seemingly innocent game cannot escape the constraints of capitalism) may cause unnecessary stress, having something to aim for without any repercussions provided a stress-free relief to the chaos of everyday life.
For Amy Owers, Animal Crossing came at a critical time, with the "wonder" of a new game helping pass the time and provide a much-needed distraction.
Similarly, Chloe Morgan said the game helped give her a structure to the monotony of lockdown life.
"I found going to my island everyday a way to escape the reality of being stuck at home," she shared, "and I got into a lovely routine of starting my day on Animal Crossing.
"Talking to my villagers and seeing my island grow brought me joy and I don't know how I would have managed without that escape."
Virtual Socials
New Horizons is designed to foster a sense of community. Whether that be with your own in-island residents, friends across the miles, or strangers you have met via social media.
The ability to meet up with real life friends through the game, something impossible to do in reality at the time, meant so much to Emma Hamed that she even got a tattoo of her virtual Animal Crossing friend group.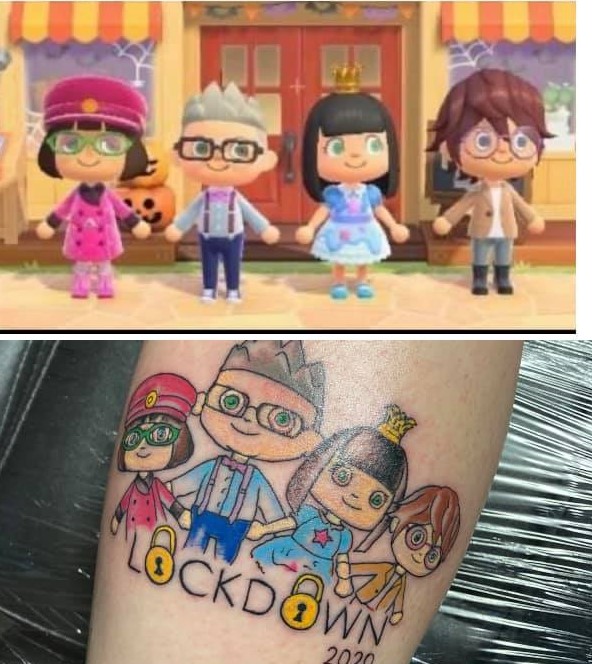 "Playing the game with my mates definitely got me through lockdown and I really don't think I would have coped otherwise," she said.
While in-game meetups with friends typically consisted of bashing each other with an axe or stealing fruit (non-maliciously of course), the chat function introduced an entirely unique way of communicating and maintaining relationships.
One couple even got married on the platform after their wedding was cancelled, inviting guests to watch the ceremony take place.
As for those whose friends hadn't joined the Animal Crossing hype, thousands found comfort in online communities which have consistently sprung-up over the last year.
India Davis, a member of the Animal Crossing Community (UK) Facebook group which has almost 50,000 members, said that during the pandemic, the page has allowed her to connect with a number of people from all over the country.
As none of her friends actually own the game, she turned to the group to meet other Animal Crossing fans which proved to be an overwhelmingly positive experience.
"The game has not only provided an escape from the world and its current situation, but also allowed people to dive into a place where they can connect with real people," she observed.
"Within the Animal Crossing world there seems to be respect, support and general kindness."