Thankfully, Leonardo DiCaprio does not feature on this list of *almost* winners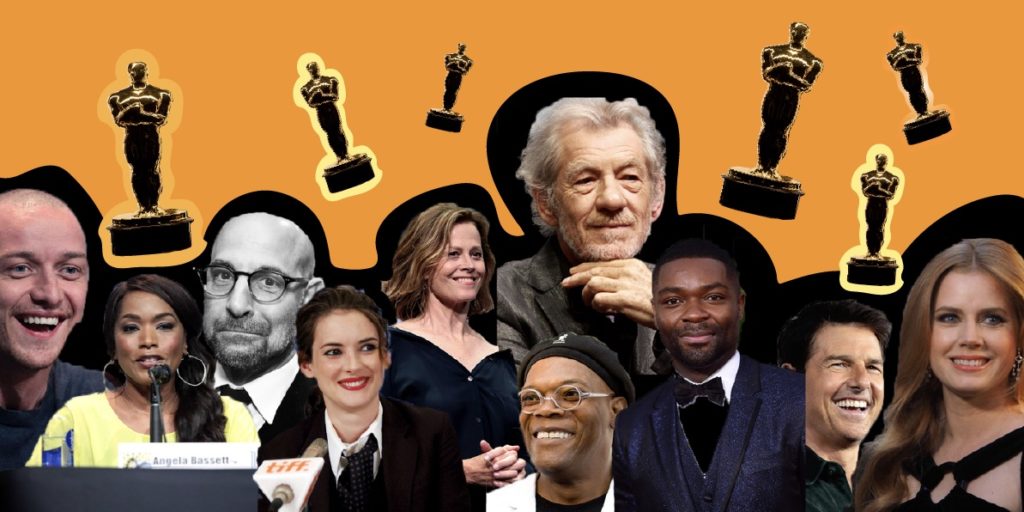 To win an award in any field is an accomplishment that sets you apart from the rest. Winning any sort of prestigious accolade will probably be the pinnacle of your career, and your name will forever bear the sparkle that comes with having "award winner" on your CV.
One award in particular embodies sparkle and exudes respect: The humble Academy Award, otherwise known as The Oscars. An award actors and actresses dream of one day having and is a milestone in a film star's career: a reputable golden stamp to say, 'I've made it'. Emmanuel Levy, film critic, said that The Oscars are universally embraced as symbols of achievement in global entertainment. Being the grandfather of awards, they are the most respected as the oldest and most prestigious prize in film history, dating back to 1929.
Being nominated and crowned the winner is a symbol of recognition. But even though the nomination itself is an honour, losing is a whole other level of disappointment. What if you were the runner up? The 'not-quite-good-enough'? The dud? It's a title that, while still holding some weight, has a brassy, diminished polish.
So, let's take a look at a handful of the world's most talented actors who, with great sadness, missed out on a gleaming, Oscar award-winner moment, settling for loser – on paper
1) James McAvoy
The Scot spectacularly played 23 personalities in one body (Split), a war hero (Atonement), young Charles Xavier (X-men…three of them?!) and many more, only to get runner up. There are just too many films for which he should have won but, alas, did not. However, he made use of his time at the Oscars in 2019 by asking celebrities to sign his shirt after finding a sharpie. Now it's being auctioned for charity; you go Professor X!
2) Tom Cruise
The scientologist is apparently dubbed as 'too mainstream'. Though he has worked with many of the greats, from Michael Mann to Martin Scorsese, his film choices just aren't "Oscar bait". Apart from Magnolia – that, he was robbed of.
3) Sir Ian McKellan
This one is a bitter pill to swallow. The one and only Sir Ian McKellen has never won a shiny gold man despite his legendary performance as Gandalf and among others? In an interview with the Guardian he speculated the reason for this was, "No openly gay man has ever won the Oscar [for best actor]; I wonder if that is prejudice or chance."
4) David Oyelowo
The OBE was 'snubbed' at the Oscars, with the LA Times saying, "The academy drew harsh criticism for its all-white slate of acting nominees." This is a common award show critique which has resurfaced at this year's Golden Globes. Oyelowo was unfairly robbed of this prestigious Award for his beautiful, methodically researched portrayal of Martin Luther King in Selma. Ludicrous.
5) Samuel L Jackson
A wide-ranging and impressive filmography is not the key to winning an Oscar, apparently. Jackson lost his only – yes ONLY – nomination of Best Supporting Actor in Pulp Fiction to Martin Landau in 1995, for reasons I'll never understand.
6) Stanley Tucci
This man is just wonderful; arguably one of the best supporting actors of our time. It is criminal that he lost out on his only nomination (for The Lovely Bones) –. Though he's not lacking in other well-deserved awards – 29 and counting. This year his luck might turn with his incredibly moving performance in Supernova – I do hope so!
7) Winona Ryder
Known more recently for her role as Joyce Byers in Stranger Things, Ryder is well-versed in snubs. Not only did the 2017 Emmys rob her of an award, but at the pinnacle of her career in the 90s, she lost out on not one, but two nominations: Little Women and The Age of Innocence.
8) Sigourney Weaver
One word: Alien.
9) Angela Bassett
…is a queen. The What's Love Got To Do With It actress is incredibly versatile in the roles she plays and her portrayal of Tina Turner was a landmark performance that went unrecognised at the Academy Awards.
10) Amy Adams
"Amy Adams going from Enchanted to Sharp Objects… the range she has! The intelligence she has! The Oscars she doesn't have but should!? Make it make sense lord!!!" This Twitter user reaction about covers it.