Bops, flops and bangers, a guide to why we hate to love these one-hit-wonders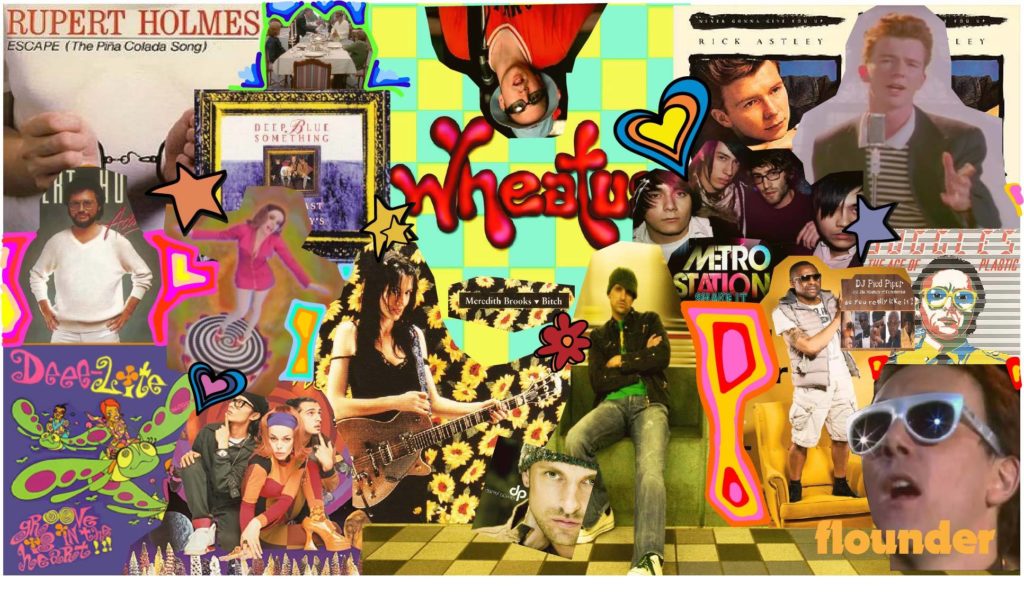 Flounder has compiled a list of the one-hit-wonders you cannot live without. These cult classics have a special place in our hearts and deserve a thorough inspection as to why we love them so much.
10. Shake it – Metro Station
In 2008, Metro Station released their legendary party tune Shake It. The group was formed by Miley's Cyrus' brother Trace Cyrus back in 2008. Shake it peaked at no 10 in the Billboard charts and went on to achieve gold and platinum status, unfortunately the same can't be said for any other track the group has released.
With talks of a reunion tour in 2022 we can only hope for the release of a new dance floor banger to come along with it!
9. Breakfast at Tiffany's – Deep Blue Something
If there is one song that epitomises 90's grunge, teenage rom com, long sleeve under the t-shirt nostalgic goodness, it's this one. In 1995, Deep Blue Something treated the airways to this cult classic. The group failed to ever get a song back in the charts, but didn't fail at sparking some surprising and some not so surprising careers after their 15 minutes of fame.
Front men Todd and Toby Pipes went on to become record producers – very apt. Drummer John Kirtland found his calling teaching middle schoolers, and Clay Bergus has been general manager at Eddie V's Prime Seafood restaurant in Fort Worth since 2009.
So Clay, breakfast at Eddie's?
8. Do you really like it? – DJ Pied Piper
Yes, we do. In fact, we love it. This club classic first released in June 2001 rightly deserves its place on our list, reaching no 1 in the UK and defining itself as the summer anthem of that year. If your head isn't bobbing as soon as you hear that gong then, frankly, we're disowning you. This song thrives in the hometown clubs we love to hate and has so far sold 600,000 copies in the UK alone. Are we surprised? No.
We're also not surprised that DJ Pied Piper's career as a DJ is still popping off to this day. You can keep up with the garage pioneer on Instagram @_DJpiedpiper
7. Never gonna give you up – Rick Astley
Arguably not a one-hit-wonder if you're a die hard Rick fan, but let's face it we're just telling you how we're feeling. The nostalgic 80's synth, the dance backing track and the orchestral, angelic voice of Rick Astley are only qualities found in this track and this track alone. Within weeks of its release in 1987 the track was no 1 worldwide.
The song has a long list of accolades including MTV music's best act ever and a Brit award for best single. In 2019 it found itself in the belly of the beast that is meme culture. The Rickrolling meme started circulating Reddit and Twitter feeds the world over and hasn't really left since. The views of unsuspecting internet suckers account for many of the 577 million YouTube views on the tracks OG music video, and we love it.
Rick, we will never desert you.
6. Escape (the piña colada song) – Rupert Holmes
"Life is a song, Love is the lyrics", words to live by if you're in the popstar profession we're sure. No one took these words quite as literally as Rupert Holmes did when he wrote his timeless classic back in 1979. Its frank lyrics and epic brutalness is what earns it its place on our list.
The story of the unhappily married couple looking elsewhere for pleasure and company catches you out every time. This beautiful yet somewhat bittersweet example of storytelling reached no 1 in the US and went on to become a soundtrack staple, appearing in Shrek, Guardians of the Galaxy, It's always Sunny in Philidelphia and many more.
The storytelling didn't stop there for Rupert Holmes either, the Rockstar turned crime novelist is now a successful author in his own right.
5. Video Killed the radio star – The Buggles
This iconic tune has made it into our top five for that reason alone. It is iconic. The Buggles released their version of the hit in 1979 and it reached number 16 in the international charts. The song encapsulates an era of transformation for the music industry and has been covered by many artists since.
Most recently the song has reappeared in pop culture, this time revising its cult status on social media app TikTok, as a trend to revisit celebrity death conspiracies.
4. Bad Day – Daniel Powter
Daniel Powter's debut single Bad Day is a timeless classic. Maybe it's because it's 2021 and self depreciation is the new self-love, but something about this absolute anthem hits a spot that no other can. Bad Day took over the charts on its release in 2005, reaching the top five in more than 10 countries around the world.
Its universal acceptance of the troughs and not the peaks makes it a sure bet when it comes to relatability. A great shower tune, the endorphins released when screaming the bridge at the top of your lungs can ironically make a bad day a little better (Do try this at home).
As of January 2021 the song's music video is the eighth most watched on the internet, with 179 million views. If that's not proof that this tune just hits a little different then we don't know what is.
3. Bitch – Meredith Brooks
Storming into our list at no 3 is the female empowerment song to end all female empowerment songs. Move over Beyonce because this 90s wonder is a little bit of everything all rolled into one. Meredith Brooks's indie rock anthem stayed in the top 10 for four weeks after its release in 1997.
This song is a go to if you ever need a pick me up, guaranteed to make you feel like a bad bitch. Brooks has gone on to co-write on many more chart toppers, most recently co-writing on Bebe Rexhas break-out hit "I'm a mess".
It holds iconic status and we'll hear nothing else on the matter.
2. Groove is in the heart – Deee-lite
Deee-lite's reputation in the music world may rest on one song, but what a song it is. The song that defined the summer of 1990 comes in at no 2 on our list for its infectious sound and impeccable aesthetic.

Groove is in the heart is timeless. In 2018 Time Out magazine ranked it 23 on their top 100 best party songs of all time and it is hard to disagree. The playfully funky dance classic is a must on any party playlist. Having sold over 1 million copies worldwide, we see no reason this one-hit-wonder can't live on forever.
1. Teenage Dirtbag – Wheatus
Our no 1 spot goes to a golden oldy that holds cult status. On its release in 2000 Teenage Dirtbag received an incredible reception, selling five million copies worldwide.
The song encases the storyline of every 90's rom-com you've ever watched. It acts as a time capsule for anyone that grew up in the era and its punk inspired vocals aren't forgotten in a hurry.
In April last year, to celebrate the song turning 20 years old, Wheatus reunited to re-record the song. It took them a couple of months but the new version turned out almost identical to the original. From the high-register singing voices to the epic electric guitar 20 years on the song is just as catchy as ever!
Our picks and more one-hit-wonders on our Spotify: