Makeup on the mind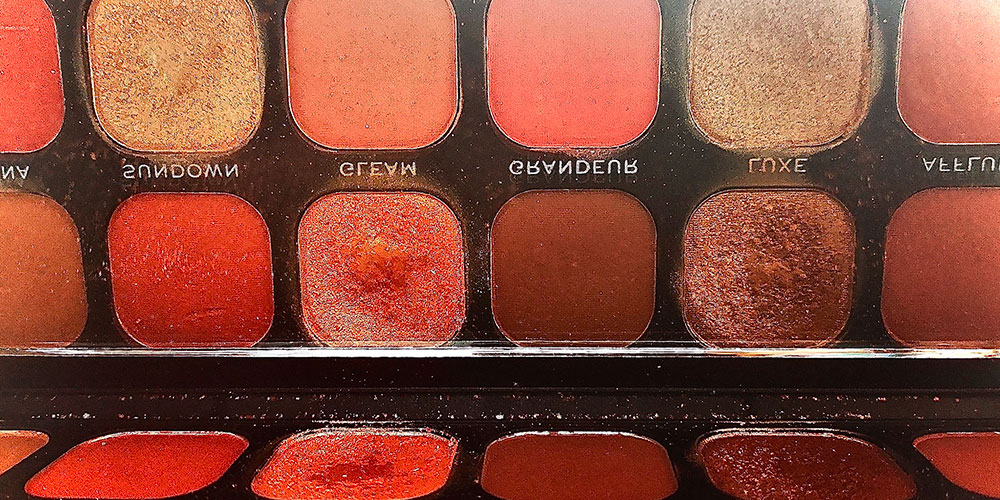 Makeup is deeply rooted in our cultural DNA. Having been used for centuries as a tool of wealth for men and women in the UK to show off their assets and riches, for other countries it was a method of warding off 'evil eyes'. But through the ages, it's been a way of expressing ourselves, whether it's to make us feel better, look better, or like a boss-ass b*tch.  
Seldom heard prior to the pandemic when speaking of makeup, the term "au naturale" is back in business since the lockdown began almost a year ago. Almost everyone has put aside their paint brushes, allowing dust to settle on their revolution palette in a bid to let their face and skin breath for once. With Covid-19 still on the horizon, makeup sales are down due to the closure of many-a-department store, and skincare sales are up. With this, hair-care, facial creams and bath-and-body products are plentiful, something those industries are benefiting from thanks to the self-love pampering pandemic trends, highlights a report by McKinsey&Company.
With 2021 makeup trends popping up everywhere, it's an optimistic start in hoping that later this year normality will return. But the real question is, will we go back to wearing makeup the way we were before?
#nofilter
After conducting a social media poll answered by 134 people on Instagram, it was highlighted that 51% now felt more confident wearing less makeup, compared to pre-pandemic. It also showed 71% of respondents are living for the makeup-free lifestyle, ready to embrace their natural beauty – something many celebrities have too adopted (see CardiB's IG for a dose of realness) – showcasing how this year has taught us all about self love.
However, only 51% responded and said they felt more confident going without, even though makeup was a low priority during lockdown.
Now, makeup isn't a bad thing. On the contrary, makeup has an incredible effect on how people perceive themselves and it affects how they go about with their day: known as 'The Lipstick Effect'. One girl said that makeup made her "feel more presentable/polished with it on in work," while another said that they needed it to feel confident. Another answered, "I thought I looked bad without it."
Societal pressure is what 54% of respondents dub as part of the reason they wear makeup. To "look pretty"; and fit into the societal mould, camouflaging ourselves exteriorly to cover up our flaws. We paint our face to ward off unwanted comments. History reveals this mindset is in our bones.
Traditionally, kohl eyeliner was used by all in Egypt, North Africa and India thought to have therapeutic qualities, and for protection against eye disease. Its colour was believed to control the sun's glare and ward off curses.
Makeup is art
This idea of using makeup as a therapeutic form transcends to today. Kelsey Stuart, fashion and beauty writer for The Zoe Report wrote, "I lean to makeup more as a creative outlet rather than a way to cover up my imperfections." Speaking to Jane Polinski, mental health therapist, she added how it's a form of art, helping the mind and body to slow down and focus. She adds, "Dopamine can be released when you finish your makeup," improving self esteem and mood.
While a lot of people said that if normality returns, makeup will still be a huge part of their everyday life, the majority say they look at it differently. One woman said she felt less need to wear as much of it and wanted to accentuate what she had, rather than changing herself. Another felt it was not as important or needed as she thought it once was.
Camouflage vs Seduction
Psychologically speaking, makeup consists of two opposing incentives, camouflage vs seduction, according to a study published by the Journal of Cosmetic Science. Results showed that women using makeup for camouflage seem more "anxious, defensive, and emotionally unstable" compared with those using it as a tool of seduction, "who appear to be more sociable, assertive, and extroverted." The same mindset is present today, though have its meanings changed since the 2008 report?
"Maybe she's born with it"
Self-love is changing the way we see ourselves, and whether it's skin-care or makeup, pamper sessions are all about feeling better. Getting dolled up with a glass of vino to feel good is great, though the impact of the pandemic has taught us to rethink the importance of knowing the beauty and self-worth behind the brushes and glitter. The father and man who coined the phrase 'makeup', Mr Max Factor of MaxFactor once said, "You are not born glamorous, glamour is created." But in actual fact, glamour means 'charmingly or fascinatingly attractive," so, in true Maybelline style, to that I say, "Maybe she's born with it."
Thankfully, the makeup trends for 2021 are encouraging a more natural look, and this is something a lot more people will look towards in future.
An article published on Medium stated, "Makeup alters the mind, not just the face." And hopefully, this alteration and societal move towards a more natural look will emphasise self worth, self love, and self-acceptance.