They breed happiness and hope, says care worker trying to lift pandemic gloom
THE streets of Cardiff have seen some rather bizarre and strange things, from a student dressed as a sanitary towel to someone running as a boob for Breast Cancer Awareness.
However, the latest sighting in the Welsh capital has left many Cardiffians with a smile on their faces.
Meet Myfanwy the Unicorn, otherwise known as Lee Houghton, who is doing his bit to raise our spirits during these unprecedented times.
For the past four years, Lee has been working as a lead nurse at Shire Home Care Home in Butetown, particularly with people living with dementia.
"We are in dark times at the moment, especially with the pandemic, we need to start smiling and being positive about things as opposed to being negative," he said.
"I bought the unicorn costume and I would come in on my days off to cheer people up, because it can be very tedious most days.
"Unicorns are very positive creatures. They breed happiness and hope, no matter how old you are! Seeing people smiling is so rewarding."
Although Lee has given most people a much-needed pick-me-up, the unicorn costume has had its own struggles.
"A kid came up to me, grabbed my leg to have a 'cwtch' and I think he nicked it. But I have plenty of spares so I'm not worried."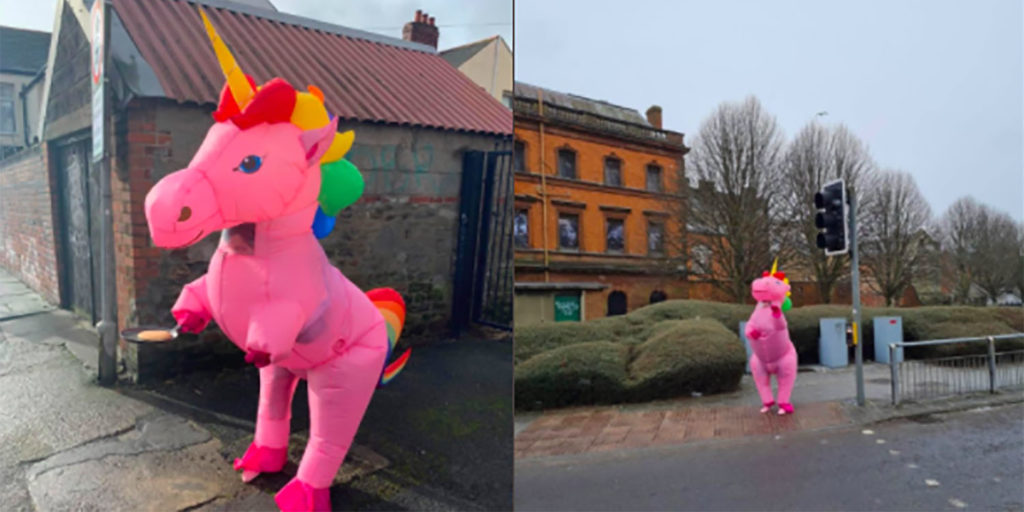 Lee also has a range of other costumes, including a dinosaur, a chicken and a dragon. He has even ordered a Minion costume for April, but Myfanwy the Unicorn is the most popular outfit.
He has been sporting as the mythical creature for the last few months and is often spotted walking around Riverside, Grangetown and Cardiff Bay.
Myfanwy the Unicorn has its own Twitter and Facebook pages for people to share videos and images.
Twitter: @Myfanwyunicorn
Facebook: @cardiffpinkunicorn
Related Stories: