Cardiff council has launched a new campaign to help people in the city to use recycling services.
The council says too many people put the wrong things in their recycle bin bags these days. The campaign aims to let people know what things are unsuitable for recycling. More than one hundred and twenty people attended the event at the city's Central Library.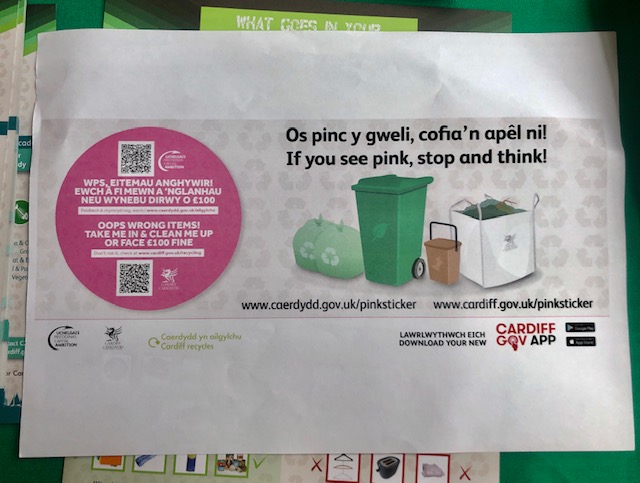 This campaign is called 'See Pink, Stop and think', this means people will see a pink sticker placed on recycling and garden waste bags or bins to warn residents that their recycle bags contained incorrect items.
If a pink sticker is put onto a container, residents will have to take their waste back to their property and remove the incorrect items before they put their recycling out again on the next collection date.
Michael Roberts, who works for Cardiff Council's Waste Strategy team says people need to start being conscious about what they put in the green bags. The figures show around 20% of waste in green bags includes incorrect materials, such as clothes, food waste, packaging and dirty nappies which hamper the recycling process.
'We get lots of complaints across Cardiff about sea gulls are attacking these green bags, I think they only do that because there is food in them,so that is another reason why we want people to clean the items, maybe just rinse the items out before putting into the green bag."
Cardiff Council says from next month people who regularly put the wrong things in their green bags could be fined one hundred pounds. It is hoped that the new campaign will help Cardiff become one of the best recycling cities in the world.