There are calls for businesses in Cardiff to do more to encourage their employees to stop commuting to work every day. 

According to the World Health Organisation, the air in some parts of the centre of Cardiff contains harmful levels of pollutants associated with lung inflammation and heart disease.
Cardiff Council had been planning to tackle this by introducing a clean air zone and a congestion charge for the most polluting vehicles, but these proposals have now been scrapped after the council said a congestion charge would penalise the owners of older vehicles and simply move the pollution problem elsewhere in the city.
Instead, the council will now introduce electric buses and build more cycle and bus lanes in the city centre.
Joseph Carter, Chair of Healthy Air Cymru, told CJS News that the group was "disappointed" by the decision and that the alternatives proposed by the council would not be effective on their own.
"You can't simply rely on those without a charging zone, otherwise people will still carry on driving into the city centre and indeed the rest of the city."
"It's a behaviour change, its about trying to change people's habits, and the only way to do that is to incentivise…but also use charges to try and make the private car less affordable. "
A real shame and a missed opportunity to clean up Cardiff's air – we all have a #righttobreathe #cleanair #climateemergency #walescleanairact https://t.co/UOWxsAYtT9

— @foecymrucydd (@foecymrucydd) March 14, 2019

There are now calls for businesses to reduce the amount of commuting which their employees have to do each day and to encourage them to work from closer to home where possible.
Indycube, a company which is based in Cardiff and operates shared working spaces outside of city centres across the UK, wants more businesses to set up offices and make use of shared spaces located outside of the city.
#KillTheCommute into #Cardiff city centre – and the exorbitant parking charges, the congestion, the pollution – and use our @indycube #coworking space at @elycaerau's Dusty Forge* community hub

Free tea, coffee & wifi with each desk

*Can't guarantee the sky's always this blue pic.twitter.com/aUcjx8F7Cd

— Indycube Ely & Caerau (@icElyCaerau) March 14, 2019

Founder Mark Hooper says that he thinks people are beginning to realise that daily commuting was a "folly and a waste of time.
"Commuting is a complete and utter waste of time. It's sitting in your car, sitting in traffic. You're consuming energy that you don't need to.
"It doesn't really make a lot of sense and for people who are freelancers it makes even less sense to come into the centre of Cardiff".
But he added that it had been difficult to establish the concept in Cardiff due to the council's growth policies.
"We want people to stay in Aberdare rather than come to Cardiff, so people in Cardiff Council may not see that necessarily as something that supports their strategy for growth..I think we could do more with them".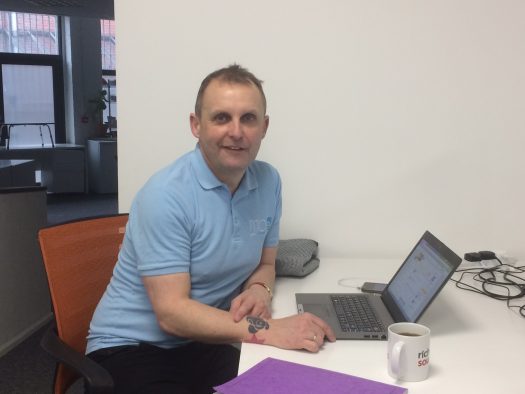 Jamie Grundy runs a company supporting ex prisoners and is one business owner who's decided to ditch the traditional office space. He often has to travel across South Wales in his day to day work.
"If we need to see somebody who maybe for example is in Porth, or maybe Pontypridd…if we need a confidential workspace we've got one there already."
"Sometimes you can be battling against the traffic."