With an estimated 275,000 rugby fans flooding into Cardiff this weekend, the city's transport network will be under pressure.

Tomorrow Wales take-on Ireland with Warren Gatland's men hoping for Grand Slam victory in the sold-out Principality Stadium.
Ireland can still win the Six Nations after their bonus-point win over France, so Cardiff is also expected to host thousands of Irish supporters.
Some 75,000 fans will attend the game and around 200,000 more will be watching around the city.
As a result the city's trains, buses, roads and airports will come under significant strain. With a range of travel advice being issued, here's everything you need to know about getting into the city and getting home.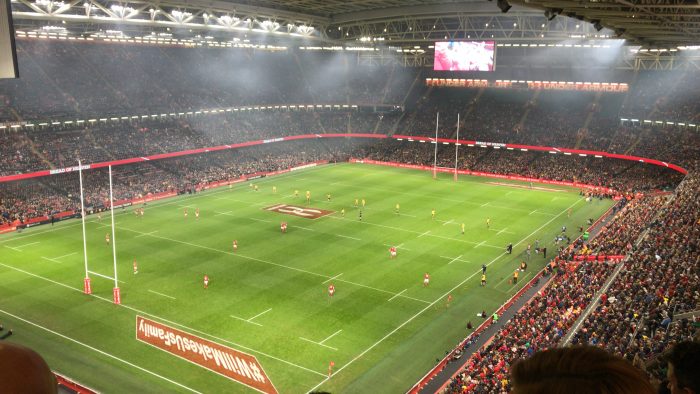 TRAINS:
Transport for Wales have warned that all trains around Cardiff will be very busy all day. Fans should travel into the city as early as possible and pre-book tickets.
There will be a queuing-system in place at Cardiff Central after the match. Fans could be waiting for up to 90 minutes.
Cardiff Queen Street Station will close at 4:15pm.
Network Rail say passengers can contact Travel Line Cymru on 0800 464 0000 for further travel advice.

BUSES:
Bus routes that go through the city centre will be diverted between 11am and 6:45pm. Travellers can expect disruptions and changes to all city centre bus stops.
Cardiff Bus say the X59 Park and Ride East service to and from the city centre will stop at Dumphries Place. It will run all day.
Cardiff Council say passengers should check bus routes on the websites of bus operators:
Cardiff Bus
Stagecoach 


 
ROAD CLOSURES:
For vehicles there will be a full city-centre road closure between 11:15am and 5:45pm on the following streets:
Duke Street, Castle Street, High Street, St Mary's Street, Caroline Street, Wood Street, Central Square, Westgate Street, Quay Street, Guildhall Place, Golate, Park Street, Havelock Street, Scott Road.
There will be partial closures on these roads:
Kingsway, Saunders Road, Cowbridge Road East, Plantagenet Street, Penarth Road, Beauchamp Street and Tudor Street.
Other streets around the city centre may be closed or controlled throughout the day and Cardiff Council say road closures may be extended if there are safety concerns.


St Mary's Street on game-day.

AIRPORTS:
Over the next few days an extra 50 flights will operate between Ireland and Cardiff Airport, bringing 3500 Irish fans into the capital.
Shuttle buses from the airport to the city centre will be running, but taxi services will likely be disrupted on game-day.

CAR PARKING:
Civic Centre Event Day Parking:
£12 if you pre-book, £15 on the day
Opens at 8am
Get there by exiting Junction 32 on the M4 and head south on the A470 towards the city centre. From there follow signs to the Civic Centre.
Sophia Gardens:
£15 on the day (cash only)
Opens 8am
Exit Junction 32 off the M4 and follow signage.
NCP Parking:
Dumphries Place (17 minute walk to stadium)
Cardiff Knox Road (19 minute walk to stadium)
Closures: The NCP website says Cardiff Rapports, Cardiff Pellet Street and Cardiff Greyfriars carparks will be closed on game-day. (Source: NCP website)
Disabled parking:
Cardiff Council advise disabled drivers to use Sophia Gardens carpark
They also say to check individual carpark websites for further advice

GETTING INTO THE STADIUM:
The Principality Stadium has warned fans to arrive at the stadium at least 90 minutes before kick-off to avoid missing the beginning of the match. Enhanced security measures will be in place, so fans should expect queues. Click here for security advice.
Gates will be open from 11:45am and fans can watch Italy take on France on the stadium's big screens. The demolition of St David's House on the corner of Wood Street and Scott Road will be halted for the day, so fans will be able to access Gate 5 as usual.


Demolition works on the corner of Scott Road and Wood Street have been halted.
 
WEATHER:
There are two weather warnings in place, for heavy rain and strong winds between 4am and 9pm on game-day. The Met Office has warned the weather could cause disruption and delays to public transport.
Fans should bring appropriate clothing, but those entering the stadium should know that there is a strict rule of no golfing umbrellas inside the stadium. Rain ponchos will be useful for those inside the stadium as the roof will, controversially, be open.

M4 MOTORWAY:
The M4 corridor and trunk roads are expected to be very busy. Fans are expected to travel early.

TAXIS:
Taxis will be in extremely high demand. St Mary Street taxi rank will close between 11:15am and 5:45pm.

NATIONAL EXPRESS:
Coaches to and from Sophia Gardens will run as normal according to Cardiff Council's website.
(Sources: TFW, Cardiff Council, NCP, Cardiff Airport and Cardiff Bus)

     You may also like:
Can Cardiff cope with the Six Nations?