Some stall owners in Cardiff Market have said they do not know what will happen to their business while the historic building is being renovated.
Cardiff Council have recently announced a new £6.5 million renovation to the market in the city centre. The fund aims to protect and preserve the 130-year-old building.
The work to the market includes:
Restoring the windows and doors
A new seating area
Roof-mounted solar panels
A new education room
Repair to the H Samuel market clock
The market will remain open during the renovation, which is expected to take around two years to complete. Many stalls in the market will have to relocate to the Hayes for the work to take place. The council have also suggested rental prices will rise once the renovation is done.
Some stall owners have told CJS News they have not been given enough information regarding the future of their stall and said they feel left in the dark. They don't know which stalls will have to move, and what will happen to their business if they do.
Michael Clayton from Ashton's Fishmongers said: "No one knows a concrete plan. I'm not sure when it is going to go through. One moment I'm hearing it's this year, then I'm hearing it's next."
He added: "We don't hear about funding then the next moment funding is going ahead. And so, it is not a fully concrete, thought-out plan"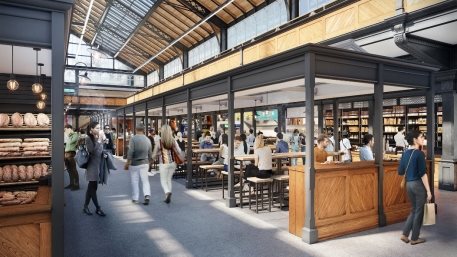 Cardiff Council have said that they will support traders in any way they can.
In a statement, it said: "To ensure that displaced tenants are offered the best alternative locations in the market, the council will reserve any vacated stalls until the completion of the restoration".
The restoration, which will also aim to make the market greener by installing solar panels and improve energy efficiency, will start in summer next year.
Leader of the council, Cllr Huw Thomas said: "Our restoration plans will preserve and protect that history and ensure that it remains the bustling heart of the city that we all know and love, for many years to come."