Under a plan to help residents and shoppers secure parking, Cardiff Council has announced new parking charges and a time limit.
Eleven Car Parks in Canton, Riverside, Llandaff, and Whitchurch now have new parking charges and a time limit of five hours. While the first two hours continue to be free, people will have to pay more for additional hours. The charge to park for five hours is now 4.50. This rate was different in all eleven parks previously.
Here are all the charges for the 11 car parks.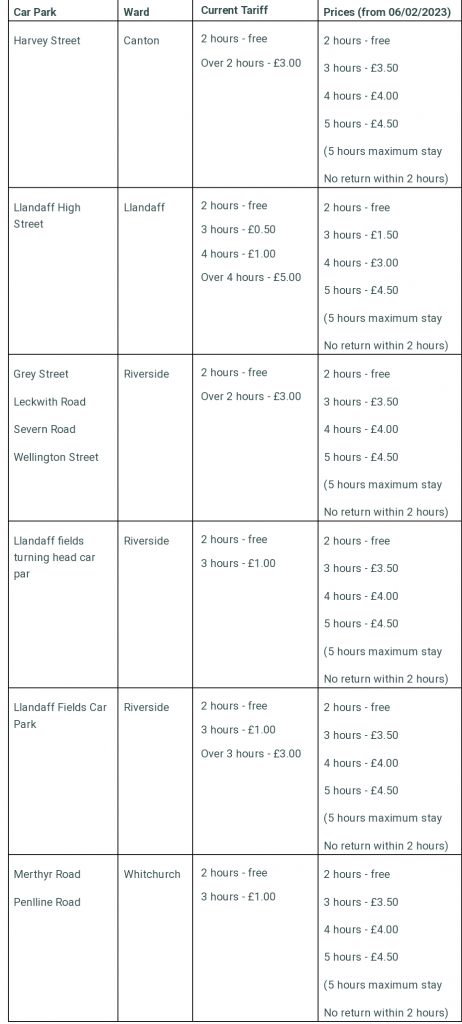 The Parking Charges Plan went under public consultation in 2019 and 2020, but the implementation was delayed because of the COVID-19 Pandemic.
Cardiff Council say the income received from parking revenue is ring-fenced under Section 55 of the Road Traffic Regulation Act 1984. Any income received over and above the cost to provide the service is ring-fenced for highway and transport improvements.
The time limit of five hours maximum parking is worrying some shop owners and office workers.
Annette Williams is a pensioner who uses the car park in Canton for shopping. She says that the Council has increased the charges at a difficult time when prices of goods are already high.
Cardiff Council says the new system was agreed upon following concerns raised about commuters using the car parks for extended periods of time, at minimal cost, to the detriment of residents and shoppers.
Stephen Cunnah, Labour Councillor for Canton, says that the new plans aim to meet two solutions: meeting the budget demands and helping people secure parking, which can then help residents and shoppers.