Britain's largest energy and home services company British Gas has gone ahead with mass sackings of its Field Engineers and other staff over a pay dispute and other changes.
After a long running dispute British Gas last month issued formal notice of termination to its staff who refused to accept the imposed changes in pay rates and other working conditions.
British Gas brought in 15% pay cuts and other changes as a result of the pandemic last July. The GMB union claimed that the new terms and conditions meant working additional hours with no extra pay was effectively increasing the working window from 7 am to 9 pm, seven days a week.
Workers also said that British Gas threatened staff who refused to accept the changes, saying they would be sacked and would then be rehired on inferior terms.
Cardiff-based Field Engineer Stephen Hill who was sacked on 14th April said: "I worked for British Gas for the last 16 years after starting as an apprentice in 2005. I was sacked because I refused to accept the terms and conditions of my employment.
"I felt bullied by British Gas to accept the new terms and conditions. They took my computer on 1st April, they took my van, they took my mobile phone; they took everything. I could not get in touch with anybody."C
Centrica has denied Fire and Rehire allegations such as those made by Mr Hill. They say that less than 500 staff have chosen to leave rather than accept the new terms and they have not cut the base pay or changed final salary pensions.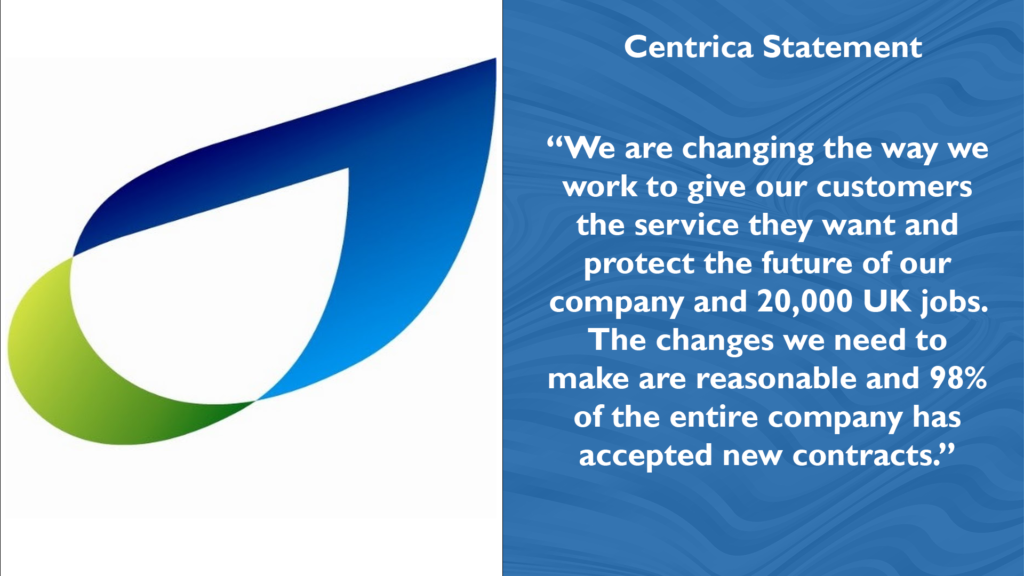 The strike action by GMB union workers began in January. Customers are suffering as many Field Engineering staff have left resulting in huge gaps in regular maintenance schedules.
Adrian Baker, Regional Organizer at GMB Wales and South West Region said: "Even now British Gas has carried out the threat to sack workers. We believe that nearly 1000 workers have been sacked by British Gas. It is incredible that they are claiming that only 500 workers are being sacked. But even so, to sack anybody simply because they refused to accept such draconian cuts is unacceptable."
Political leaders across the UK including Prime Minister Boris Johnson and First Minister Mark Drakeford here in Wales have called on British Gas to stop the Fire and Rehire process.
GMB say they are not ruling out more industrial and strike action in the coming few days.