A statue of the bird has been put on display to encourage the Welsh Government to implement a 'Green Recovery' plan
A large metal sculpture of the once endangered red kite has been revealed outside the entrance to Cardiff Castle.
The sculpture is made entirely from sustainably sourced metals and, according to RSPB Cymru, represents the conservation success of one of Wales' most notable and loved birds.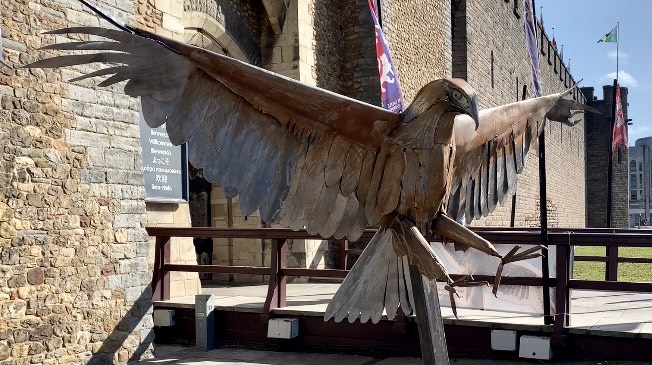 Once prominent in the UK, the red kite population suffered a steep decline in numbers during the 1990s as a result of hunting. But over the past 30 years efforts made by charities, farmers, and wildlife lovers to revive the species have seen huge success, with 2,500 breeding pairs now being recorded.
The sculpture was constructed by North Wales based artist Sarah Wardlaw, who says "the red kite is a phenomenal conservation success story in Wales, but a stark reminder of just how fragile life is and why we should cherish it".
Created using traditional blacksmithing techniques and augmented reality (AR), the piece is intended to give the illusion of flight and symbolise the power of action.
The RSPB is calling on the Welsh Government to tackle the nature and climate emergency as part of a 'Green Recovery' plan, which will also seek to deliver access to nature for everyone.
Director of RSPB Cymru, Katie-Jo Luxton, says "Later on this year, two global summits on biodiversity and climate change will take place and the upcoming elections in Wales gives each and every one of us the opportunity to shape the future of nature that we want".