The owner of the building plans to knock the pub down to make way for a 35-storey apartment complex, which would become Wales's tallest building.
The Draycott Group, who bought Harlech Court in 2018, has notified the owners of Porter's that their lease will not be renewed when it ends in October 2022.
Porter's Bar — on the ground floor of the building — is a popular venue for both sport and music fans, with Cardiffians flocking there to watch events – such as the Six Nations – and live bands playing regularly.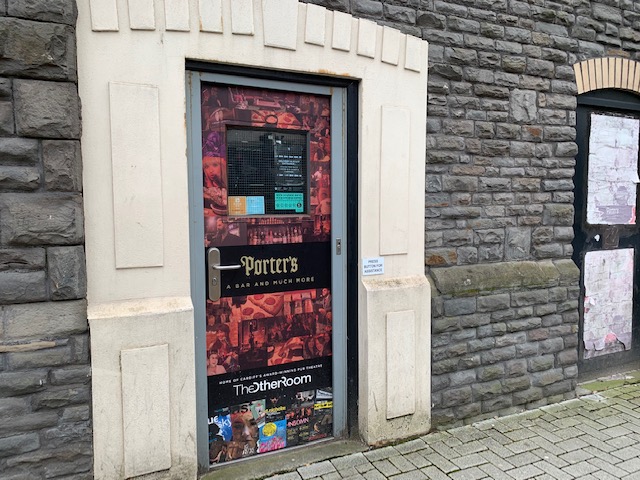 No application for planning permission has been submitted yet, but Councillor Sarah Merry told Cardiff News Plus that the developers may not need permission to demolish the current structure.
"We've already written to Huw Thomas, the leader of the council, seeing what support the council can actually give in finding an alternative venue if it does come to that," she said.
"I've got a lot of friends who were absolutely gutted – it's a place they really know well and love."
In a post on Facebook, Porter's announced that the lease will end and that suggestions for new venues are welcome.
The post said: "If October 23rd 2022 is when we say goodbye, then so be it. It's been a blast, but we do of course hope that between us we can find a new building to call home. We would naturally welcome any suggestions of possible buildings from our friends.
"Perhaps Cardiff Council could also join with us in helping to find a suitable empty building that does not sit under the cloud of possible demolition or redevelopment, so that we can continue to be a place of joy, as well as an outlet and source of employment for all the wonderful and talented staff, and musicians, theatre makers, performers and creatives of this marvellous capital city, who provide us all with the things that make life worth living.
"Please note, we have a good working relationship with our landlord who has been decent, courteous, supportive, transparent and honest throughout."
If the developer's current plans go ahead, the new building would provide 350 luxury rental apartments. The Draycott Group has also undertaken several other projects in Cardiff recently, including student flats on City Road and luxury townhouses in Pontcanna.
The news of the potential demolition has prompted support from the public and councillors, including Cardiff Council leader Huw Thomas.
Some people on social media said that the planned development would take away from Cardiff's history and make it look like generic. Cllr Sarah Merry said: "For me the character of the individual buildings is very important which is why we have the conservation areas.
"I absolutely agree that people don't want a kind of generic city centre. What keeps a city centre vibrant and actually busy is being able to offer something that feels unique to the place that they're in."