Cardiff and South Wales are some of the areas most at risk of flooding, according to scientists. A report released today by the University of Bristol says climate change will increase floods in the area.
The researchers, led by Professor Paul Bates, concluded that if the Government's COP26 and Net Zero promises aren't fulfilled, the cost of rebuilding after floods could grow by as much as 23%.
The report's lead author author Paul Bates, Professor of Hydrology at the University of Bristol said in a press release that the research served as "a timely warning to the country's political leaders and business sector that global commitments to significantly reduce carbon emissions must be taken very seriously."
South Wales in particular is vulnerable to flooding thanks to its geography. Clouds sweep in from the Atlantic Ocean bringing rain to the west, so Pembrokeshire to Cardiff experiences especially high rainfall.
This is exacerbated by orographic rainfall, which is when high mountainous regions – like the Brecon Beacons – force clouds to deposit rain so they can continue moving.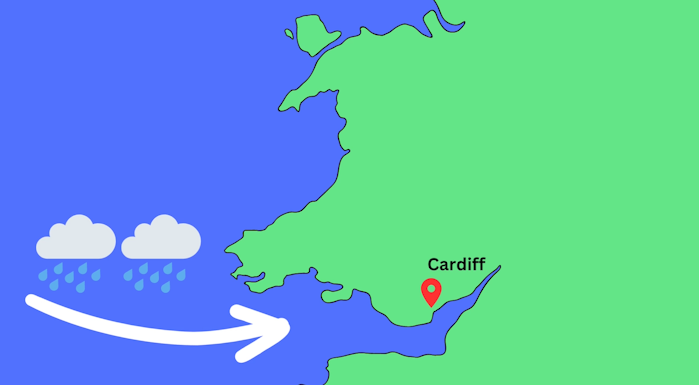 Expansions in urban development are also worrying for environmental scientists, as when heavy rainfall hits the capital, the tarmacked streets leave nowhere for the rain to soak away. Experts say that water drainage is urgently needed to prevent flash floods in urban areas.
Penny Johnes is a Professor of Biogeochemistry at the University of Bristol, whose work focuses on aquatic ecosystems. She told CJS News; "There's a mismatch between the quantity of water coming through and the ability to store it in the landscape.
"So what we need to do in the future to mitigate that risk is to create that storage facility within the landscape so that [the floodwater] isn't ripping through towns and flooding into newly-developed areas.
"You also need to stop allowing developers to develop on flat land, on flood plains next to rivers. It's a ridiculous thing to do, and it should be stopped immediately."
Thanks to climate change, sudden intense rainfall is becoming more and more common. Earlier this year, just 5 miles outside Cardiff the village of Peterson-super-Ely saw dramatic floods that trapped cars underwater.
Local residents say they're worried flooded roads could prevent the emergency services from accessing the village. David Walters lives there, and says it's his "biggest concern."
He added, "It's a big concern in the community, if there's an emergency situation when water levels are rising, and the inability of the authorities – the ambulances, fire brigade, the police – to gain access then that is the biggest issue that we face."
With a yellow weather warning in place this week, many communities across Wales will no doubt be preparing to face yet more floods.