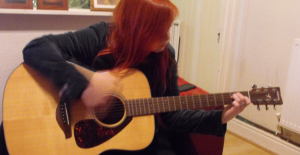 You might have heard of the Word Virus Essay but not even known it. Stickers of their logo, a cartoon robot, are scattered all over Cardiff in pubs and clubs.
Musical Roots
Singer Rachel Shepherd has always loved music; that much is apparent from her wide-eyed enthusiasm when she talks. Her musical manifesto is easy to sum up. "I love lyrics, and I love tunes," she says. Can't get much simpler than that.
Like most children, Rachel listened to the music around her, but it was at only the age of ten when she was given a keyboard that she realised she enjoyed making music. "I would write songs and force my brother and sister to sing them with me."
Since then, Rachel has grown musically. She taught herself guitar, saying that she did not like people teaching her songs she did not want to learn, and telling her where to put her fingers.
She describes her lyrics as relatively personal, and is a big advocate for honesty while writing. "Any writer, any artist should be honest because that's when the best stuff comes out. If you don't connect with anything you're writing, your voice won't come out."
Bands and Gigging
Now she is the voice of the electronic band, Word Virus Essay, yet her musical background lies primarily in folk music. While her first musical group was a teenage girl pop band that sung songs she wrote, her first proper musical outing was a Cornish folk-rock band called The Red Army. The Word Virus Essay started in late 2008 after Rachel moved to Cardiff, and met the rest of the band over Gumtree.
In many ways, it's hard to believe that this excitable young lady produces the delicate, ethereal vocals of Word Virus Essay.  She is not afraid to say she is still terrified before each gig, and even now she would rather sing at crowd than talk to them.
That being said, she says nothing can be as bad as the first Word Virus Essay gig. "It was awful, I had no stage presence whatsoever. I stood there staring at the ceiling with my hands by my side just being terrified." 
So what makes a good gig for Rachel? Dancing. 'The best thing any band can see is every one dancing. People who go to gigs who stand there and do nothing deserve to be at the back.' It is all about the atmosphere, all about having a good time.
End of Word Virus Essay                                                 
Sadly, Word Virus Essay might be coming to an end. Bassist Casper moved to London, and the band might not go on without him. "The Word Virus Essay without Casper isn't really The Word Virus Essay," Rachel says.
Before this the band was working on an LP, tentatively named, Down Your Road, To celebrate its release, the band will be throwing a free gig in the near future, and have been offered the chance to play Ripcurl Festival in Cornwall.
With the future uncertain, Rachel seems surprisingly optimistic about the future, but is obviously just happy to play music, wherever, and with anyone.