Freelance journalist Peter Wolinski puts 'normal people' in the spotlight for his first-ever exhibition of portraits taken during lockdown
Listen to this story
What started out as a hobby five years ago is now Peter Wolinski's main creative outlet, but he never expected his work during lockdown would lead to an exhibition at KIN+ILK.
Peter likes "normal people." Far from the airbrushed magazine covers and the ultra-saturated Instagram filters, his preferred black and white aesthetic features anyone that piques his interest in the streets.
Pacing the alleyways of Cardiff, Bristol, Swansea, or Newport, he is always on the lookout for impromptu models. For a brief moment, these everyday people become the centre of attention.
"I like the kind of candidness of a real person going out that day, never thinking they'd be the centre of a portrait," Peter explains excitedly. And it shows. Each portrait freezes in time unexpected moments of normality, "glimpses into the everyday lives of regular people on the street," as he puts it.
Peter started taking portraits of people back in March, right as the world entered a global state of emergency. If portraying "life during lockdown" was never his goal, the empty streets, and the masks here and there are the elephant in the room – or in the street.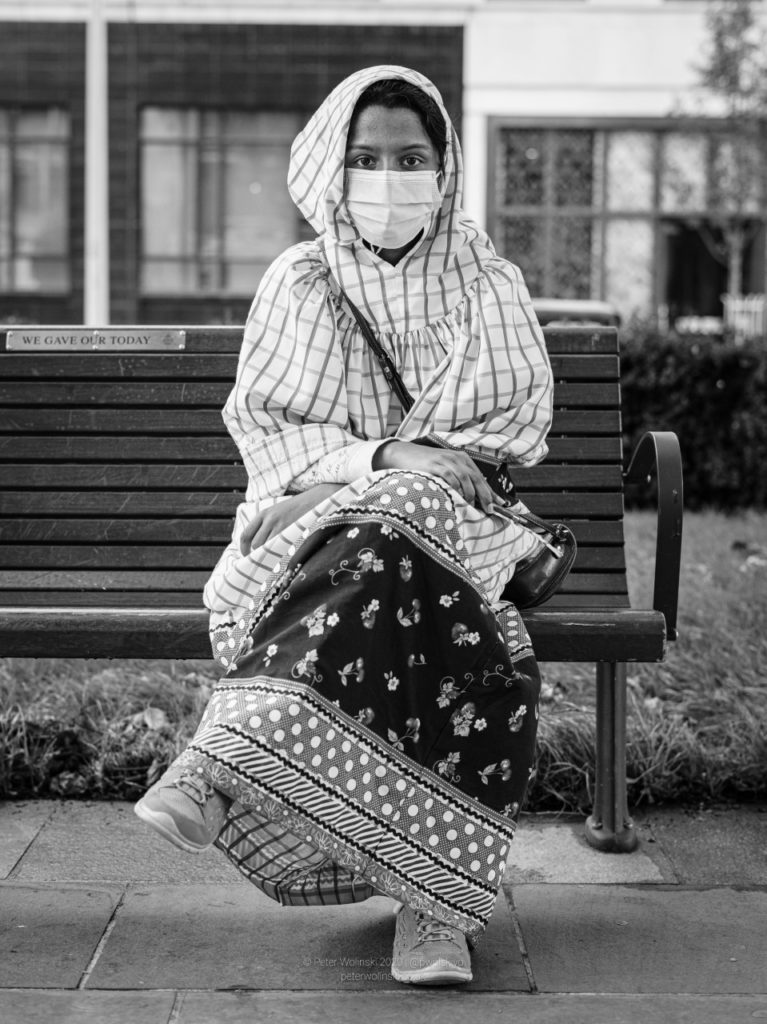 Although it wasn't the original intention, these photos have become testimonials of life during the pandemic. Peter doesn't portray the "new normal" that media talk about. Instead, he shows that normality never really went away: people still play music, they work, they grab a Starbucks. Mostly, they still smile. Maybe it's what gives his work all the more impact.
According to Peter: "Many people get freaked out when you put a camera in their face." But it didn't prevent him from meeting and getting to know many of them. Not only was photography an outlet for the 28-year-old to express himself, but it was also a way for him to engage with people, at a time where many suffered from social isolation.
As things progress, he looks for more specific models, sometimes walking up to 12 kilometres a day to find them: "At the beginning I just took anyone, but now, I deliberately look for people to fill the gaps I want to fill, and when I feel like I haven't represented a subset of people as much as I'd like to, I'll go and look for it."
And because he suffers from arthritis, an immune disorder causing joint pain, this was also the occasion for him to exercise while doing something he loves.
A first exhibition undermined by social distancing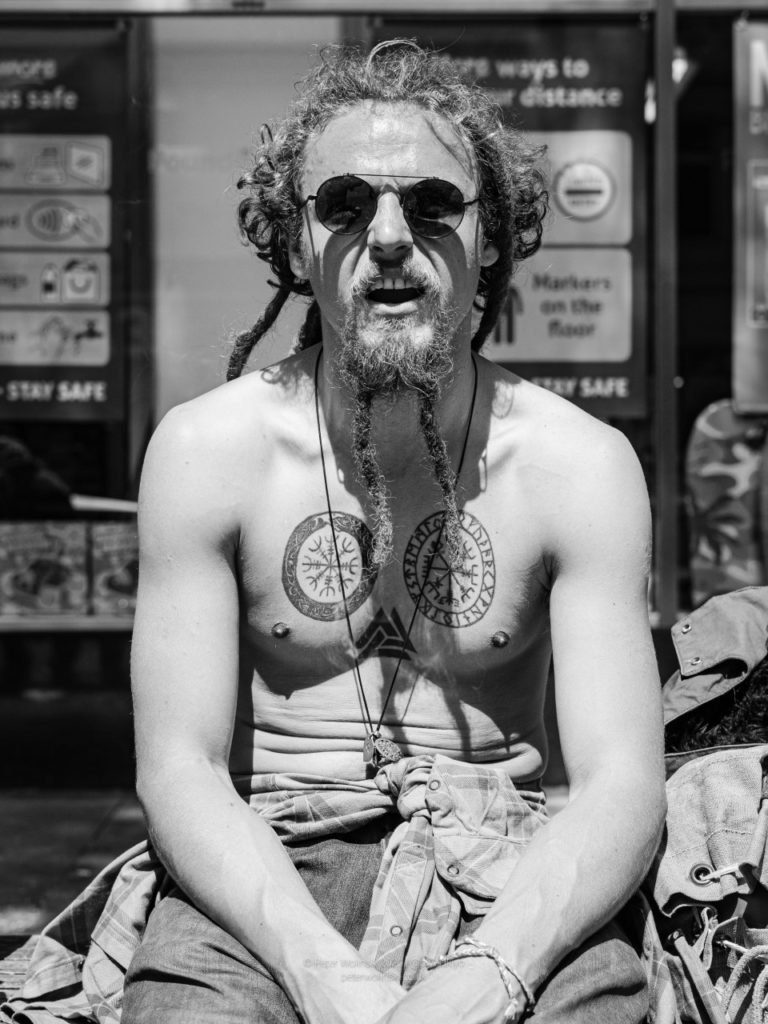 The exhibition came as a surprise. One day, as he was inside a KIN+ILK café in Cardiff looking for models, someone noticed him, liked his work, and proposed to feature it inside the venue. "Someone really appreciating something you care about is just the best feeling ever", he states. Disappointingly, however, the exhibition opening night came just as the Welsh government announced a limit of six people for social gatherings. Nonetheless, the pictures will be available to view in the café until the end of the year, and Peter continues to promote his work on his website.
On top of this, Peter is currently finalising an MA in Magazine Journalism while finding the transition to a full-time career in journalism "difficult" due to the pandemic. Nonetheless, he is happy with his choice to do a Masters as he feels this will open up more opportunities in the creative fields.
For the future, Peter hopes to do more exhibitions. He confesses photography is so important to him that he will continue no matter if he can make a career out of it or not.
In his words: "Sometimes you will never ever get recognised for the things you like doing, but you need to do them anyway." In the meantime, he is trying his luck in photography competitions, and keeps looking for normal people to point his camera at.
---
Quick Q&A
Can you explain your photography style and choices?
I really wanted to do street photography, but you have to be a complete master to be good at street photography. The really good stuff is really candid, but I'm not a fan of achieving that candidness by taking pictures from far away. Personally, I like my subjects to be engaging. I really wanted people in my photography, and people looking at me.
Why black and white?
People use colour in a very garish way sometimes. I hate a common thing on Instagram where people's pictures are really saturated. Black and white is much simpler, quicker to edit, and there are fewer things to worry about, although it can present some unique challenges.
Would you like to make a full career out of photography?
I would love to make a full-time career out of it, but it's very difficult. I don't want to be a commercial photographer, and photojournalism is really hard to get into.