Advocates say cohousing can fight loneliness, reduce consumption and provide an affordable alternative to traditional housing. But will it catch on in Cardiff?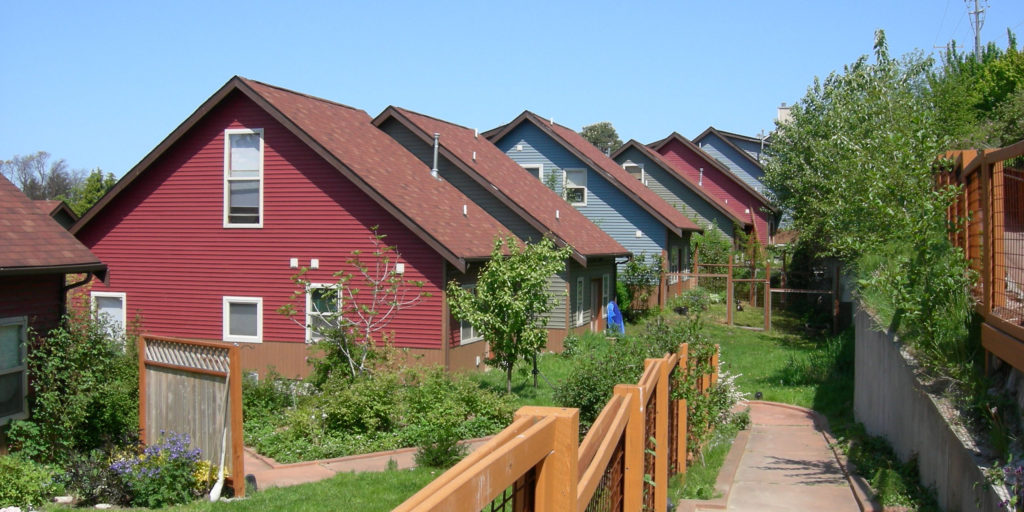 In the north east of Cardiff, nestled between Edeyrn's Church and the busy A48, is a narrow, unremarkable strip of land. It was, until recently, being viewed with growing interest by a local group, Cardiff Cohousing, which wants to do something novel with the plot.
Daniele Procida, the group's founder, visited the site, only to find it "utterly blighted" by noise from the A48.
"The noise is horrendous," he told the group's Slack channel. They were finding, like many similar projects, that setting up a new development is far from easy.
Cohousing, which is popular in Scandinavia and other parts of Northern Europe, is a relatively new but increasingly popular phenomenon for Wales.
Watch this story
According to Cohousing UK, cohousing communities are "intentional" communities, created and run by their residents, including both private homes and communal spaces.
"It's really about sharing the space and the amenities and the material things," Daniele said. "I think in practice real communities come out of sharing physical, material things and taking care of them together."
Advocates of cohousing say such projects can fight isolation, increase wellbeing and reduce unnecessary consumption. In research released by the Wales Co-operative Centre in 2019, cohousing residents reported improved happiness, increased confidence and better quality of life, compared to traditional housing models.
Daniele, who has lived in Cardiff for 25 years, started Cardiff Cohousing in September and began to reach out to those who, like him, wanted to live in a less wasteful way.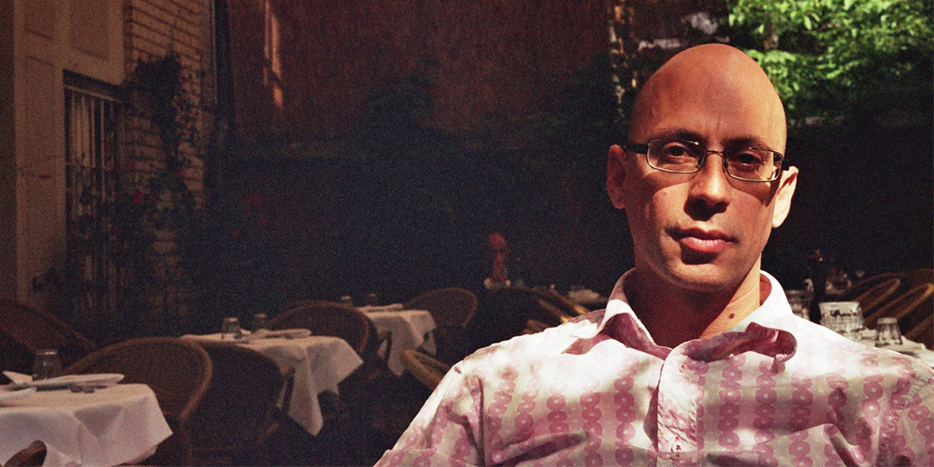 "They're dissatisfied with ordinary suburban living where everyone's got their own car, their own house, their own lawnmower. They would be quite happy to sacrifice a bit of privacy and gain some community," he said.
Sharing is caring
Though the movement is still in its infancy in Wales, some projects have managed to get off the ground successfully. Dol-Llys Hall, a former regency country house near Llanidloes, Mid Wales, is home to six families who share communal rooms, a laundry and a workshop, Dol-Llys' website says.
Closer to Cardiff is Swansea Cohousing, which is looking to set up cohousing where each resident has their own apartment with shared facilities and the option to buy, rather than rent, co-founder Leonie Ramondt said. Nearby is Golem, a Radical Routes co-op with two properties that has been growing for eight years, she said.
But making progress is not easy. Allan Shepherd, cohousing officer at Powys County Council, admits on his blog that cohousing projects often face an "uphill struggle" to get homes built.
In Wales, which has the UK's second highest rate poverty in the private rented sector according to a report from the Joseph Rowntree Foundation, a lack of affordability presents a significant obstacle to cohousing becoming a real alternative, particularly for young people facing immense difficulty in owning their own home.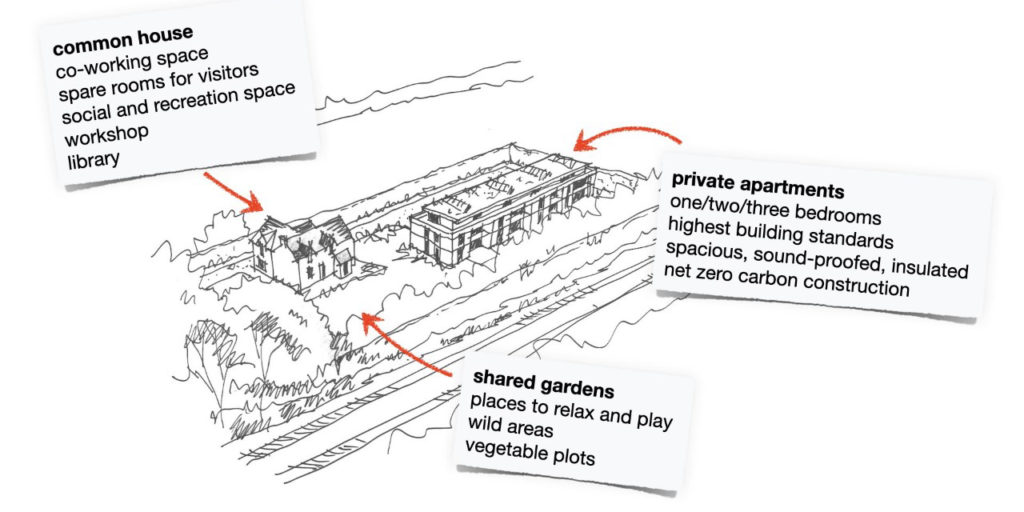 Casey Edwards, Community Led Housing Advisor at Wales Co-operative Centre, said without assistance from a Housing Association or the government, she said, it would be difficult to figure out how cohousing projects could be affordable, especially in a place like Cardiff.
"With the cost of the land and then the cost of developing properties," she said, "it is often difficult to deliver affordable housing if you don't have that support."
More urgent problems
That support was hard to find when councils had been trying to get people with urgent needs off the streets, Daniele said. At the same time, the Welsh government is scrambling to meet their target of 20,000 new affordable homes by 2021, while the Covid-19 pandemic has complicated matters even further. Long-term planning isn't easy at a time of crisis.
That cohousing isn't a larger part of government plans might be down to perceptions of cohousing as a utopian or bohemian lifestyle among the public and some politicians, Casey said.
"A lot of people see it as an alternative form of housing, geared to rural communities who want to live off grid. Maybe people think it's a commune," she said.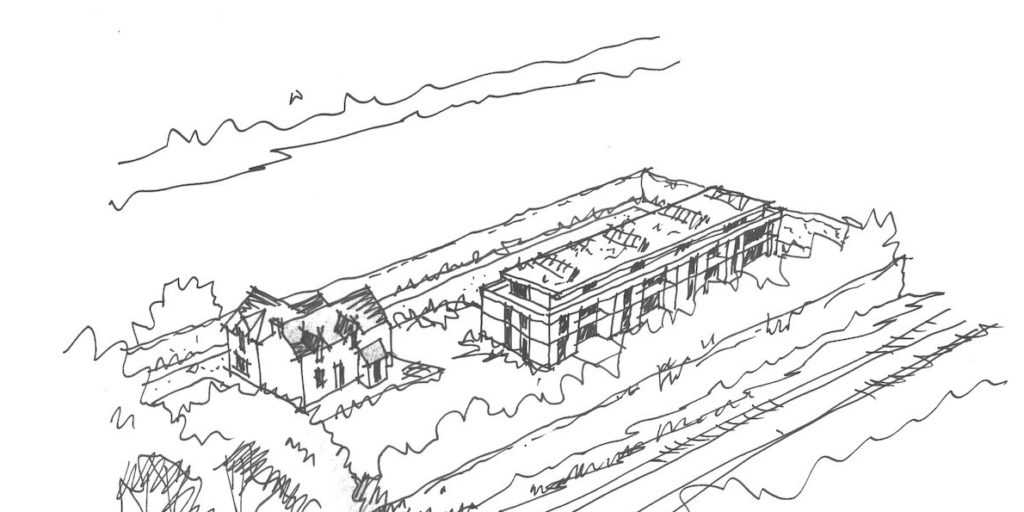 Daniele also thinks an obstacle to mainstream adoption is that cohousing "just sounds so weird to many people." The idea of privacy has been very strongly encouraged ideologically, he added.
Diggers and dreamers
In reality, while some cohousing projects do emphasise radical self-sufficiency, many projects are simply focused on sharing spaces pragmatically. At the Wales Co-operative Centre, Casey said, her team had worked with "alternative" people who want to live off grid in really rural areas as well as people who lived in cities and towns and villages all across Wales.
That tension between utopian ideals and pragmatic reality within the cohousing movement even plays out within existing groups.
"There's a lot of dreaminess in the cohousing sector," Daniele said. "Dreamers can be an obstacle to progress because they tend to sit around talking and nothing ever gets done," he said. 
Is cohousing going to solve the housing crisis in Wales? Probably not, Casey admits. But while she couldn't see it being delivered en masse any time soon, she said, it was definitely on the up. The Wales Cooperative Centre had 50 clients on their books, she added, with plans to deliver 290 affordable homes over the next decade.
Meanwhile, Daniele isn't giving up. He, along with his colleagues at Cardiff Cohousing, continues to search for the right piece of land.
"I don't want to still be sitting here talking about what we're planning to do in three years time," he said.
---
Where can you find cohousing projects in Wales?