Covid- 19 has expanded the caring responsibilities of many young carers in Wales, affecting the way they look after themselves to the point of damaging their mental health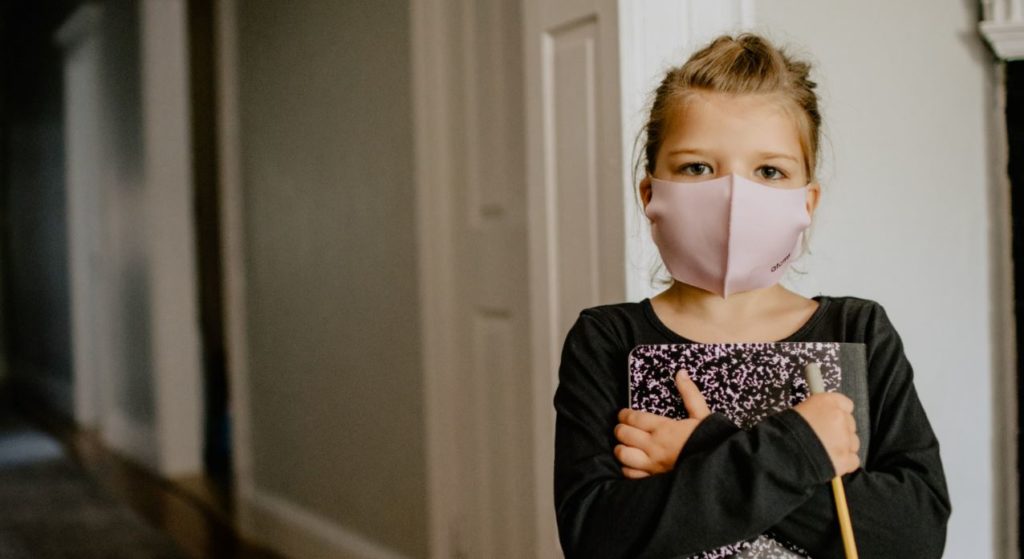 When the government announced the first lockdown, it was with a clear idea in mind: to slow down Covid-19 infection rates. Many saw this as an opportunity to take a break from their routine. For some, however, staying home meant being stuck with more responsibilities. Young carers saw the frontline stepping to their door, and their support system crumbling at the same time.
While the pandemic affected everyone, the situation for young carers has been particularly hard, and many struggled to find a healthy balance between their personal lives and their caring obligations.
For many, lockdown meant they were now expected to take care of someone full-time, on top of managing their work or studies. As we are nearing one year of the pandemic, a survey reveals that 40% of young carers and 59% of young adult carers saw their mental health worsening during the pandemic.
The YMCA Cardiff group, who supports over 350 young carers, young adult carers and their families across the Cardiff & Vale area has noticed a clear increase in depression, anxiety, and panic attacks from the people they keep up with.
This can be explained by several factors, as Robyn O'Brien, the young carer's coordinator for YMCA states: "There was a lack of coping strategies as it was a new situation, but also the worry of leaving the house due to confusion over social distancing while having the pressure to continue studies or employment."
Growing up as a young carer comes with many responsibilities
Confusing guidelines put young carers at risk
The confusion over some of the Covid-19 guidelines in the UK led to situations that were hard to deal with for young carers.
Nazia Akram lives in Cardiff, and she grew up taking care of her brother who suffers from muscular dystrophy. She found herself in a disagreement with one of the NHS local health board over the Covid-19 guidelines. She explains: "Right at the beginning of the pandemic, my brother asked for his carers to wear a mask. This decision was contradicted by one of the NHS local health board who said the WHO guidelines didn't demand to wear masks because they don't really do anything. She even told the carer who was present that day to assist me and my brother to take her mask off."
A week after this incident, masks were made mandatory. The issue was anxiety-inducing for everyone involved and would have been hard to deal with for a younger carer, who might not have been able to stand up for their rights.
Young carers often end up becoming advocates for the person they are caring for when they can't express themselves. Talking about her brother, Nazia says:
I feel like I'm his voice.
Situations like these are even more stressful considering one thing that massively impacted young carers' mental health throughout the pandemic is the fear of passing the virus on to their vulnerable family member. Nazia's brother kept repeating: "If I get it, I'm dead." As a result, she sacrificed more of her social life, isolating earlier and longer than everyone else.
Nazia's advice to younger carers: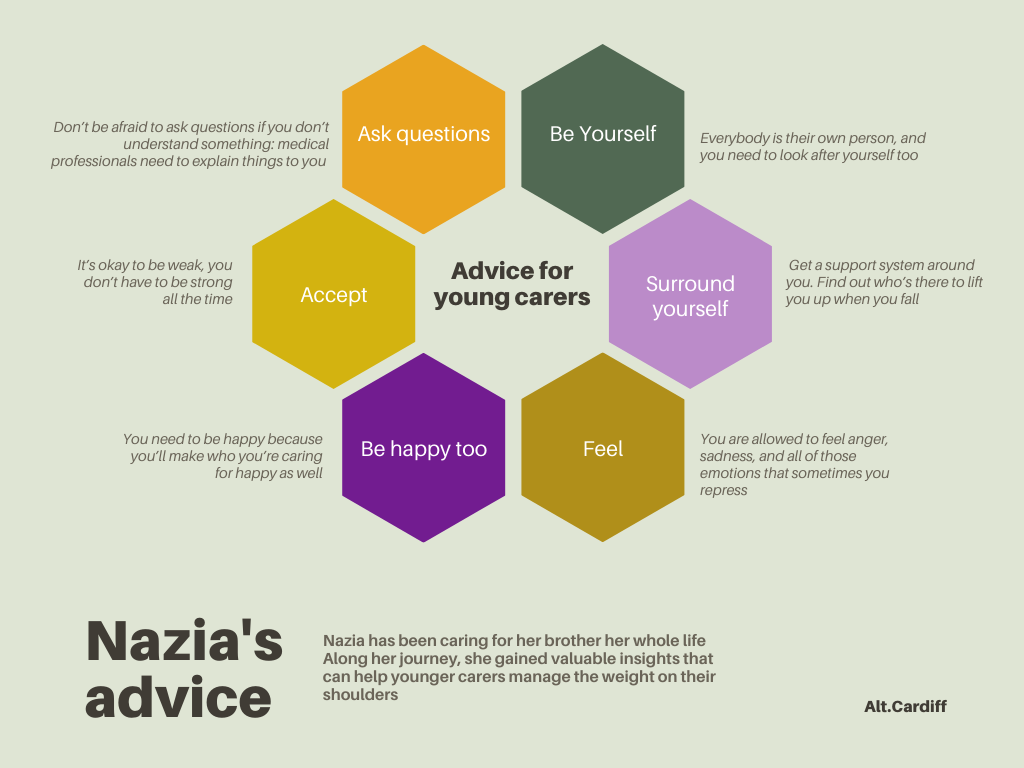 Forgotten voices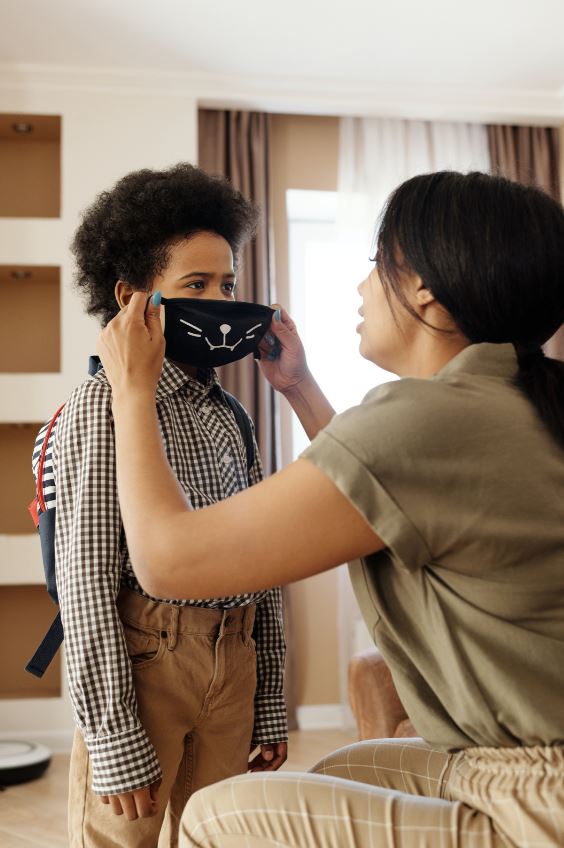 ---
During the pandemic, the government released videos and leaflets in different languages to explain the crisis to everyone. However, as Nazia explains: "A lot of ethnic minorities, even though they can speak and understand a language, can't actually write or read it."
A lot of people feel like if you can't speak English your voice is not worthy to hear.

Nazia Akram
This led many BAME young carers to have to translate news for their parents, which only added to the weight on their shoulders. This is particularly dramatic in the case of younger carers, when the information they have to translate is sensitive, of medical nature, or could shock them.
---
Positive experiences
Elly Savva, a 23-year-old Cardiff University student has had a positive experience during the pandemic. She grew up as a carer for her brother who has autism and started a new job as a carer at the beginning of the first lockdown.
In her case, she wouldn't have worked in care without the pandemic. She states: "I hated not having something to do, I hated that I didn't have anything to give, so I did everything I could to be involved and be helping somebody. That really motivated me. Taking care of someone helped me put my anxiety in perspective on the whole situation."
The pandemic didn't only impact young carer's mental health negatively, but for the most part, it prevented them from taking care of themselves.
As Nazia says: "A lot of carers don't look after themselves, because they have it in their mentality that their family member has it worse. They feel as if they don't have permission."
This is something YMCA Cardiff is trying to tackle with their Time 4 Me project, where different young carers are connected to talk about their struggles and socialize with people who understand them.
YMCA Cardiff also offers the following support to young carers, young adult carers and their families:
1:1 support with a youth worker
Training & education through accredited courses and additional skill building sessions
Respite activities such as fluidity free running or trampolining
Social opportunities & peer mentoring
Family coffee mornings
Access to youth club
Residential opportunities such as the Young Carers Festival
The opportunity to join a youth forum
---
While we are starting to see the light at the end of the tunnel with the approval of the Pfizer vaccine for rollout in the UK, many young people will emerge from this pandemic with more caring responsibilities, to make up for the losses and the damages caused by Covid-19.
These new carers might not know about the existence of support structures like YMCA. It is important to hear their voices, and show them the help they can get.