A contemporary ballet version of The Nutcracker featuring a cast of Welsh characters is set in the Cardiff Castle grounds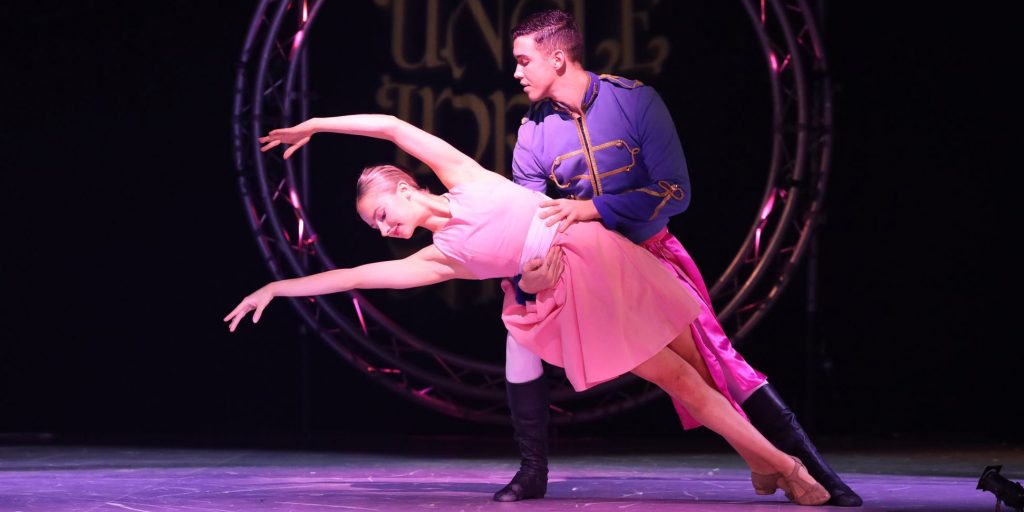 The Nutcracker, 25-27 November, Cardiff Castle Christmas Festival.
Romantic and adventurous, and at times humorous, this production of The Nutcracker creates a new perspective on the traditional story, rich with Welsh culture.
Set in the valleys in the Williams' family home, this twist on the traditional ballet renames traditional characters. Well-known Welsh legends Bopa Linda and Bopa Sheila are the first to appear on stage. The two women natter, the only bit of speech in the whole show, before quickly sitting down on a small table with a bottle of wine. The rest of the family gather around the Christmas tree at the back of the stage, swooping in elegantly.
Directed and choreographed by Jamiel Devernay Laurence, this version of The Nutcracker is immersed in Welsh culture, powerful romances and the magical adventure of lead protagonist Carys (Ffion Elmer), traditionally known as Clara, receiving a toy soldier "a Nutcracker" on Christmas morning.
Carys' brother Fysil is given a replica of Welsh mythical creature, the Mari Lwyd. The equivalent of the Mouse King in the traditional version. The Mari Lwyd comes to life through dance. Surrounded by mist and dramatic music, the creature appears. His spectacular, and almost scary, performance is accentuated by his impressive costume which includes a large skeleton head, white tights and a red ribbon belt.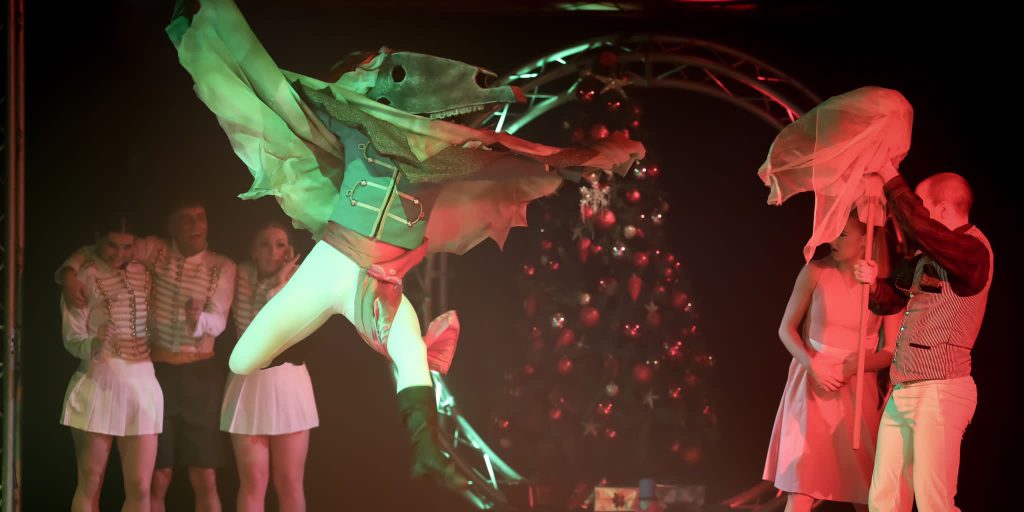 In a dramatic twist, the dancer playing Mari Lwyd (Zach Parkin) is revealed as wearing the Nutcracker costume underneath. This results in an emotive dance between the Nutcracker and Carys, she just carried out off into another world.
This sparks a love story, as Carys and the Nutcracker beautifully cascade across the stage with kicks, twirls and majestic lifts. Carys' impressive lines alongside the Nutcracker's strong frame form an entrancing echo of the traditional ballet. The pair dance under pink lighting, as audiences can only guess what words they would say if they had the chance.
In a new setting, the second act reveals The Uncle Idris Show, which is set up as a variety show hosted by the character Uncle Idris. The characters perform astounding fouetté turns, pirouettes and leaps. This is followed by a dazzling performance by the dancing, tumbling snowballs in white fringe jumpsuits.
In an emotional end, Carys falls asleep, and her father finds her back under the Christmas tree cradling her Nutcracker toy, revealing this was just a dream.
Deverney Laurence has managed to highlight Welsh folklore, while pulling at the heartstrings with a romantic connection between Carys and her Nutcracker. Audiences also have a dramatic view of the stage, set in a tent within Cardiff Castle's grounds. This impressive interpretation of The Nutcracker goes somewhere new with a classic tale.