A pilot trial of recycling has been carried out in Cardiff to boost the capital's recycling rate. The change is causing mixed reactions from the public.
It's been a month since residents in Llandaff, Radyr, Pentwyn, and Trowbridge first took part in Cardiff Council's pilot trial to separate different sorts of recyclable waste.
Thousands of households have been given reusable sacks and caddies to sort their recycling bins. Red sacks are for plastic and metal, blue sacks for paper and card, brown caddies for food waste, and blue caddies for glass bottles and jars.
Through separation, the Council is hoping to reduce the use of green plastic bags and improve the quality of its recycling.
But residents have spotted several problems with the trial.
Rod Matthews from Llandaff says "There will be rubbish all over the place in the wind. These sacks are too flimsy for the purpose.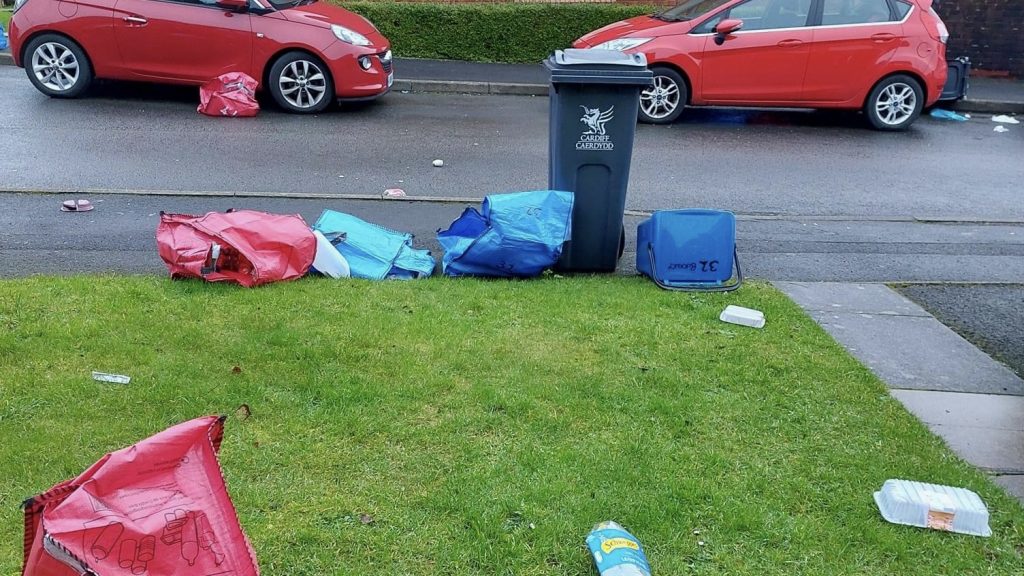 "And we are asked to write our door number on the sacks in case they got blown away to the neighbors," says Rod.
Ken Melhuish used to work at the Lamby Way tip. He says it's not difficult for him to separate the recycling, but he still thinks there are problems. "It's too awkward for the elderly and people with disability to move all these bags around."
Currently, Cardiff has the worst recycling rate in Wales. According to the Welsh government, around 55% of its waste is recycled while the average figure in the nation stands at 65%.
The Welsh government wants the capital to hit the average recycling rate as soon as possible, and reach 70% by 2024-2025.
To meet the target, Cardiff Council is considering expanding the trial to the whole city
But the news hasn't gone down well with some people.
Aleena Khan from Grangetown says putting all these bags on the street on the recycling day won't work. "It may obstruct the pedestrians, especially those who use wheel chairs.
"And it does impact the aesthetic look of the street."
Councillor Michael Michael, Cabinet Member for Clean Streets, Recycling and Environment, is the man behind the new recycling scheme.
He says to make Cardiff one of the best recycling city in the world, they have to first get rid of issuing 24 million green bags a year, and get people to separate their waste more.
"More separation means easier to bundle the recycling, and less human interface with the actual articles means we can use more computer machines to separate," Cllr Michael told Cardiff News Plus.
"The system is far better for Cardiff, far better for the world."
At the moment, the Council is analyzing the pilot. They say they welcome feedback from the public to improve the recycling scheme, which according to Councillor Michael Michael, "is hopefully going to be rolling out across the whole city in summer."