A petition calling on the UK Government to stop what campaigners call the "robbery" of mineworkers' pensions is on the cusp of reaching 100,000 signatures.
The petition was launched three years ago by a group of ex-miners from South Wales.
The Government is guarantor to two mineworkers' pensions schemes and jointly splits any surpluses from the fund, as part of a 1994 agreement with the National Union of Mineworkers (NUM). Campaigners say that 50:50 split is unfair and the miners should get bigger share.
Ken Sullivan, a 67-year old former miner from Oakdale who has been leading the campaign, accused the Government of "robbery" over the deal and said he's motivated to carry on by the people who "are struggling really hard" on their 'pit pensions'.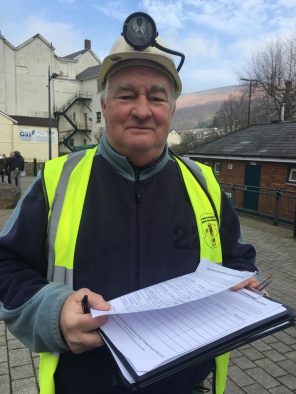 Today was the final day of gathering signatures, and the group finished with 560 names in Mountain Ash. With a further few thousand signatures from England currently being counted, the campaign is expected to confirm its total this weekend – but estimate it will be around 106,000.
Harry Parfitt, 84, who was a miner for nearly 40 years, said the campaign was "a struggle" with petitioners "out in all weather" to gather signatures.
Chris Kitchen from the NUM described the union's relationship with the Government as "non-existent". He welcomed the petition for "bringing prominence" to an issue that he says the NUM have been campaigning on for 20 years.
The campaign has political support from former Plaid Leader Leanne Wood and has been championed by MPs including Nick Thomas-Symonds (Torfaen). Last week, Labour secured an adjournment debate on the issue, but the former miners today are still hoping to force a new debate.
Mr Sullivan wants to "help write the script" for MPs when the Minerworkers' Pension Scheme comes before Parliament again. But change will be hard to come by, as the official Miners' Pensions Scheme website reads: "The Government has made it repeatedly clear […] that it does not regard the 1994 arrangements as being unfair".
Mr Sullivan is under no illusions – "It's the first stage of the fight, but the hardest stage is still to come".