The Council's process of fixing potholes isn't good enough, according to some cyclists in Cardiff.
Rahim Mastafa cycles into work every morning passing the bus depot in Sofia Gardens.
Over the last six months, he has documented the potholes on his Twitter account — lobbying Cardiff Council to repair the road.
Photo's from Rahim's Twitter @SugarBoxStudios
He says that the potholes are extremely dangerous for cyclists and when it rains, they look like shallow puddles, posing a high risk to cyclists who don't realise how deep they are.
They've gone back a few times to fix the potholes, but the (repairs) never seem to last.

Cyclist Rahim Mastafa
Rahim says he and many other cyclists are forced to ride on the other side of the road because of the deep potholes – cycling directly into oncoming traffic.
He says that the Council's attempt at a temporary fix to the potholes seemed to consist of the holes being filled with a "shovel of tar" — which quickly disappears with the high number of busses and cars.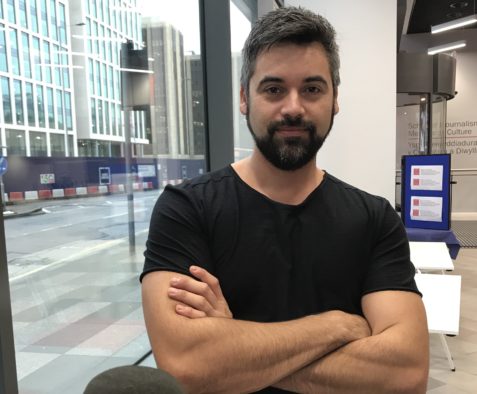 After Rahim was approached on social media about this story – Cardiff Council has since resurfaced the road. Six months later after his first complaint.
The road having been fixed again this morning.
Cardiff Council has said that according to data from last year, Cardiff was the top council in Wales when it came to pothole repairs and in a statement they said:
"We use the resources available to best effect by carrying out a variety of road works across the highway network including reconstruction re-surfacing, surface patching and treatments as well as temporary repairs to potholes."

Cardiff Council