City centre hotels are facing "serious questions around whether it would be financially viable to open" without pubs, restaurants and and tourism attractions being open too, according to a leading hotelier. 
Self-contained accommodation in Wales can open from March the 27th, but many other types of business will remain closed or be working under restrictions, which will affect the demand for hotels.
According to Tom Gaskell, Vice-chair of Cardiff's Hoteliers Association, it will be no good reopening hotels with tourism destinations still closed.
"If we were to re-open our hotel with room service only, non-essential retail will be open by then, or at least some of it, but there will be an awful lot of areas of the economy which won't be open," said Mr Gaskell.
"So, if you're a city centre hotel, you have to make a decision as to whether or not it's viable for us to open."
At today's three-week review First Minister Mark Drakeford did not give an indication as to when or how pubs and restaurants in Wales will reopen.
In England, Boris Johnson has provided a roadmap which includes dates for the reopening of sectors, with pubs and restaurants able to welcome people outside from 12th of April.
Nick Newman, Chair of Cardiff's Licensees Forum and General Manager at The Philharmonic, said that pubs need certainty.
"We hoped we'd get at least some indication about when we can open and how we're going to open," he said.
"We really do feel we've done enough in Wales and in Cardiff in particular to keep our venues safe. We proved that during the re-opening phase from August to November last year."
The First Minister also confirmed at the press conference today that English tourists wouldn't be able to visit Wales at Easter, despite the opening of self-contained accommodation.
Hotelier Mr Gaskell said: "Wales is significantly dependent on travel from England and I think all we've found out today is that financially, it's going to be very difficult for us going forward."
Newman and Gaskell were speaking as part of Checking In, CJS News' Facebook Live programme about the hospitality and tourism sectors in Wales.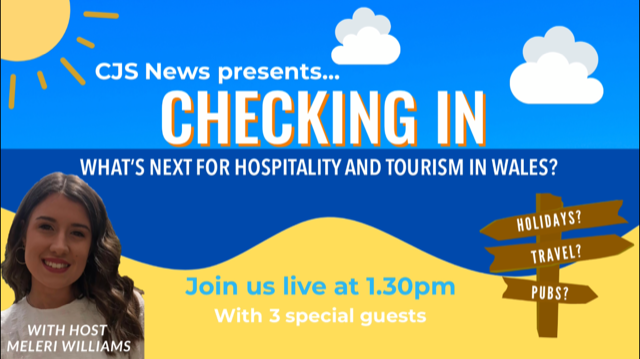 The panel also included the Welsh Conservative Shadow Minister for the Economy, Transport and Mid-Wales, Russell George, who said that the hospitality sector in Wales needs a clear roadmap like England.
"Wales is the only area of the UK where we haven't got a detailed plan and roadmap, and that's what we need, with dates attached," he said.
"I think the message we had today was a rather confusing message which is quite sad. What I'd like to have heard today is a bit more hope and optimism.
"I think there is an opportunity to open up sooner, given the rates are coming down and we've been in lockdown for a longer period of time."
With Newman and Gaskell calling for "certainty", the only thing that's certain now is that there's another three week wait for more details.