Only 16% of people referred by a GP for mental health assessment under Cardiff and Vale Health Board are seen within the 28-day target, latest figures show.
Outside of Cardiff and Vale, a mean average of 88% of people in Wales were seen by a mental health professional for a LPMHSS assessment within 28 days of their referral in Wales.
It means that if you're living in Cardiff or the Vale of Glamorgan and you're struggling with your mental health, you're six times less likely to be seen by a professional within the month than if you're living under neighbouring Hywel Dda Health Board.
The latest monthly numbers issued by Stats Wales cover the December 2020 period.
The percentage of people seen within the 28-day target in Cardiff was lower than average during the first wave of the pandemic, but saw a significant improvement over the summer months.
However, there has since been a sharp downward trend from August to December 2020 and the figure is now its lowest since new targets were introduced in 2015.
Since February, the percentage of who are seen for an initial mental health assessment within 28 days of being referred by their GP in Cardiff and Vale has dropped by 79%.
Crucially, this trend has not been mirrored by any other health board.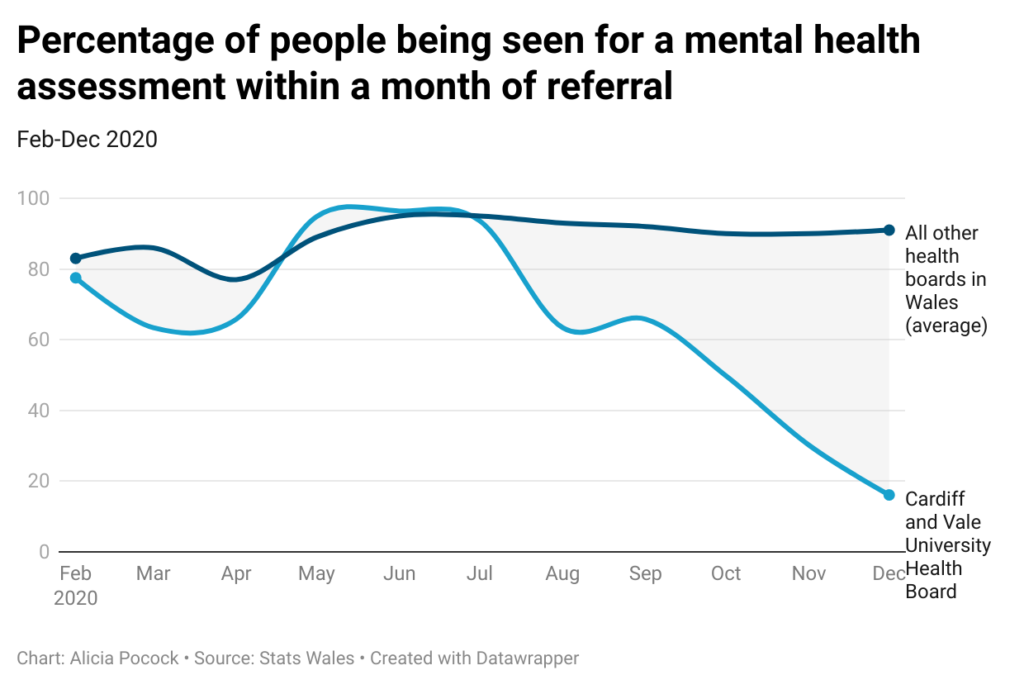 Elsewhere in Wales, the percentage of people seen by a professional within 28 days of their referral has, on average, increased by eight percent since February and remained relatively stable throughout the pandemic.
The initial mental health assessment is called a "Local Primary Mental Health Support Services (LPMHSS) assessment" and is for people who have first been seen and referred by their GP.
Mind Cymru describes the LPMHSS as "a detailed mental health assessment to find out whether local primary mental health treatment or any other local service might improve your mental health or prevent it from getting worse."
In 2012, The Welsh Government introduced guidance on waiting times for assessment and treatment by local primary mental health support services.
These stated: "People referred for a mental health assessment should be seen within 28 days of receipt of referral. Following assessment, those who need treatment should start to receive it within 56 days.
The 56-day assessment to treatment target was changed in November 2015 to become a 28-day target"
The Welsh Government has not commented on the specific discrepancy between health boards, but a spokesperson said: "Mental health support has been essential during the pandemic and we work closely with partners, including the third sector, to respond to changing mental health needs.
"We have also invested almost £10m to provide support for low level mental health issues and to prevent the need to access more specialist services."
Kate R from Cardiff has to be referred by her GP each time she needs extra support with her bi-polar diagnosis.
"It usually takes seven weeks before I am seen (by mental health services), by which time I am usually just reaching recovery point or starting to turn the corner with my bi-polar condition. It's incredibly unhelpful."
It's not only the waiting times between a GP referral and LPMHS assessments that are a cause for concern. As highlighted in a report by Mind Cymru earlier this month, wait times across Wales for specialist physiological therapies are also not hitting targets.
"Welsh Government aims for 80% of people to access specialist psychological therapies within six months of a referral. Between April 2019 and August 2020, that target was never achieved."

Beth Jones lives within Cardiff and Vale University Health Board and following her diagnosis PTSD, was told she could expect to be seen some time within fourteen months.
Jones, a part time student, has been so disappointed with mental health waiting times, that she's taken out a personal loan for private healthcare.
"I've given up on seeking help through the NHS and have an appointment to go private and pay out of my own pocket for help, because I find assistance from GPs to have been considerably disappointing."
"It has been incredibly stressful, demotivating and upsetting – especially because I hope to work in the NHS one day."
Glenn Page, Senior Policy and Campaigns officer at Mind Cymru, says that longer waiting times can have further impact on mental health.
"We know that when people are waiting for the support that they need, their mental health is more likely to deteriorate," he said.
"They might find themselves experiencing a mental health crisis and access support through A and E.
"So it's really important that the Welsh Government and NHS Wales work together to ensure that the resources are there but also that the capacity."
Cardiff and Vale University Health Board has declined to comment on the figures.