The day's news from South Wales on Tuesday, March 22
Welsh Health Minister Eluned Morgan outlined more details about Welsh COVID-19 restrictions a day before the second Welsh lockdown anniversary.
Meanwhile, 250 people signed an open letter urging Welsh MPs to vote against the Nationality and Borders Bill in the Houses of Common.
We've also been keeping you up to date with the latest weather forecast with the very welcome return of sunny days, as well as all the other news and sport in our area.
---
17:35
That's all from us. Thank you for joining us today and make sure to come back on Friday for the latest breaking news.
---
17:20
DVLA launches campaign on Cardiff Queen Street
The DVLA has launched a campaign in Cardiff which saw a car covered in traffic cones on Cardiff's Queen Street.
The campaign is aimed at reminding motorists the importance of taxing their vehicles.
It's part of their Tax It, Don't Risk It campaign.
---
17:08
Increase in Cardiff parking permits
There has been a significant increase in the number of people with parking permits across Cathays since 2019.
CJS News sent a Freedom of Information request to Cardiff Council and found that the number of parking permits given to residents in Cathays has doubled from 4,853 permits in 2019 to 7,749 permits in 2021.
Our reporter Lucy Woodham has more.
---
17:00
Heatwave to continue
The small heatwave we're experiencing here in South Wales is set to continue for another couple of days.
According to the Met Office, highs of 17 and 18 degrees are set to continue until Saturday, with some warmer days expected until Monday.

---
16:40
LeadHerShip day initiative takes place at the Senedd
An initiative to help women break into politics was held today at the Senedd.
LeadHerShip, which is led by Welsh charity Chwarae Teg, saw young women paired with MSs and getting the chance to learn how the Welsh Government make their decisions.
The event included speakers like Jane Hutt, the Welsh Minister for Social Justice.
---
16:02
15,000 to take part in Cardiff Half Marathon
Cardiff Council has announced they are expecting 15,000 people to take part in this year's Cardiff Half Marathon.
The event, which will take place on Sunday, is the first time the half marathon has been allowed to be run in person since the beginning of the pandemic.
---
15:30
A-ha to headline Cardiff Castle
Pop band a-ha, best known for their hit 'Take On Me' have announced they will headline Cardiff Castle this summer.
The band will perform at Depot in the Castle. The news follows the announcement of Madness as another headline act for the series of gigs in July.
Tickets will go on sale this week.
---
14:39
First Minister's Questions has ended
The First Minister has left and the rest of the Agenda has continued in the Plenary.
---
14:26
Mark Drakeford: Spring Statement should help people with cost of living
The First Minister says UK Chancellor of the Exchequer Rishi Sunak's Spring Statement tomorrow "must include actions to provide for those least able to manage the crisis in the most essential aspects of daily life".
He says the statement should widen access for food and fuel for those people.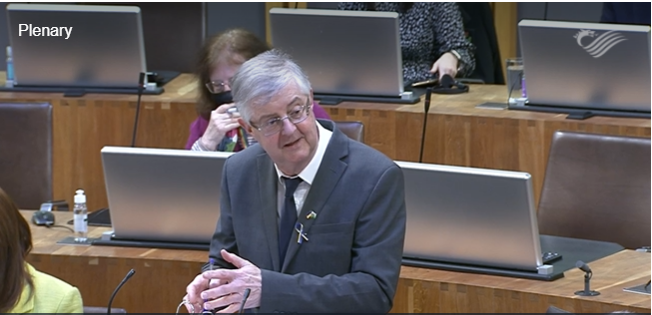 ---
14:00
Adam Price MS calls for cancellation of Jimmy Carr gig
The Leader of Plaid Cymru, Adam Price MS, has called for the Welsh Government to cancel a gig with comedian Jimmy Carr, due to be played at St David's Hall in Cardiff.
Adam Price says travellers in the area are condemning the comedian for his comments regarding traveller communities during the Holocaust.
---
13:53
Mark Drakeford: 'We have to move beyond a commitment not to be racist'
The First Minister has responded to questions posed by Leader of Plaid Cymru, Adam Price MS, saying Wales should follow a commitment to be 'positively anti-racist'.
He says the Government is working on a plan with people of colour to make sure the actions are made with the aim of 'fundamental change'.
---
13:42
Mark Drakeford: Welsh Government will wait for advice
Mark Drakeford says the Welsh Government will now wait until Thursday, when they receive medical advice to decide whether they will go ahead with the plan to remove all COVID-19 restrictions in Wales.
He says everyone should begin to reconsider COVID-19 restrictions, such as social distancing once again in order to protect vulnerable people.
---
13:39
First Minister addresses closure of vaccination centers
The Welsh First Minister has assured Members of the Senedd that the closure of two vaccination centres in Cwm Taf Morgannwg Health Board will not affect the number of people waiting for a booster.
Mark Drakeford says people in the area will be vaccinated at home if they are house bound, and there will be a 'vacci taxi' available to take vaccines to those unable to travel elsewhere for a COVID-19 booster.
---
13:30
The First Minister answers questions on COVID-19
The Welsh First Minister Mark Drakeford is answering questions on the Welsh COVID-19 strategy following the Health Minister's press conference.
He warns that the COVID-19 BA2 rate has increased.
---
13:14
The press conference has finished
The statement and questions from journalists have finished.
A decision on whether to pause the scrapping of all remaining COVID-19 restrictions (planned for Monday) will be made later this week.
---
12:42
"Waning vaccine immunity"
All over-75s, all older care home residents, and all over-12s who are immunosuppressed to be offered a spring booster.
Children aged five to 11 to also be offered a vaccine.
---
12:32
"Hospitals are full already"
Hospital admissions have spiked in recent weeks, with the number "set to rise further".
"Pandemic pressures on health services are once again increasing, just at the point when we had hoped to be able to reset and begin a real focus on addressing waiting times."
The Health Minister says we "have to consider this" when reviewing the removal of remaining restrictions.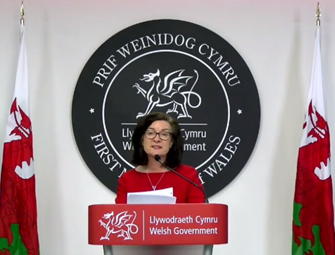 ---
12:27
Wales has the lowest COVID-19 rates in the UK
The Health Minister shows two graphs. Infection rates are rising in all four countries of the UK. Just over 4% of Wales is infected.
A second sub-type of the Omicron variant, BA.2, has become more dominant. The Health Minister says BA.2 is more transmissible than the original variant and faster-spreading.
This new sub-type has been "pushing up cases rapidly".
---
12:20
No decision made yet over lifting COVID-19 restrictions
The Health Minister says it's a "finely balanced judgement" but no decision has been made yet over whether to pause the scrapping of all remaining COVID-19 restrictions.
One in 25 people are infected in Wales, according to the Office for National Statistics.
1200 people are in hospital in Wales because of Coronavirus – this is the highest figure since March 2021. However, low numbers are reported to be in intensive care.
---
11:45
COVID-19 press conference starts at 12
The Welsh Health Minister Eluned Morgan will lead a press conference today at 12:00, where she will discuss Welsh COVID-19 restrictions.
Wales is expected to remove all of its rules next Monday.
As it happened: Welsh COVID-19 updates, refugee border bill and weather updates