Want to do your bit to tackle food waste but not sure where to begin? Downloading one of these food waste apps may be the perfect place to start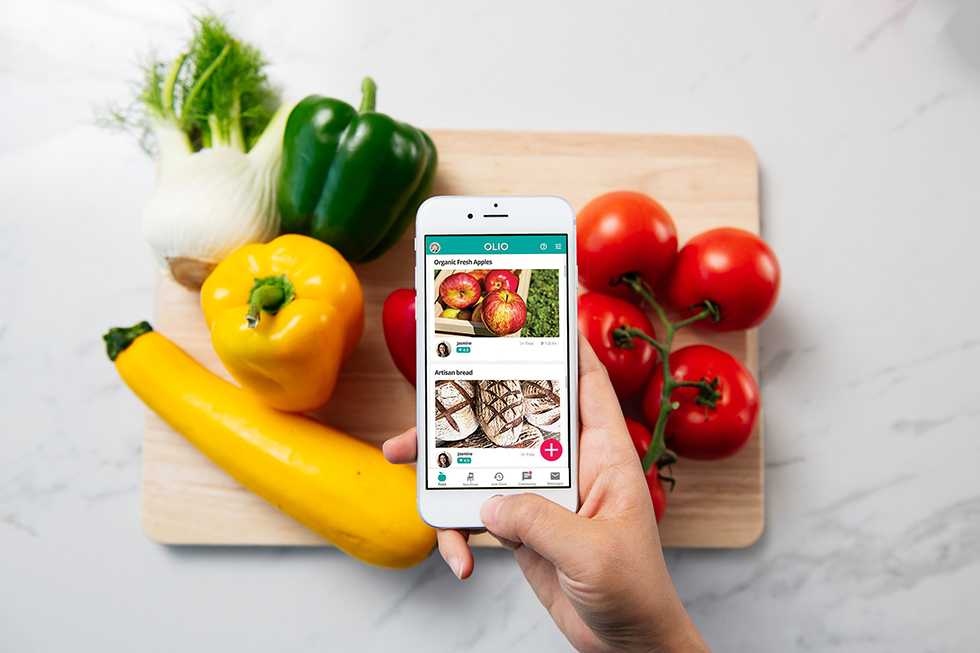 According to WRAP we waste around 9.5 billion tonnes of food every year in the UK, 70% of which could have been eaten. That's more than 19 billion pounds worth of food, associated with a massive 25 million tonnes of greenhouse gasses. In light of these shocking statistics, it's clear that we all need to shake up our shopping and eating habits but it can be a bit overwhelming knowing how to go about it. Luckily, with the help of modern technology, cutting down on your food waste doesn't have to be quite so complicated. We've rounded up the best apps to help you reduce food waste on your sustainable eating journey. 
1. OLIO
Founded by Tessa Clarke and Saasha Celestial-One back in 2015, OLIO is all about creating hyper-local food sharing networks around the world. The app connects neighbours with each other as well as local businesses so instead of throwing away perfectly good food, someone else can enjoy it.
The app is easy to navigate. If you're looking to give away some food, you simply have to add a photo of the item, a description and state when and where it can be picked up from. To see if there's anything you can get your hands on, you can browse the listings in your area and request to arrange a pick-up by sending the user a direct message.
2. Too Good To Go
Available in nine countries across Europe, Too Good To Go aims to cut down on food waste by letting restaurants and cafes sell food they would otherwise throw away at heavily discounted prices. This means those who are concerned about food waste can grab some cheap and tasty food while doing their bit for the planet.
Browse local offerings, order and pay via the app. Then simply turn up at your chosen eatery to collect your food by showing your receipt. Since its launch in 2016, over 15 million meals have been saved through the app.
3. No Waste
This food inventory app helps you to keep track of the items in your fridge, freezer and cupboards so you don't end up wasting anything. Complete with a barcode and receipt scanner, you can see what food you have to use up first, plan your meals and create shopping lists accordingly. The idea behind the app is to stop people from wasting food, buying things they don't need as well as helping them save money at the same time.
4. Giki
Want to know if the products you buy are as ethical and sustainable as you think? This one's for you. Giki is all about encouraging people to make purchasing decisions which are better for the environment by helping them understand the impact of the products they buy. Users simply have to scan a product's barcode to get its rating (based on how local it is, its packaging, if it's responsibly sourced, its carbon footprint, etc.) If it scores badly, healthier or more ethical alternatives are suggested. The app features over 250,000 products from a range of supermarkets, including Sainsbury's, Asda and Waitrose.

5. Farmdrop
This ethical online supermarket was set up by former city stockbroker Ben Pugh in 2014. With a focus on seasonal eating, Farmdrop delivers fresh, local produce from farms directly to homes via electric vans. You can find a range of products on the app from meat and dairy to organic fruit and veg as well as household items. By cutting out the middleman and keeping costs low, farmers keep up to 70% of the retail price – a much bigger proportion than they would receive from traditional supermarkets. Maybe you could try one of our seasonal recipes
6. Refill
A handy app that helps you find somewhere nearby to refill your water bottle for free. Refill aims to tackle plastic pollution by making it easier for people to fill up a reusable water bottle rather than popping into the nearest supermarket to buy a bottle of Buxton. It's a great option when you're on holiday in a new country where tap water is off limits.