The nineteen year old is running over five kilometres a day around Cardiff dressed in an inflatable unicorn costume to raise cancer awareness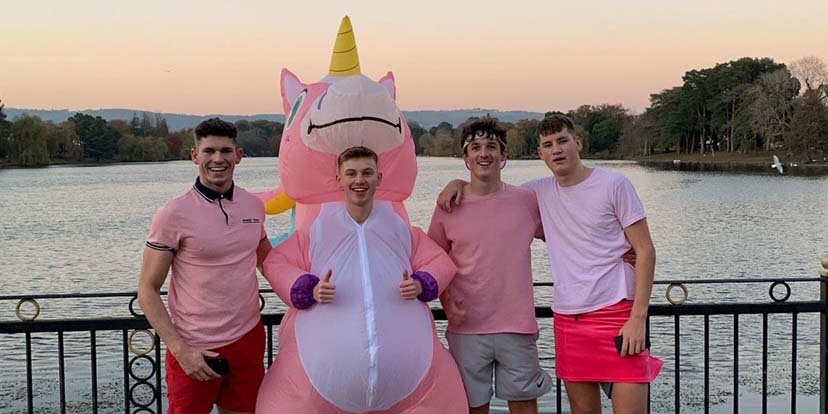 Alex Line is dedicating November to running around Cardiff dressed as a unicorn to raise awareness and money for cancer and mental health. All the money raised is going towards the Sue Ryder charity.
After losing a close friend's mum to breast cancer following a 4 year battle, Alex decided to start his campaign, running between five and 15 kilometres a day over the 30 days of November.
All progress is tracked on the Instagram account @runningstupid_forcancer. Everyday, Alex showcases footage of him running in the costume. He explains he wanted it to be pink for breast cancer awareness and big so people doubled back and took note of it. 
He says, "I've scared a few dogs accidentally, and some people have thought I'm on a stag do!"
The unicorn is taking over the streets of Cardiff
Being recognised around Cardiff
The more he runs, the more people start recognising and approaching him saying they've seen him multiple times. Alex hopes that at that point, people start to realise that the funny costume is also about awareness raising.
The second year Cardiff University student explains that the topic is also personal to him, as when he was 16 he was ill in hospital and told he could potentially get cancer. Although he escaped the diagnosis, he aims to get people talking about cancer and mental health.
Due to demand, Alex has now set up a gofundme page where he has nearly met his £1000 target. Comments on the gofundme include, "Saw you running through Cathays and honestly hard to miss you as a bright pink unicorn. Gave me a laugh so thought I better donate!"
The Sue Ryder charity helped his friend's family through the suffering and loss of their mum, so makes a worthy cause
Alex says, "It's the least I could do to add a bit of positivity to people's day and get the conversation going, that's what matters."
Stretching is key