As new figures reveal only Caerphilly Council recycles its compostable plastics in Wales , CJS News spoke to a number of local businesses  to see what they are doing to become more eco-friendly.

A recent freedom of information request by the BBC showed that, of the 13 councils who responded, only Caerphilly recycled biodegradable plastics.
A group of businesses in Caerphilly  have been accredited as plastic free champions under the scheme run by the Surfers Against Sewage for their work to remove single use plastics where possible, and they're now working to get the whole area certified as a plastic free community.
With support from other organisations including the Borough and Town councils and the local branch of Keep Wales Tidy, the Plastic Free Caerphilly group has organised litter picks and other awareness events, and hopes to hold an official launch once their plastic free status has been confirmed.
Clare Lukins, who's been a caterer for over fifteen years, started selling zero waste products around a year ago following encouragement from local residents.
She says that the massive reaction to a Facebook post in which she shared some of the zero waste products which she uses herself inspired her to adopt a zero waste approach in the business. She now shares her own knowledge and experiences with others looking to cut down on the amount of waste-producing and plastic-based products they use.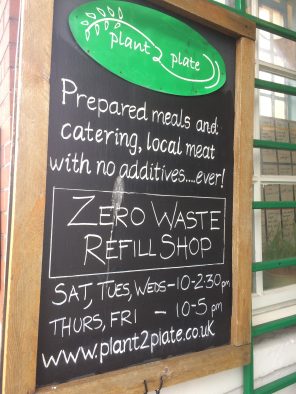 "I get a lot of people who are struggling and they're coming to me for advice. I've had councils coming to me for advice. Because I've had the experience of it now I can point people in the right direction. Everything I sell here and everything I use here is things that I've used and I won't put anything in the shop if I've not used it myself."
Scott Walkins runs The Vegan Box stall in Caerphilly's Indoor Market. He says that as they wanted to "ethical and sustainable" from the outset when setting up the business. They serve food in compostable containers and made a point of reusing as much as they could when finding equipment for setting up their stall.
"We wanted to make a point of upcycling as much as we could. I made all the furniture in our cwtch next door out of pallets"
He says that businesses in the city which are not part of the plastic free movement should consider cutting out plastic, as the process is now "easy" and "accessible"


Angela Crabtree runs The Old Library coffee shop in Morgan James Park, a business which has just been certified as plastic free under the Surfers Against Sewage Accreditation Scheme.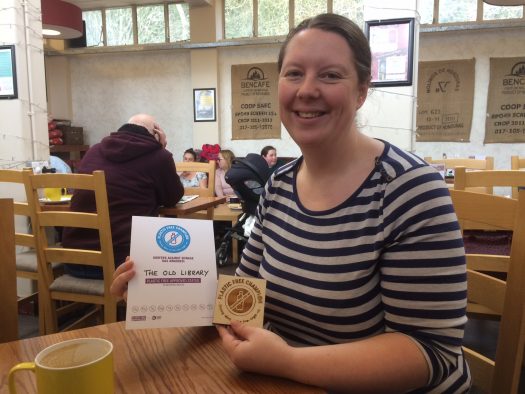 "The Vegware [biodegradable plastic] products made it a lot easier. With things like coffee cups and food storage plastic is very convenient. Its cheap, it lasts a long time….having an alternative which has the same properties but can be composted has made things a lot easier to move away from. "

Kirsty Luff, Communications Officer at Friends of the Earth Cymru and  a Plastic Free Caerphilly Volunteer, told CJS:
"There are so many things we can do, plastic has been demonised. It's hard to become plastic free, it's all around us. We really need to be thinking about reducing our plastics and incentivising people to reuse whenever they can. We need things on a national level, we need a bottle deposit return scheme."