Tampons and condoms are just some of the items found on the children's sports pitch after it floods.
A manhole cover on the Sue Noakes sports pitch used by Penalta RFC junior teams has repeatedly burst open, flooding the site with gallons of untreated sewage. 
The manhole has flooded around once a month since December, when locals started monitoring the floods. 
Cerys Sage is a member of the Save Our Green Spaces group in Ystrad Mynach and her son plays for Penalta RFC
"It is absolutely disgusting," she said.
"Tampons, condoms, sanitary products just all over the field and it has contaminated the field. And they expect children to play on this. It's just foul.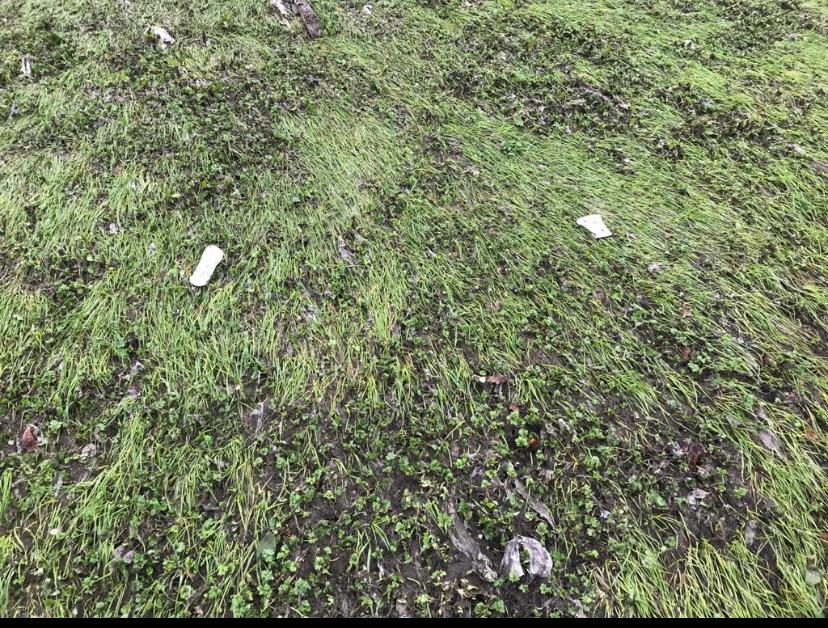 "I don't think they've done any risk assessment or any soil sampling, so this is a major thing."
In a recent statement Welsh Water said: "Further investigations are required to understand the cause, which our team will be undertaking over the coming days.
"Once these are completed, we will then be in a position to determine the next course of action." 
Councillor for Ystrad Mynach, Martyn James, says that both Welsh Water and the council have been too slow to act.
"Welsh Water should have done something earlier, the authorities should have pushed them more, but Welsh Water should have been more proactive, given that December was the first time this happened," he said.
Welsh Water was called out to investigate the problem after it was first reported in December but assured those concerned "they didn't see any likelihood of a reoccurrence".
But four weeks later, the pitch flooded again.
Caerphilly County Borough Council, which has also been accused of playing down the issue, issues a statement saying it was "keen to set the record straight" and emphasising that "there have only been two such recorded incidents in the last decade."
But locals have video evidence of it happening three times in the last three months alone. 
Dr Chris Lowe, a lecturer in Biosciences at Swansea University, says sewage spewing on to the pitch brings with it the risk of disease for those playing there.
"This is going to be sewage that is presumably untreated, so this is going to be basically whatever has come out of your washing machine, down the sink, does the toilet," he said.
"So, you're going to be seeing various gut bacteria, things like salmonella and E-coli. Another major one that you tend to have associated with sewage would be Hepatitis A.
"If you're getting that on to your hands, your face, your mouth, your nose, then this is obviously a potential vector for people getting these nasty lurgies – some of which can be quite dangerous." 
Parent Cerys Sage shares these concerns: "Who will be liable if a child gets sepsis there? Welsh Water, who knew about it, or the rugby club? It's dangerous."
Concerns are heightened by the fact that Caerphilly County Borough Council has earmarked Sue Noakes sports pitches to be their new 'community sports hub'. This is to mitigate the loss of green space at Trinity Fields that the council plans to hand over to Trinity Fields Special School as part of its proposed expansion.
A Caerphilly County Borough Council spokesperspn said: "The council is committed to providing a safe environment for people of all ages to engage in sports and any works required will be undertaken to fully address any such issues before any plans are progressed at the site."