It's May 11, and our top stories today include:
Consultation launched on reopening Castle Street for vehicles
Less than a week to go until people can visit hospitality indoors
Follow our live blog today as we bring you updates from the CJS newsroom and news from the Cardiff area.
Keep an eye on our social channels at @BroadcastCJS
---
5:15
Production day comes to an end
A busy production day at CJS News done. Join us tomorrow for another day full of news and behind the scenes footage.
---
4:45
What does the Queen's Speech mean for Wales?
Jacob Morris explains in Welsh what today's Queen's Speech is all about and how it affects Wales.
4:30
Questions with CJS News
The social team, Nest Jenkins and Jacob Morris, take our followers around the Central Square building.
Watch the video on your Instagram and Facebook here:
https://www.instagram.com/p/COvPAnAgjx-/
---
3:30
An hour to go until we're live!
Kat Keighley tells us what's on the programme today. The stories include:
Football falls returning to stadiums
Reopening of clubs
Scrapping of face masks in schools.
But, even our news reporter is unsure when we're going live! Wish us luck!
---
2:45
Muslims to celebrate end of Ramadan
With Ramadan coming to an end this week, Muslims in Cardiff are preparing for the festival of Eid al-Fitr.
This is one of the highlights of the Islamic calendar.
Our reporter Bertie Adam has been seeing how a mosque in Roath will be celebrating. More on this story at 4pm.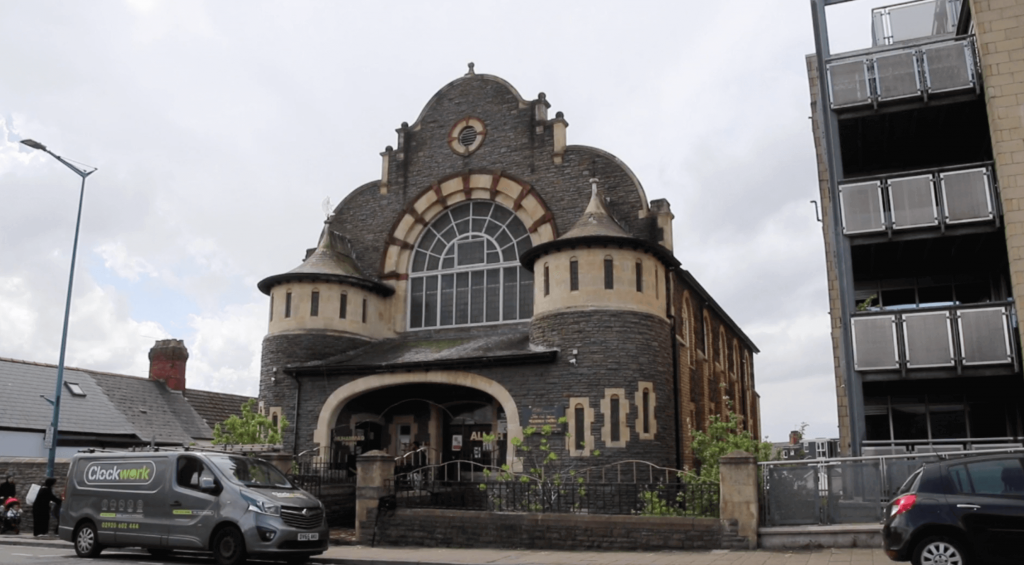 ---
1:45
To the dot! I'r funud!
Today, our reporters and producers had an added challenge: getting the bulletin to 5 minutes exactly.
They succeeded – with no seconds to spare.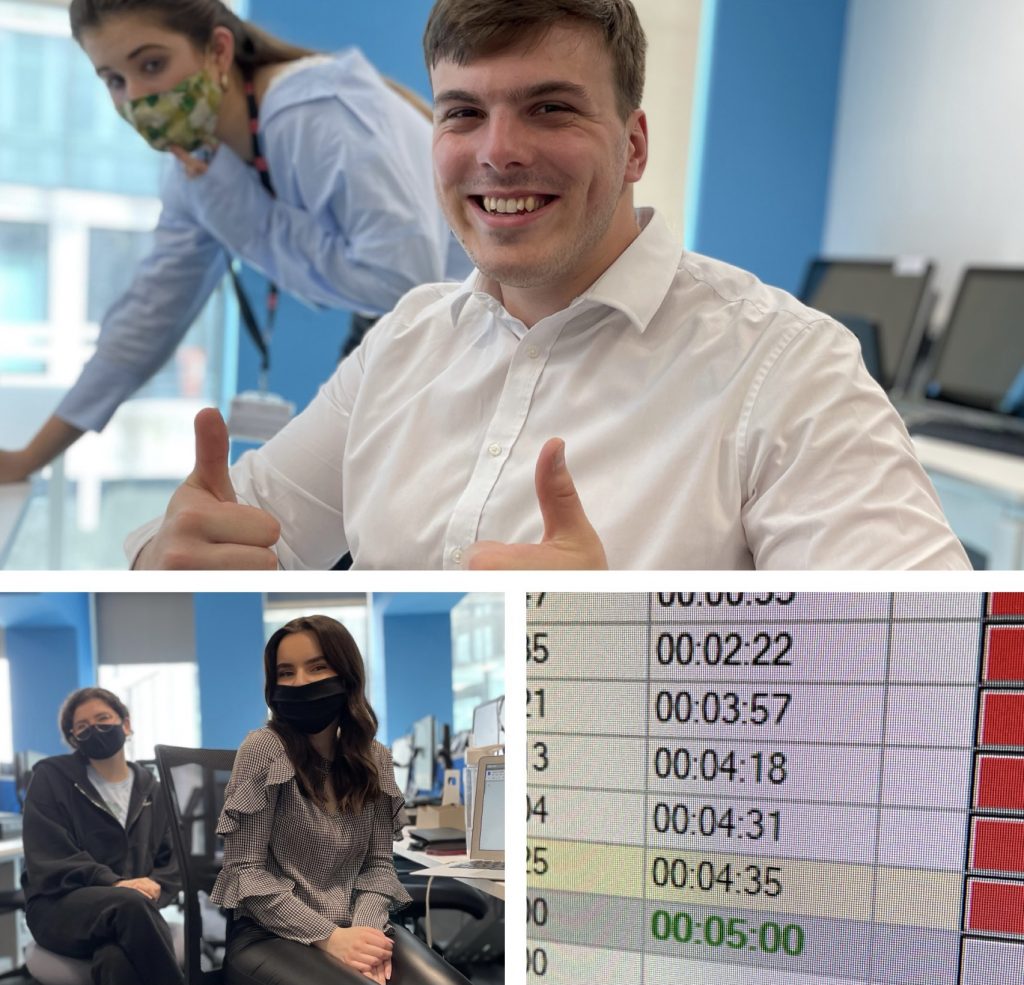 ---
12:30
Test events to be held in Cardiff
Live crowds will be allowed to sporting matches, festivals and theatre events in Wales.
The first event will be an Eid celebration at Cardiff Castle in the next few days.
Our reporter, Henry Payne, will be at Cardiff City Stadium today, the location of Wales' game against Albania.
---
12:00
An hour and a half to go! Awr a hanner i fynd!
With our first bulletin on air at 1:30pm, our production team are busy rehearsing.
Here is our producer, Alicia Pocock, and newsreader, Kat Keighley.
Good luck! Pob lwc ferched.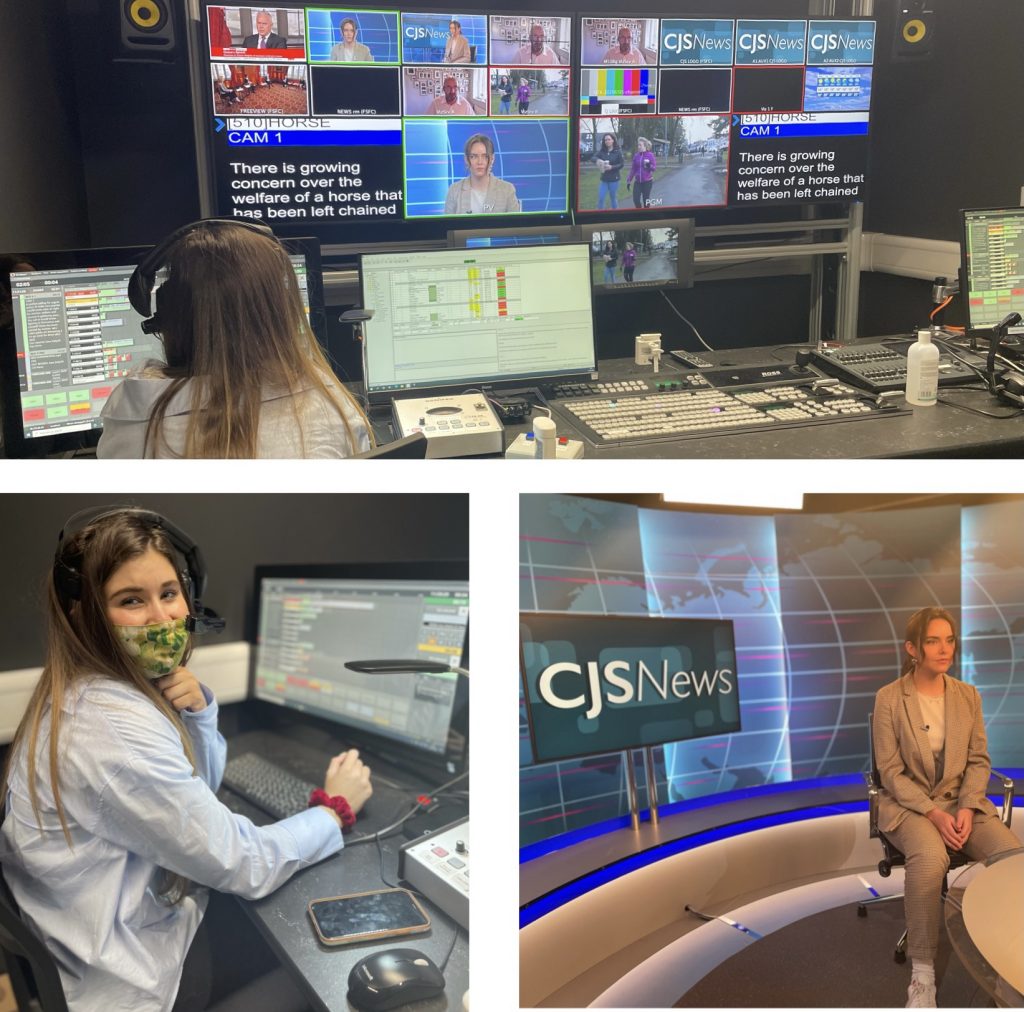 ---
11:30
Calls for more communication from independent resturants ahead of reopening indoors
Independent restaurants in Cardiff say that the constant last minute announcements the the Welsh Governemnt have had an emotional and financial impact on the industry.
Indoor hospitality can reopen inside in Wales from next week.
Georgina Heffernan of the Potted Pig restaurant in Cardiff says the uncertainty has been frustrating.
Follow our thread below to hear from other voices in the hospitality sector.
---
11:15am
Consultation launched into reopening Castle Street
Cardiff Council has launched a consultation into reopening the famous Castle Street to all vehicles.
Currently, only taxis and buses are allowed to travel here.
Our reporters, Sara Dafydd and Lily Ford have gone to see what local businesses have to say.
---
10:45
"Dwi'n hoffi coffi!" How do our reporters get their morning energy?
Rhys Nelson is already on his third cup of tea and Meleri Williams and Roshni Bhatt are tucking into their fruit.
They are busy preparing their packages for the 1:30pm bulletin.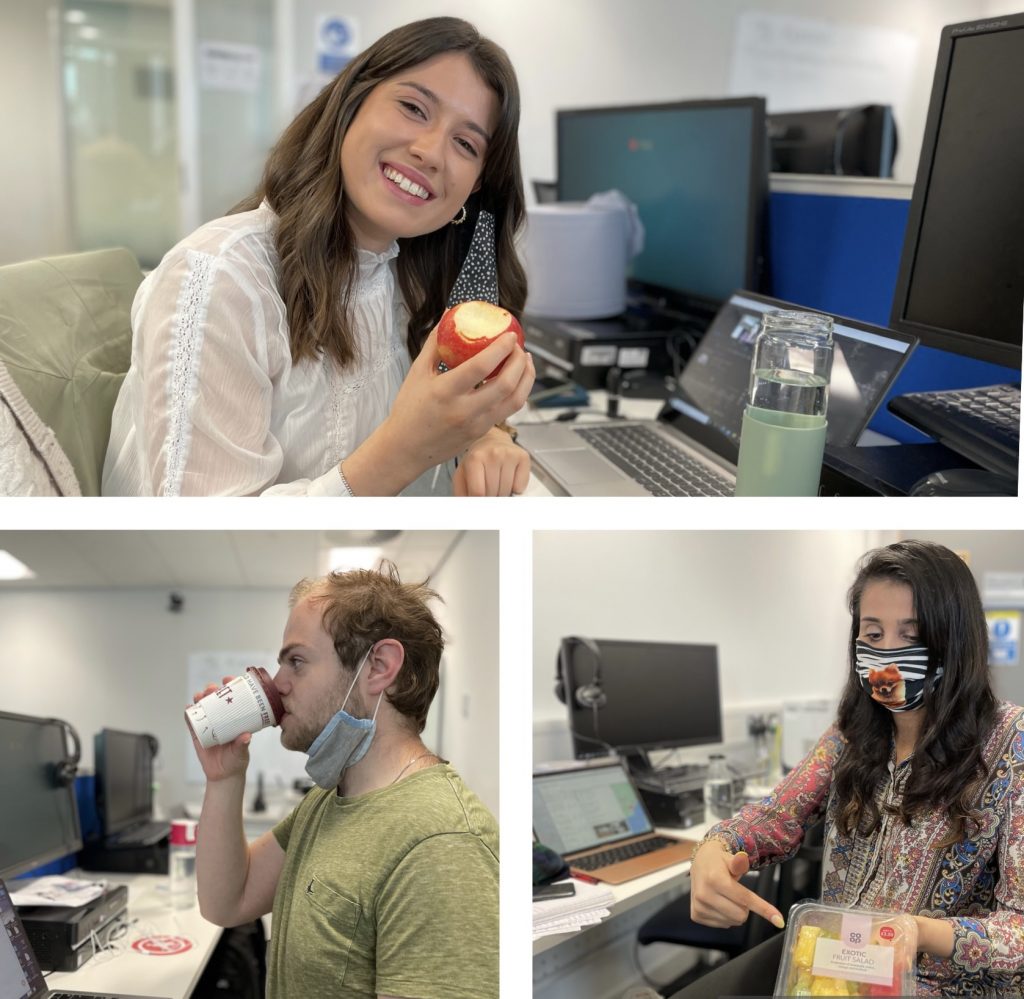 ---
10:30
Face masks could be scrapped in schools
Face masks could be scrapped in schools, Dr Giri Shankar from Public Health Wales has said.
He told BBC Radio Wales Breakfast that the issue is under consideration by the country's technical advisory group.
We asked our Twitter followers for their thoughts in this poll:
---
10:00
Bore da! Good morning from the CJS Newsroom!
Our production team are busy deciding which stories will make our 1:30pm and 4pm bulletin.
Caleb Darwin, our newsreader, is already feeling the stress!