From inspirational runners raising money for charity to elites trying to set new records. Cardiff half-marathon is back after two years.
Lois Bryan, 22, studying at Cardiff University:
At the end of 2020, Lois Bryan suffered a brain haemorrhage.
"I was quite ill. Had to have surgery last year. It took me a while to get back on my feet.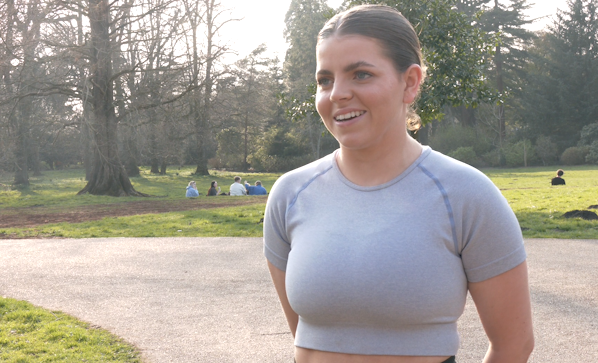 "It was really sudden. And so took me a couple of weeks. I got a diagnosis and it kind of just stripped me back to, like, no strength, really weak, back to nothing."
Lois is from The Wirral (near Liverpool) and had her surgery at The Walton Centre. She said she's raising awareness for the centre because of "the damage that they (brain haemorrhages) can do because thankfully I'm fine, but not everyone is and may need more help. So far I've raised over £2,000."
You can read Lois' full story here.
Rachel Cable, 38, from Cardiff
Rachel chose to run to raise money for Cancer Research, a charity close to her heart, after losing her dad to cancer last year.
"My dad's lived in Cardiff and he really loved Roth Park Lake in particular. So I've got a real attachment, I suppose, to the route as well as the money raised.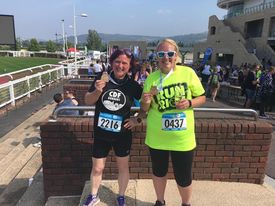 "I've raised nearly £1,000. So, I'm hoping that by Sunday, perhaps I can push the money raised. It means a huge amount, charities are so reliant on these sorts of big events of fundraising and of course, over the last couple of years because of COVID, they haven't been able to run these big events."
But how is Rachel feeling ahead of Sunday's big race?
"Absolutely terrified! I have run a half marathon before, but a couple of years ago now. I've run eleven miles in training, so I'm just hoping that the atmosphere on the day, the crowd, is going to get me to the full distance. I'm very slow, so I'll certainly be bringing up the rear of the race. But I'm very comfortable, you know, to be at the back with the fun people."
Rachel said she wanted to run last year but Covid restrictions meant she couldn't
"I did my first half in Cheltenham, funnily enough, because last year the Cardiff was cancelled because of COVID, but because the restrictions were different in England, the Cheltenham half went ahead."
Paul Davies, 53 from Cardiff is a veteran of the Half Marathon:
Paul has been racing since the early days of the event.
"I did the first and only Cardiff Marathon in 2001 and since then have entered the half numerous times. I choose to run the Cardiff Half because it is a fabulous event, crowds are great and running is great for your mental and social wellbeing."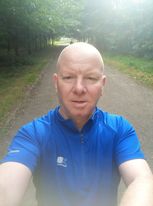 This year is going to be even tougher for Paul after a challenging training block.
"I have had injury after injury in the build-up to the race, setback after setback but I will be at the start line. I've had a hamstring tear. Now I have tendonitis in my knee, but I don't care."
Paul is determined to make it the full 13.1 miles around Cardiff once more.
"I'm not raising money this year but in the past, I have raised money for SANDS as a good friend of mine lost a child at birth and it was very emotional."