Sex toy shops in Cardiff have grown in numbers and changed in colours. Here is what to expect in terms of products and experience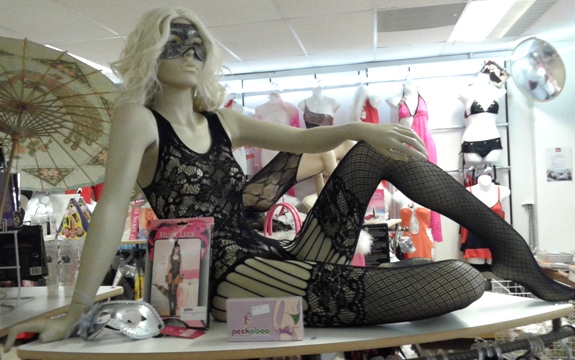 It's hard to miss the pink building on the busy City Road, known for its food joints in Cardiff. The mannequins at the window may lead you to believe it's a pricey lingerie shop, but if you do decide to peep in, you will be transported to a world of pleasure. Behind the files of dolls clad in bikini, underwear and erotic body stockings, on display are rubber penises, bums, vaginas, cock rings, bondage gears and many more devices. Welcome to the world of adult sex toys.
"It's like adding salt and pepper to your food. You add them to enhance taste. These devices add variety to your sex life and keep things interesting," says Faith Attwell, a bubbly woman behind the desk and founder of Passion, the sex toy store.
Faith is right. The increasing number of sex toy shops in Cardiff (about eight shops in the city itself) shows that people are getting interested about sex toys and in experimenting with their sex life. "These shops are no more about just porn CDs. Technology has changed. Earlier, there used to be only basic tools with women's pictures on the boxes. Now, tech-savvy tools with colourful packaging have come up to enhance sexual pleasure," says Martin Millar, the manager of Lovecraft, one of the oldest sex toy shops in Cardiff.

Scroll and click on the picture to know about some of the interesting products
Sex toys are not limited to only vibrators. "You can get toys that people can use individually and with their partners. There are products for heterosexuals and homosexuals," says Martin. There is a range of erotic products starting from rubber bums to vaginas, from cock to nipple rings, wigs to turn-on body stockings and different types of sex-games. Remote controlled devices are popular among customers.
"Sex toys cannot replace humans but they enhance pleasure and save time and effort," says Faith, referring to the 'struggle for having an orgasm'. "They help you de-stress and relax."
Sex toys help you to be adventurous with sex. It applies to all age groups. "Our customers range from early 20s to 60 year olds," says Faith. "I have even got a customer who is 90." Age is just a number, desire matters. While Faith believes, "People today are chilled about sex toys", Martin reckons, "The taboo around it has gone out of the window."
Nicholas and Anna reside in Cardiff and are in a live-in relationship and are regular users of sex toys. "We regularly visit sex toy shops to explore new products. It enhances sexual pleasure," says Nicholas.
"When Nic brought me the bondage gear, I was a little shy. I tried and the first experience was full on!" adds Anna.
Do they shop online or visit shops? "We prefer to go to the shop and buy. There you get to see the material and buy according to your comfort level," says the couple.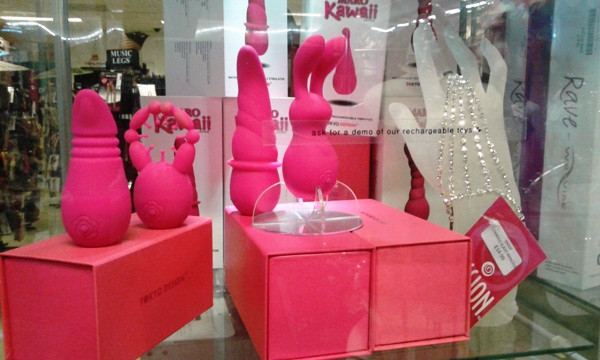 Big brands have a niche online market which small businesses find difficult to compete with. "We emphasise on offline business as Google prefers big businesses and keeps them on the top of their search lists," says Faith. "We get more customers in our shop than online."
Are people really comfortable about using and talking about sex toys? In a multi-cultural society full of international students, there is a mixed reaction to this question in Cardiff. Gayatri Mohan, an Indian student who comes from a country where the sale of sex toys is illegal, says, "I have always been curious about sex toys but could not talk about it with my friends. We talk about sex, but no one raises the topic of sex toys openly."
According to Haruka, a student from Japan, a country where sex toys are quite popular, "People openly talk about sex toys. However It is a complete no-no for the older generation."
"Yes, we get loads of international students," reveals Martin. "They are not only curious but also purchase products to carry back home."
This conservatism is not restricted to Asian countries. Recently, a Cardiff citizen complained to the local council about the adult shops displaying obscene items. The City Council had to deliberate on the complaint and the decision finally went in favour of the shop.
This is why these shops are often disguised as lingerie shops. "We can't display anything that is offensive to anyone. We don't allow children and you have to be above 18 years to buy our products," says Martin. These are the mandatory rules for any licensed sex toy shops in the UK.
Both Faith and Martin say that many think selling dildos and vaginas is a funny business. "We also export and import, market to sell products and pay taxes like any other business," says Faith. "This business has taught me a lot."
"I do get to meet genuine people every day," says Martin. "Here you find people to be open and honest."
Faith loves to compare sex toys with food. "Some people like spicy food with chilli and some freak out," she says. "It is all about choices. Why do you feel threatened by a plastic object? If you use a toy, your arms and limbs are not going to fall off. So enjoy life on your own terms. Life's short. Isn't it?"

(Some of the names have been changed to protect privacy)
Listen to Martin Millar, Manager, Lovecraft, talking about things you have always wanted to know about sex toys: