This quiet surrey town is a historical treasure trove, our day-trip guide explains how you can enjoy it.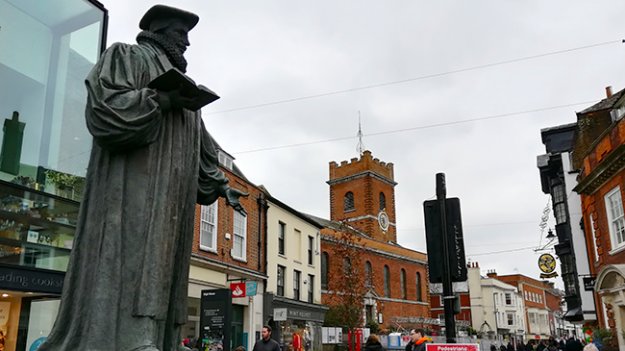 Few people have heard of Guildford, tucked away in rural Surrey. However, it's a town seeped in history and culture, hiding crumbling castles and magical mirrors. If you have just one day to explore, here's the highlights you absolutely must catch.
Breakfast
Start the day off right with breakfast– or brunch, if you fancy a bit of a lie in. One of my personal favourite restaurants is Jackson and Rye. It features a nice, rustic atmosphere at reasonable prices.
On previous visits I've enjoyed their warm, hearty soups, which unfortunately aren't available on weekends. This time I tucked into some delicious bacon and blueberry pancakes.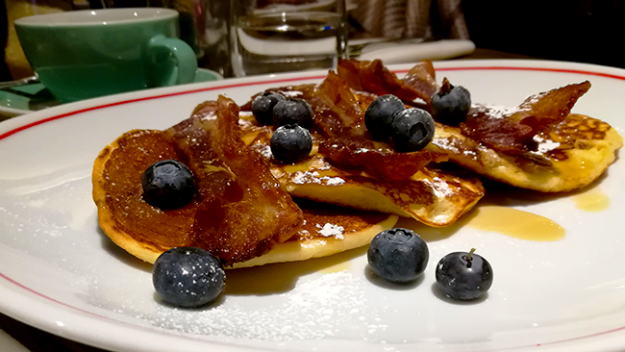 If you're looking for something lighter, I would recommend either their chicken avocado salad or vegetarian breakfast, The Forager.
Mid Morning – Stroll Down High Street
A long cobbled road is fenced by ancient buildings refurbished for the 21st Century. If shopping is your thing, you'll find plenty of modern brands accompanied by local, independent shops. Perfect if you're looking to treat yourself.
Personally, though, I'm more of a history gal. Thankfully, that's something Guildford is rich in. The town's tourist information lives in a 17th century town house which is now home to a rotating art gallery. With free admission, it's absolutely worth a look. The Medieval Undercroft offers a look back into the past at a graceful underground vault which was once a merchant's storeroom.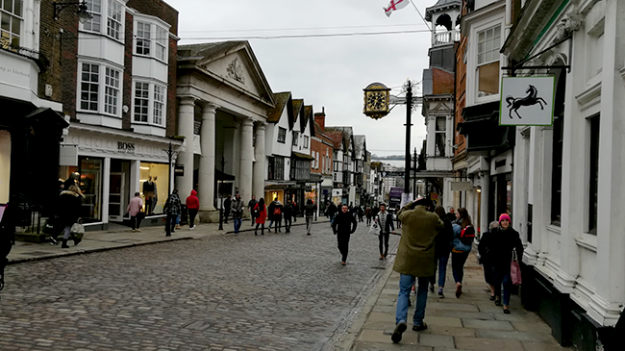 The most distinctive feature of the street is its bright gold clock. It belongs to the Guildford Guildhall, a tudor building where court was once held. I found it a bit bare for the £2 price tag, but at least the money is going to supporting its preservation.
If you're looking for a bit more direction, joining a Guided Walk. At a leisurely pace you'll get right to the good stuff and be able to delve deep into Guildford's past. Sadly I missed it this time, since they don't run in winter. From past experience, however, I certainly recommended if you visit between May and September.
Late morning – River Stroll
A stroll along the river is a lovely way to finish off. Once the river would have been the city's lifeblood, creating quite the trading hub. With the birth of steam the town shrunk, but you can still see evidence of its past in the traditional lock system. Or instead of walking, maybe grab a boat-ride.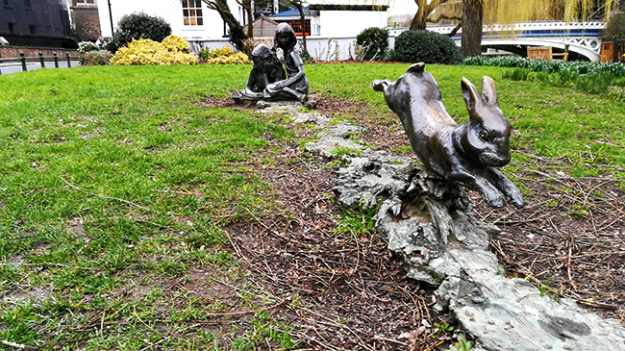 Personally, the highlight for me is the lovely statue you'll find by the main bridge, tucked under a blooming tree. A girl staring after a white (or brass) rabbit, vanishing into a hole. It's a tribute to Alice in Wonderland, and its writer Lewis Carroll, who was a landowner in Guildford and later buried there.
Lunch – Weekend Markets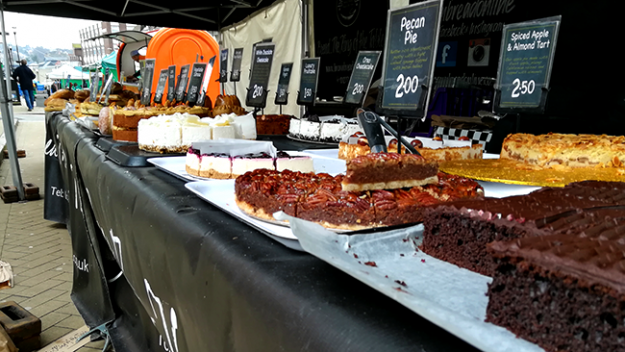 There are few things I enjoy more than an open air market. Maybe it's the festive atmosphere, but it always puts a bounce in my step. Fresh produce, vibrant flowers, scrumptious cakes, local jewellery… Why not snag lunch in the form of an authentic veggie samosa or a scrumptious slice of cake?
Early afternoon – Guildford Castle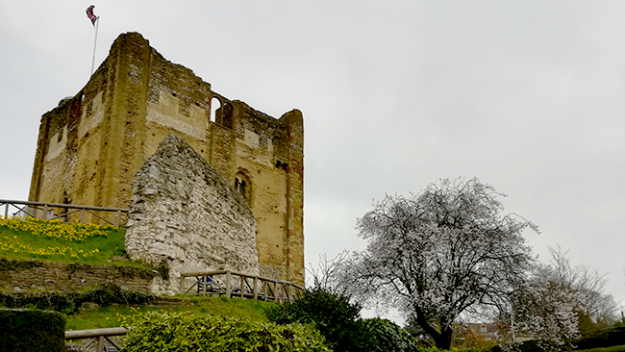 Undoubtedly the visit's crown jewel. Perched atop a hill is the crumbling ruins of a castle built almost 1000 years ago. Once battles would have been fought over it. Now only its original main tower remains, its outer walls barely standing.
Climbing that tower will cost you £4. Worth it for history lovers, but otherwise, the view from the tower's base is still gorgeous.
The contrast between the worn stones and the tidy gardens is strange. Wandering through the grounds, I was struck thinking our ancestors across history walking these same paths.
Thinking about their lives was like peering through the looking glass. In fact, you can find a statue to just that tucked away in Alice's Garden. It feels immensely fitting.
Late afternoon – The People's Cathedral
If you make the walk up Stag Hill, you'll find yourself at Guildford Cathedral, topped by a golden angel. Compared to the town's other sites, it's positively modern.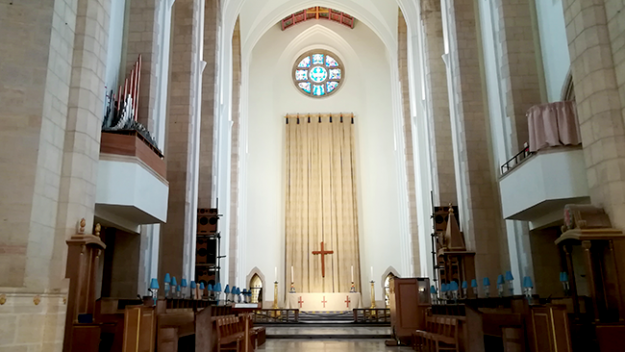 "I have a real fondness for Canadians," said Mike, a volunteer who's face lit up when he found out where I was from. He was eager to share the cathedral's history, however short. "It was during the war. While the local troops served overseas, Canadian soldiers protected us. I grew up with them. Most of the lady chapel was built by them."
No matter who built it, the cathedral is beautiful. A somewhat dull, grey outside hides an airy, white space. There are dazzling stained glass windows and minimalist white glass statues. The baptistery, with its sapphire blue ceiling studded with stars, is particularly stunning.
Dinner – International or Local?
Without a doubt, The Thai Terrace offers some of the most delicious curries outside of Thailand itself. Everything from the food to the decor is authentic, everything fresh and crisp.
If you struggle with spice, there are some pubbier offerings. I'd suggest either the Weyside Inn or The March Hare.
Evening – Catch a Show
London's West End may be the home of British theatre, but you can most certainly find gems farther afield. Often for far cheaper, too.
I caught a performance of Cats at the Yvone Arnud Theatre. The spectacular singing sent literal goosebumps all down my arms. With more humanised costumes, it was a fun twist on the classic musical which thoroughly earned its standing ovation.
Unfortunately that the show's final performance. Thankfully, there are plenty of other performances to catch. The next couple of months features Taken By Midnight, a tale of rebellion in Nazi Germany and The Kite Runner, a coming of age story set in Afghanistan. Guildford also hosts arts and music festivals throughout the year.
Night – Enjoy a Nightcap
It was St. Patrick's Day, so grabbing a drink was practically obligatory. Just down the road from the theatre was The Britannia. Very much your standard pub, but what makes it stand out are two piles of blankets: one labelled 'For Humans', one 'For Dogs'. Getting to pet a friendly black lab immediately improves any pint. 
Exhausted from a busy day, it wasn't long before I left. Outside, the night was oddly quiet. Snow was falling from the sky, blanketing the ground and deadening all sound. A fox darted across the street.
That eerie feeling stuck with me as I fell asleep, and will for much longer. Guildford is a beautiful town, overflowing with nature and history. An excellent destination for a relaxing day out. Check out Travel Information on advice for how best to get there. 
---
CATS GSA 2018- Photo Credit Robert Workman.