What would you choose between a steady job and your own dream? At a time of high unemployment, finding a prospective job may be the goal of many young people at this stage. But some people would rather choose to do part-time jobs in order to subsidize their own shop. Even in a container that can only put two tables.
When people push open an inconspicuous iron gate hidden in the residential area in Canton and walk through a section of uneven path, they will find a place filled with colourful shipping containers. Here's Bone Yard, a well-redesigned site where are consisted of ten container studios and a warehouse. Artists, therapists, creators and makers rent these containers to run their own shops.
Peggy's Pot, run by Megan Rawlins Read, is in one of the sky-blue containers.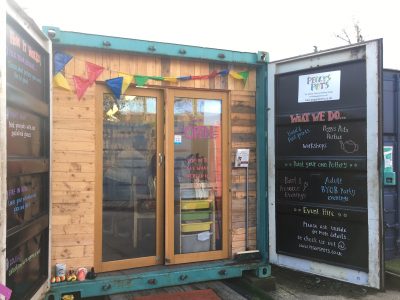 At the first glance, this carefully-crafted tiny shipping container, with many pottery plates which were painted by using hand and footprints of customers on the wall, looks cosy and lovely. There are only two desks in the studio.
"Among my customers, except young adults, many adults came to draw their own pots, and their concentration during the creativity and the joy of seeing the finished products motivates me. That is part of the reason why I choose to open our own studio." Speaking of the process of opening this studio, Megan thought that the encouragement from the customers contributes a great share to her.
At first, Megan's family were not optimistic about her choice of learning painting as her major. "My mom wants me to be a nurse, but I do not think the boring stuff is suitable for me." So she left Liverpool and went to Cardiff to study fine art, "but fortunately my dad supports me and successfully convince other family members." She added.
Megan completed her Fine Bachelor's degree in Cardiff and continued to study a major in painting and sculpture. After finishing the master degree, she had been very confused for a while. To gain experience, she went to Sheffield, worked on Painter in a Pottery Studio, then went to many different organizations and groups for doing crafts activities.
But Megan prefers to talk to people rather than quietly creating in the studio. "I like to talk with people and share the art of handcrafting including making and painting ceramics, and I do not think these should be limited to professionals." This view led to the gradual initiation of her idea of opening her own studio.
Therefore, two years ago, Megan and her partner Simon hit it off, though their initial idea was to open a Pottery Cafe.
"We'd like to make our guests in the shop create their own pottery products at the same time as in a coffee shop to feel relaxed and enjoy the process." Megan said while looking at the container which is less than three square meters, "But initially we had only one mobile shop due to funding constraints."
Thinking of the very beginning of starting the business, Megan was filled with emotion. At that time, she and Simon essentially knew nothing about running a business. They were just looking forward to opening a store in the future while promoting their online pottery shop. They went to kindergartens and elementary schools to provide children with an experience lesson on painting on pottery. Because sometimes she did not even have a guest for weeks, their income was unstable.
During this period, Megan started looking at books about business and learning management by herself. At the same time, she went around with Simon looking for a place to open their studio. Megan also started to learn more about the technology of firing ceramics. They did adequate preparation for running a physical store.
But it is also during this time that let Megan have become friends with many customers, they often talk to her about the status quo. When they have something memorable at home, they also ask Megan to help make a ceramic souvenir for them.
There is a corner covered with pictures on the wall in her studio, each one of the smiling faces is her customers. Megan photographed them at the happy moment in Peggy's pot and posted it here. These are not only the joy that Peggy's pot brings to customers but also the greatest support and motivation they give Megan.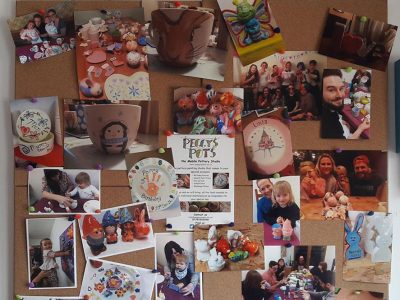 They were satisfied when they found Bone Yard, and of course, a large part of it was because of the low rent, but this small space was perfect for their current situation. Most of Megan's guests had made reservations before they came and there were not a lot of people in the studio at one time so they have the ability to serve them well.
Megan runs this studio as her full-time job and at the same time does a part-time job at a bar to subsidize the cost of opening this shop.
Instead of letting customers make their own handmade pottery, Peggy's pot offers guests the experience of colouring semi-finished clay products and then separately converting them into finished products by Megan.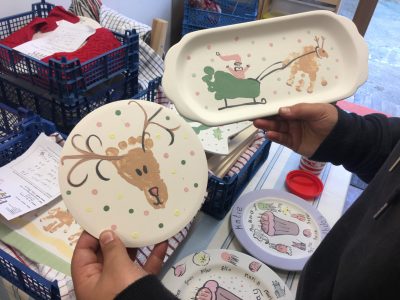 "I think it's more interesting to get people to use different tools to colour pottery than to do pottery, and I do not want to be like a teacher, guiding them to do every step of the procedure or it just likes I'm doing one for them. Also, it is a relatively long process to make finished products from pot to colour to firing, and it's really not easy for people to do the whole process in it."
Because Megan majored in painting in university, this makes her feel more comfortable rather than directly teaching people to make pottery. Megan walked toward the child who was colouring a deer and said: "The paintings are so good! These sponge tools here can also be used to print on pots."
"I hope everyone can enjoy the creative process here. I will tell the customers the basic production process. For example, at the first step, they need to use a clean brush to dip the water on the pottery which they prepare to paint. This makes it easier to paint and then use various shapes of sponge or wire tools to print different patterns on the pottery."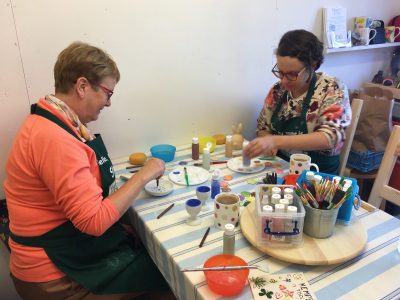 Megan thinks many people think that they themselves do not have artistic talent is not accurate. By simplifying the long process of making pottery, she brought the coloured pots painted by customers back home, fired them and gave the finished pieces back which give the customers a sense of accomplishment when picking up their handmade pieces.
In the second half of this year, Megan will move out of this small container and open a pottery café that combines studio and café. "We're going to be very busy in the coming months," Megan said excitedly.