With the number of Chinese people in the UK keeps increasing, there are more people celebrate Spring Festival around Cardiff.
Chinese New Year happened last week and a series of colorful events were held to celebrate it all around UK.
During this period, people eat lots of delicious food, enjoy fireworks, wear special clothes and hang red lanterns to mark the occasion.
Here's some Chinese traditional customs: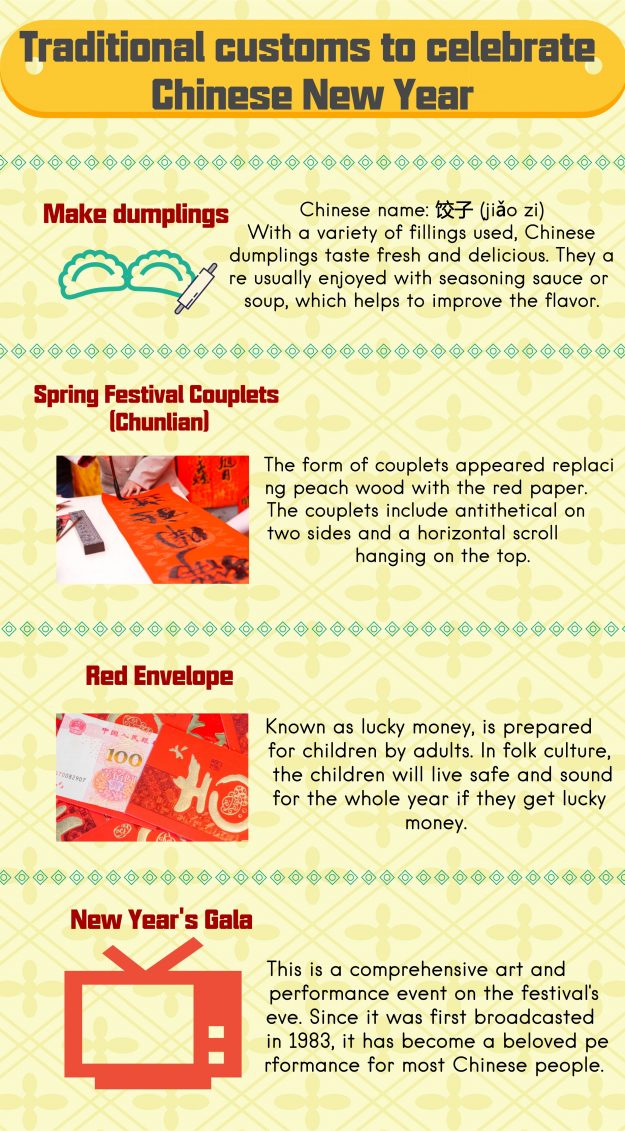 When is Spring Festival
Chinese New Year, also known as the Spring Festival, is based on the lunar Chinese calendar so it changes each year. This year the Spring Festival is at 16th February.
With the Chinese New Year, the year of dog comes. The sigh of year was from Chinese zodiac.The zodiac was based on Chinese astrology. It was used as a way to count years, months, days, and hours in the calendar.
The Chinese zodiac is a classification scheme that assigns an animal, each year represented by the animal and its famous attributes.
Recent years, Chinese New Year is more and more popular in the UK countries, fascinates not only Chinese people currently in Cardiff but also make many locals are looking forward.
The celebration of the Spring Festival in the UK
Recent years, Chinese New Year is more and more popular in UK, fascinates not only Chinese people currently in Cardiff but also make many locals are looking forward.
In UK, Spring Festival is also a vital festival and people celebrate it all around the country.
Cardiff
A number of traditional Chinese smaller celebration activities were held in Chinese restaurants in Cardiff during the festival period.
For example,using Chinese calligraphy to make festive decorations and handcrafts and setting the fireworks.
Cardiff Luxury Student Apartments Eclipse held a large New Year's event to celebrate the Chinese New Year, 16 February.
Hundreds of students came in to attend, not just Chinese students, but also many students from all over the world.
At the end of the event, Eclipse celebrated New Year with fireworks.
"I used to have the great interest in Chinese culture. Also It's a good way to know traditions", said Abby, a student from Spain and studying at Cardiff Metropolitan University, "I'm really grateful to attend this event and I enjoy it very much".
This is a video of the fireworks in Eclipse:
Another smaller event held by Confucius Institute. The teacher visited Cardiff City Football Club to help the club celebrate.
Footballers learned calligraphy and wrote couplets which called "chunlian", is the traditional custom in China.
Lulu from our Confucius Institute visited @CardiffCityFC to help the club celebrate #ChineseNewYearpic.twitter.com/UNwITYeni0

— Cardiff University (@cardiffuni) February 16, 2018
London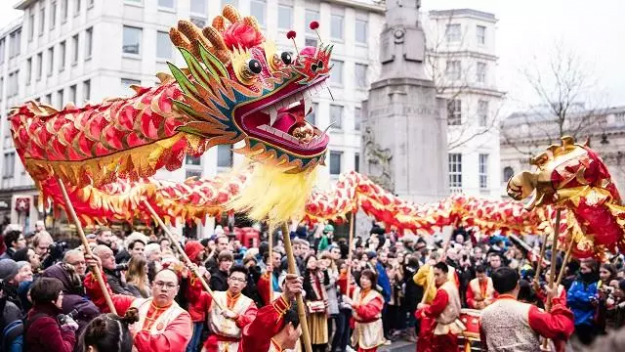 Chinese New Year parade, is the traditional festival of London's Spring Festival. Since 10 am on the 18th, more than 50 squad members of the parade, led by dragon and lion dancers, would go from Charing Cross Road to Chinatown.
There would always be a series of performances such as dragon and lion dance, martial arts and Chinese dance started at noon. At the end of event, it was the fascinating fireworks show.
What's more, going to a Chinese New Year concert and be a good choice to celebrate New Year at the Royal Festival Hall in London, 1st March.
Birmingham
Celebrations have been scheduled since 16 February.
The organizers have held such a grand celebration for the 16th year. Lion dance, kung fu performances, acrobatics, music and dance performances and outdoor food stalls. The traditional festival lantern workshop and a variety of playground rides.
"This is my first time to celebrate the New Year in a foreign country. However, I still feel the atmosphere and warmth of home in China," Said Ruilin Li. She is a student studying at the Birmingham University.
This is a video of a Lion dance shot on 17 February.
The celebration activities continue for two weeks. It's finish with a special lantern festival, which signals the end of the New Year celebration period. So why not join those activities, having a nice experience!