With a rise in loneliness in the pandemic, people are appreciating the importance of their community.  Zara Ali aims to create an inclusive space that brings the community together with her café.
"I want them to feel like they can just pop by in the cafe and get a bit of food, get coffee or just like have somebody to speak to. That's what the goal really is" says Zara Ali, the manager of The Hideout Café- a community café in Grange town.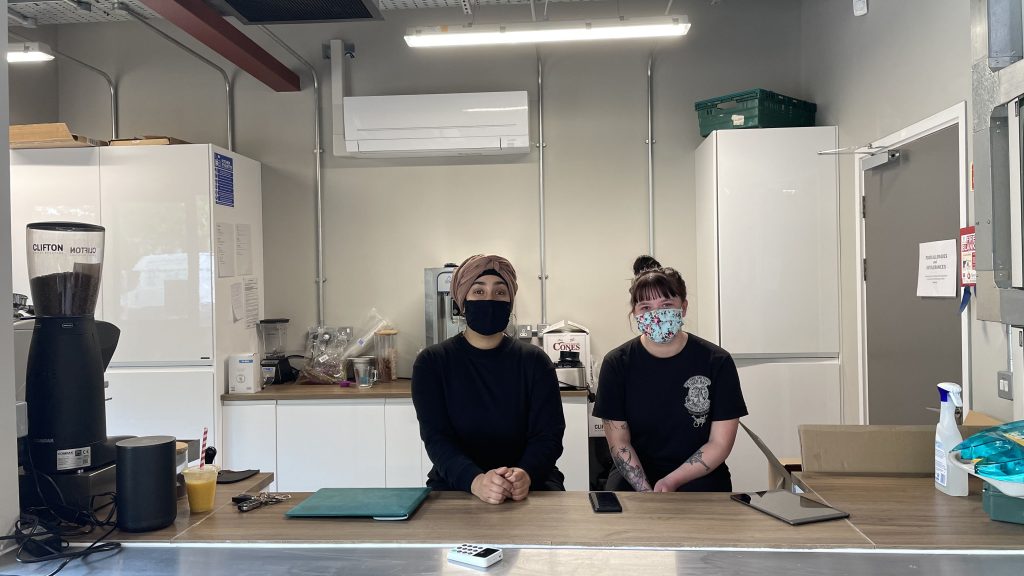 Nestled right in the centre of Grange Gardens, The Hideout Café, is a small community café run by Zara Ali, an entrepreneur and mother of four, and her business partner. The café, a part of the newly renovated Grange Pavilion, runs on the ethos of inclusivity and community building and was set up to provide a safe space for the Grange community. Zara gets candid with InterCardiff as she opens up about finding her feet in the newly renovated space, her future goals for her café and the impact of the pandemic on running a community café. 
"When we opened the café, in 2018, we were doing a lot of events that brought people together from all different walks of life. These events would encourage people to talk about their experiences over a cup of coffee. That's how we initially started, and then a lot of people from the community would come and participate in these events."
The Hideout Café is a community café located in Grange Pavilion, a space that was created to support community-led events in Grange gardens. The pavilion provides public amenities such as office space, a community garden, rooms for hire and the café. It was started in 2018 by Zara and her business partner with the intention of being a community café that provides a safe space for the neighbouring community.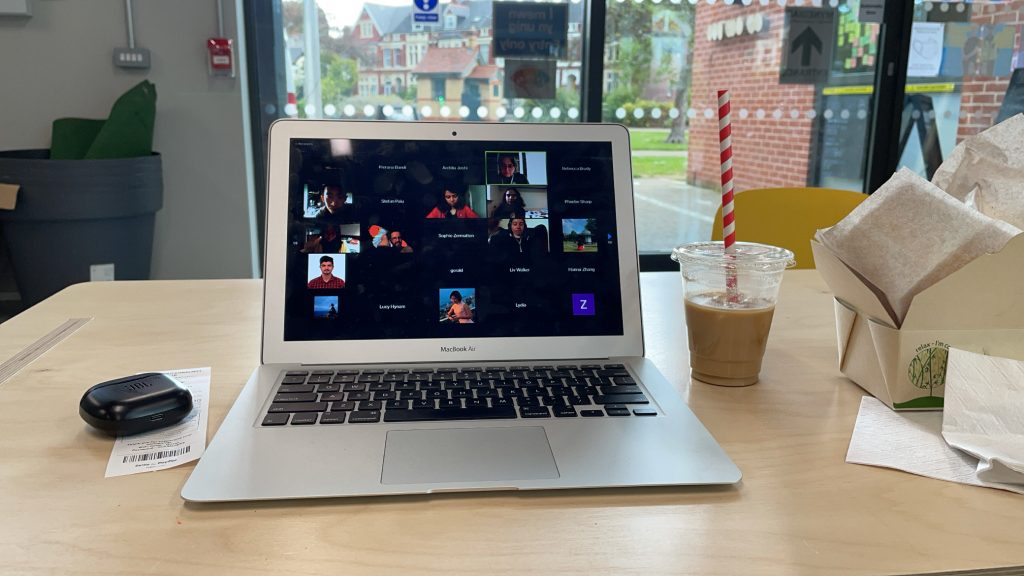 Prior to opening this café, Zara and her business partner ran a dessert shop in another locality in Cardiff. She says that the experience of running the dessert shop helped her quite a bit when they decided to start the community café. The café was started as a part of the community gateway project, a project by Cardiff University, dedicated to bring 'community-led ideas' to life in Grangetown.
The community has always been the sole focus of the café hence creating an ethos of inclusivity and community building.
Zara explained, "Since we've been opened this has been our focus. We've done breakfast clubs for the community so anyone with a low income or for anyone that needs just a bit of extra help with food, we provide a free breakfast for them. We also do like free coffees and teas for people who would want a coffee or a tea but couldn't necessarily afford one."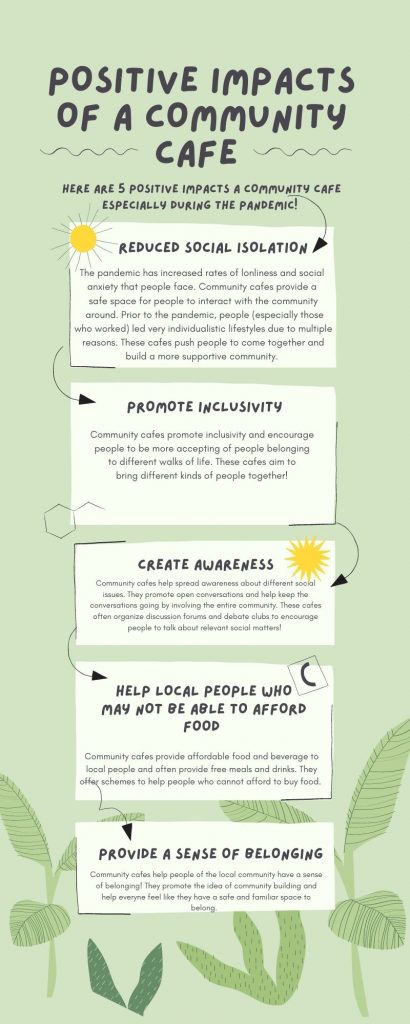 Like every other business in Cardiff, the pandemic had a massive impact on the functioning of the café. A lot of events that they planned to do couldn't be done with the restrictions that had been imposed. A popular event at the café was the 'Culture Café'.
"The culture café happened every month. Every month we had a new topic and we would just have a massive table and people would sit around debating and talking about whatever that topic was for that month", explained Zara.
She added, "We haven't been able to do the event aspect because of COVID but we want to start doing the Culture Café, the debate clubs and various different clubs involving like elderly and the youth in the community".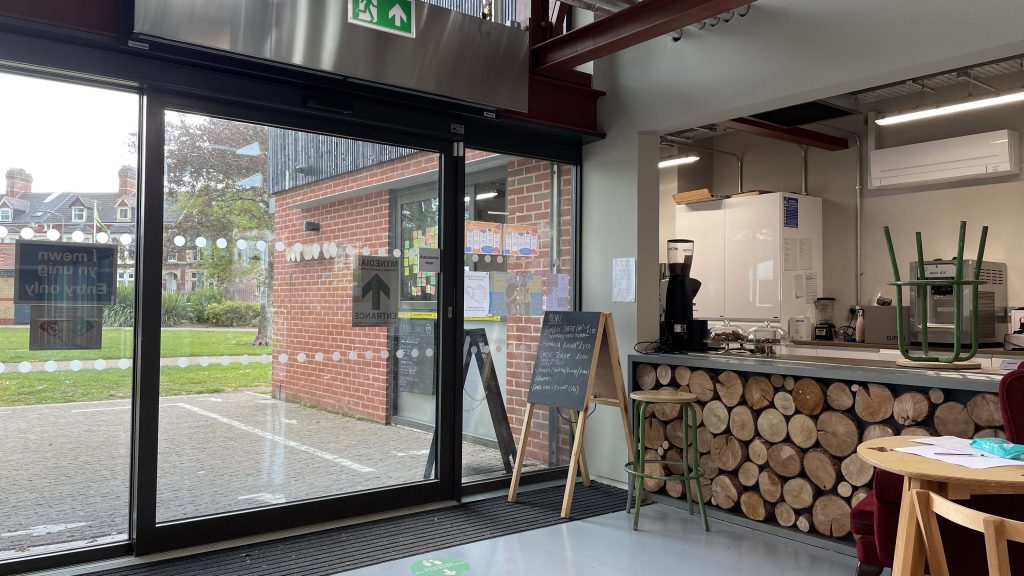 With three full time employees and one part time, they offer a limited amount of food and beverage options at a very low cost. The idea is to make it affordable for all. In order to successfully run the café, they keep their costs relatively low so that they can provide low rates to customers.
She said, "We do have to make money, you know. We are a business so we can't sell everything for a pound but we try to keep our costs down so it's affordable for everyone."
To be able to provide free meals and beverages to people who can't afford them, the café depends on grants and people's contributions: "We do try to upsell the coffees. A lot of people have been really generous by buying two coffees and putting one on the board. There's a very small portion of people who come here that can't afford food or a drink," said Zara.
Social media and word of mouth have helped reach out to more people to tell them about the café. She said, "Facebook, Instagram, Twitter and just word of mouth has helped the business to grow even in these times. Once it starts growing with a lot of customers we can do more community based events and give more free food and drinks with the breakfast clubs and similar events."
She added, "I think we just want all restrictions to be lifted, and we want to be safe. We want to restart our events but we want to do them safely. Hopefully, we can have a full calendar soon."
The Grange pavilion was recently renovated and reopened only in October last year but soon faced multiple restrictions with the lockdown. Zara says that with this new space, she is still finding her feet and getting used to the new space. She wants to create a space where everyone can come together and talk about different things and be included with gardening and different projects in the Grange pavilion but it will take some time for things to go back to 'normal'.
She concludes, " I just want it busy. I just want it to feel like a normal cafe. I am hoping that we can be a much busier space and be a real hub for the community so people can come here if they're alone or if they just want someone to talk to. I want them to feel like they can just pop by in the cafe and get a bit of food, get coffee or just like have somebody to speak to. That's what the goal really is."