Dance can be a language without boundaries that helps you to meet the world outside.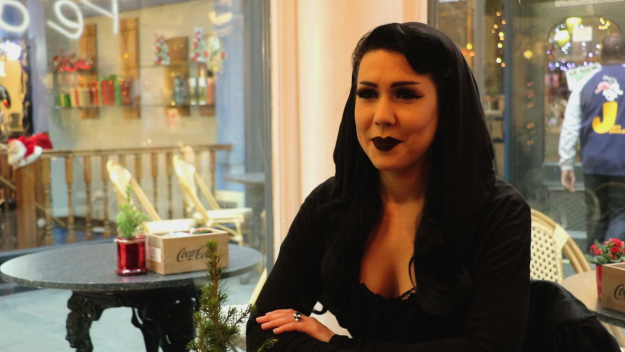 Have you ever seen a show in Minsky's Show Bar in Cardiff? If you are lucky, you may see a woman with 'darkness' makeup and costume dancing belly. That should be Dominique, a unique Egyptian style belly dancer in Cardiff.
Belly dance seems to be a fateful choice for Dominique. She started learning belly when she was 15 years old, but she originally noticed it when she was only 12 during she saw a dancing performance on TV.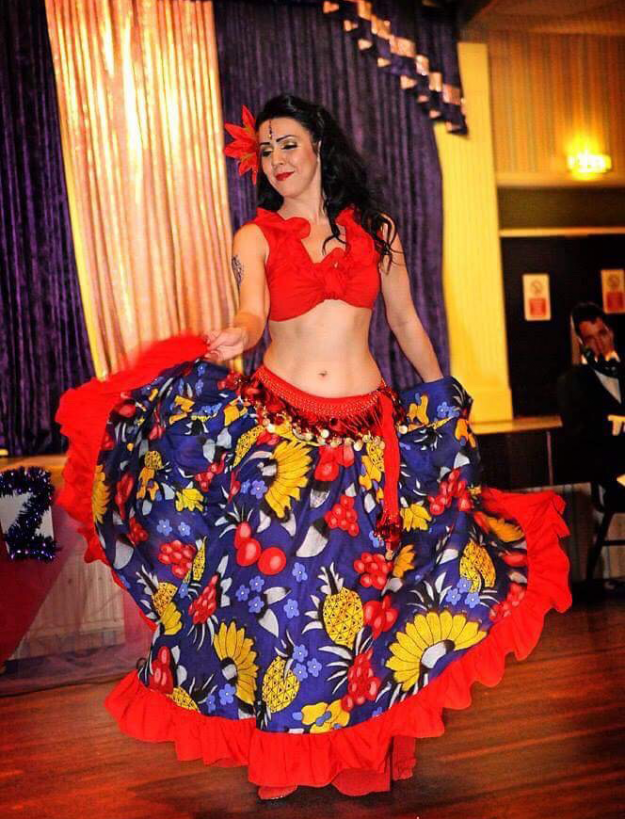 "The two performers were twins, I still remember their names were Vena and Nena. One of them was dancing with an exaggerated headdress that attracted the heap and another one had snakes around her neck. At that moment I thought, I want to look like that and I want to do that," says Dominique.
However, at that time, there was no way in Wales to learn that kind of thing. Time went so fast, Shakira, who is a Colombian singer and dancer, came out when Dominique was 15, so belly dance classes started appearing everywhere. It was the gateway she getting into belly.
Actually, Dominique is not only a professional belly dancer but also a fabulous makeup artist. She works for Kat Von D and her makeup style is just like this brand, gothic and particular. Makeup is also an important part for her to express herself.
"For me, dance is a way for creativity expression. However, with makeup or cosmetics, I can express character through it, something like acting or interesting dance. People can learn not only from my dance but also my face," says Dominique.
Dominique is heavily into pin-up culture and also inspired by the golden age of Hollywood and Egyptian cinema, so this should be one of the biggest reasons that why she has a strong personal touch and understanding of belly dance.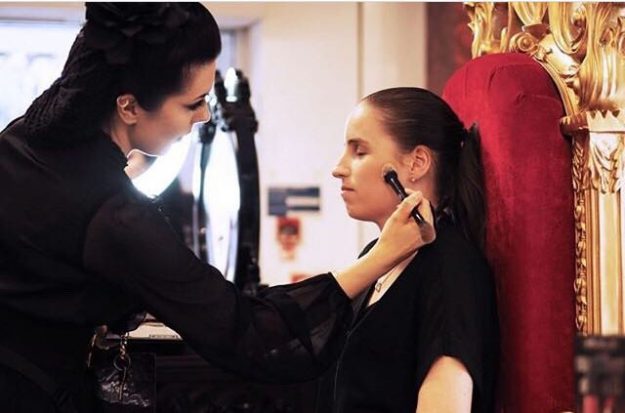 "Modern day dancers Ariellah and Jeniviva are two people who I embrace a lot. Their dancing styles are incredibly emotive as well as they are very pretty, so those are indefinitely what inspire me a lot and it's why me do what I love to do," says Dominique.
Ariellah and Jeniviva are both typical fusion style belly dancers. Tribal fusion belly dance is a modern Western form of belly dance. Dancers usually choose elements from popping, hip-hop, 'Egyptian' or 'Cabaret' belly dance. This kind of belly dance which is a little bit dark or bloody is Dominique favorite dancing style. She started to discover herself and her personal style after she fall in love with American fusion belly dance.
"I'm very interested in the Gothic subculture, so that very much influenced me in what I am doing. I want to look for something that may be look a little bit dark but definitely very emotive. People can feel something whether happy, sad or scared from my dance. That's what I go through with my style," says Dominique.
Her background is a theatre performer, so transform herself into a person to show he/she perspective characteristics is almost what she does. Before she came to Cardiff, she has already performed in a theatre in London for five years. Travelling abroad, especially in Europe, and performing in different places with different themes should be the most enjoyable part of Dominique's work.
She performed a Halloween dance and tried a lot of fantastic things which made her trip in Rome and Amsterdam really unforgettable. However, the most impressive dance in her memory was the dance of dantesinferno in Rome which she thought was quite amazing.
"You know what I favor because we actually did about dance. When we were meeting, we found that, all the performers were come from different countries all over the world. Different languages were not a worry although we don't speak the same language. Because dance is our common language and we all love belly in the same way. It is really an incredible experience dancing with strong, independent and amazing women who inspire me a lot no matter in dance or in my life," says Dominique.
Just like she said, dance has already become a part of her life and influenced her living style.
She started learning belly when she was 15. It was a very young age without a mature value, but the belly lessons helped her to build her value. She danced with people in different ages and different body shapes in her belly class. She found that, there is not only one way to look and there is not only one way to be. This definitely shaped Dominique.
She said that, "It wasn't just dance or physical exercise that keep me fit, but it's hearing stories from other women here and see why the dance is for everyone together. Dancing with thinking and feeling, that's what I am always focus on."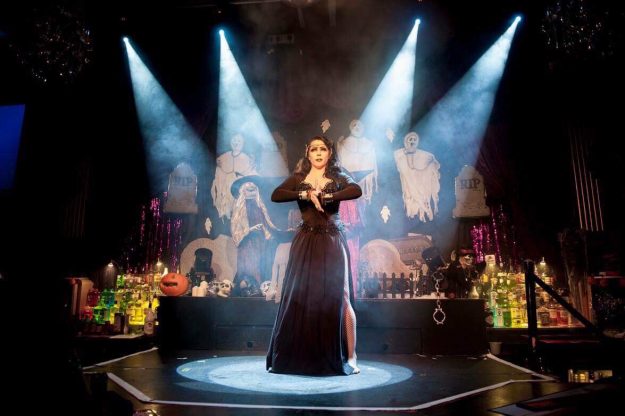 Living their lives and have what they want to, to be comfortable, to be keen to what they really like and to stop caring what other people think. This is what Dominique hopes people could understand.
"Many women conduct me and told me they wish to be like that or they wish to have confidence to do that. Just take pass it, it just like someone said that, if you take it, you make it. You really need to have confidence to believe in yourself and also embrace your force. Without it, you will not be so sort of you," mentioned by Dominique.
Passion is the weapon that we are always filled with power. For Dominique, belly dance is her forever energy. Travelling more, performing more and be more creative in dancing is her future plan.
"I think I am like a lost student and have so much to learn," mentioned by her.
Dark style is not the way Dominique choose to live, but the way to express herself. Life could be incredible like her, just enjoy where you are and do what you want forever.