On 23th November, a new painting exhibition of the NOA Welsh artist of the year, Annie Suganami, were opened in upstairs gallery in a temporary arts shop which is opening from 14th November to 23rd December in High Street Arcade in the heart of Cardiff.
Born in 1952, Trained at the Royal Academy of Music and just obtained the Bachelor Degree of Cardiff School of Art & Design three years ago, Annie Morgan Suganami is also a musician currently living and working in Machynlleth, Wales.
Suganami's paintings are often re-worked and painted over. Her images search to understand the human condition, whether from observation or imagination. Painting is seen as a form of musical expression in her abstract practice. It is human body language and most especially the face that is the core of Suganami's work. Employing the same discipline of daily practise to painting as to her instruments, Suganami is compelled to paint characters expressing resistance, tenderness and kindness with personal icons.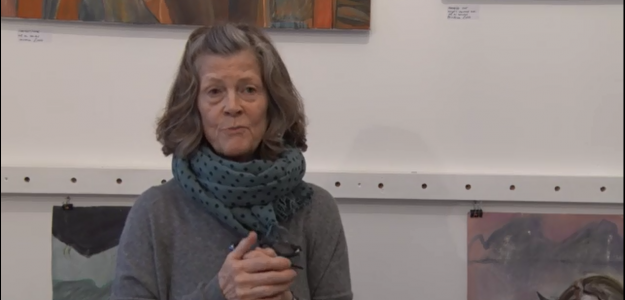 "Actually I never thought I will paint the figures, but last three years I was concentrating how to do it and make it with different forms, " says Suganami, "this exhibition showed a collection of various human figures, many of them are under the Umbrella title, that's I called Paradise Lost. It linked to global warming but I didn't want to paint iceberg, so I think the continuity of society depends on people. That's why I come to an idea to hold this figure show. I also combined figures with nature together, to present how can people live well. That's the stories behind."
She had run several solo exhibition around Wales and will hold two more in 2018 in Aberystwyth and Gwynedd, Wales. She also attended many art competitions since 2013, mostly in Wales. And she gained a few awards or grants since 1995.
"It is interesting to see many works of different artists putting together, you can see changes and various directions they are going to take." says Suganami.
The event was held by The Local Artisan Pop-up, in partnership with Cardiff Metropolitan University Entrepreneur Centre, which is a group of local artist and makers based in and around Cardiff, come together for a limited time to create a pop-up shop fulfilled with values for supporting local creativity, community and local business.