Going from comedy to drama, this film shows a poor story of the iconic sea shanty folk band.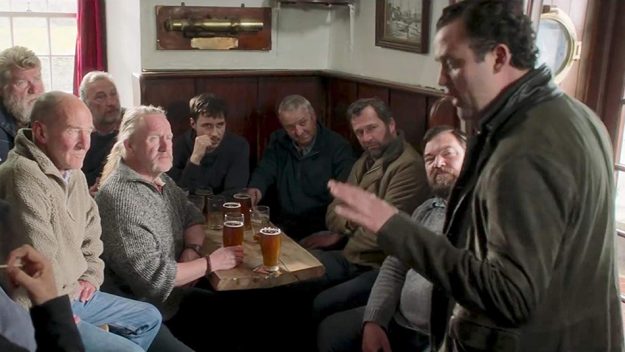 Almost a decade ago, 10 Port Isaac fishermen made it to the top of the British music charts. Their powerful voices combined with sea shanties, work songs forged in the ocean by generations before them, elevated these humble men to the status of folk stars and winners of music awards.
The adaptation of their unbelievable story hit the theatres last week by the director Chris Foggin (Kids in Love) in the form of a comedy-drama.
Unfortunately, the movie lacks the combination that allowed the original crew to beat music stars with millions of pounds in auto-tune, and missed the opportunity to engage younger generations with sea shanties.
The story starts with Danny (played by Daniel Mays), a music producer, and his shallow friends at a bachelorette party. Forced by his mates, Danny ends up listening to a group of "old lads" singing in the remote beach of Port Isaac in Cornwall.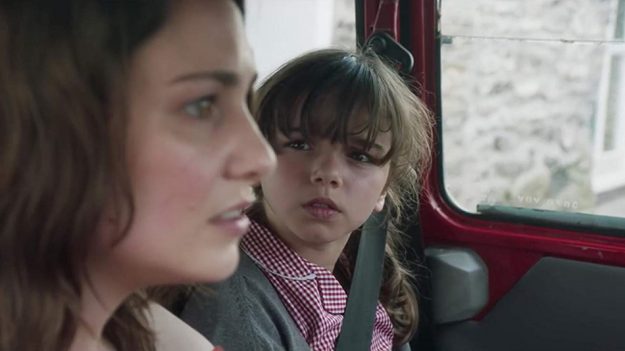 In a few minutes, Danny develops a fast love for the group and a rollercoaster relationship with Alwyn (played by Tuppence Middleton), the daughter of Jim (played by James Purefoy), the leader of the group. Middleton and Mays are the highest points of the movie, even taking away the central role of the group in the film.
The music crew of the Fisherman's Friends shows funny moments combined with brief instants of good music, but from there, everything headed towards a downward spiral.
As the movie shows, there are many British people who probably recognize the most popular sea shanties and are able to sing them in a pub. Unfortunately, it is very hard to enjoy one entire tune without forced interruptions by the script.
As a result, the audience who haven't experienced sea shanties before will feel disoriented. Those who enjoy this genre will feel a watered-down experience, and for the ones expecting the music from the "old boy band" disappointed.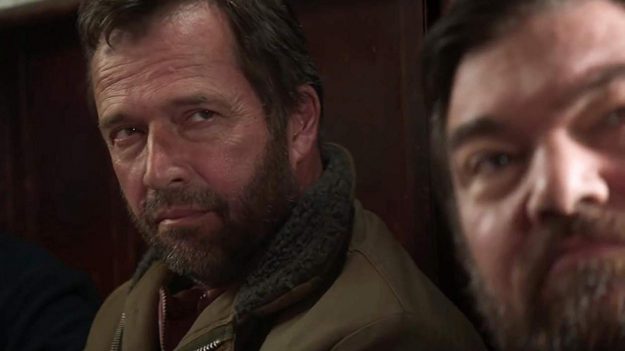 The film has roughs jumps between comedy, drama, music and predictable situations (there is a poor reference to Tarantino's Reservoir Dogs), which ends confusing the viewer of the movie.
Fisherman's Friends works to understand where this folk music was generated and have some laughs in between. No more than that.
The movie treats their characters two dimensionally, it punishes the viewers who don't have the "language" to understand sea shanties and controlling every part, however small is, related to the music. In other words, this movie would not be a good first experience to sea shanties or this folk group.
The positive point is the beautiful photography of Port Isaac; through the beautiful location, the spectator can get a taste of the shirking coastal community and their folk tradition, the sea shanties, disappearing.