We search the city to find you the most authentic fare.
South East Asian cuisine is famous for its rich and exotic taste, courtesy to its indigenous spices. As a student from Indonesia with no culinery talent at recreating the dishes, I often find myself longing for food I am used to.
In bargain, I started visiting places in Cardiff that promise this experience. Below are the top five restaurants that I found, ones that will satisfy foodies and students from south-east Asia who hope for comfort food.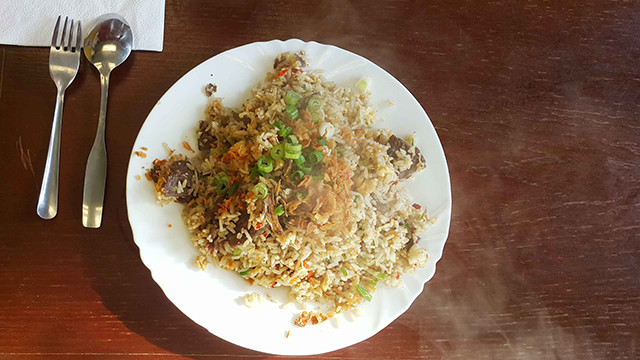 I first visited this restaurant on the recommendation of the old-timers at the university. Apparently, tthey were impressed by the Malaysian chef who creates an authentic Southeast Asian fare. The restaurant is unremarkable on the outside and is quite simple on the inside, with the capacity to accomodate less than 20 people. The kitchen is wide open and visitors may take a look at the cooking process.
I sat down waiting for my Beef Kuey Teow – flat rice noodles with mild chili and oyster soya sauce. With the first bite, I was surprised by the familarity of the taste. The chef was successful not only at recreating the sweet taste of the dish, he had also served it with a generous portion of the noodles and the beef.
I would also recommend Kampung Rice, a spicy Malaysian fried rice with shrimp paste and anchovies. It may look like a regular fried rice but the shrimp paste gives it a distinctly fragrant and rich taste.
Another dish I tried was the Oxtail Soup. Is the name of the dish meant to be taken literally? Certainly. This soup is made of cow's tail meat cooked with spices such as lime leaves and cherry tomatoes. It had a sour and salty taste, similar to the original. The dish comes with a bowl of rice and chilli paste. You can also ask for the complete set of Oxtail Soup, that comes with rice, chilli paste and scrambled eggs.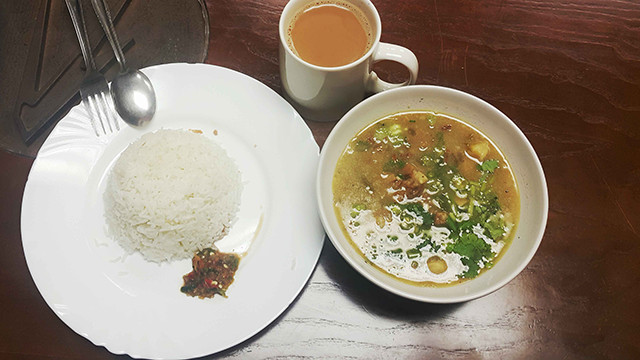 This restaurant is ranked on the very top for its authenticity, overall great taste and generous portions.
Price Range : ££
Opening Times : 12 pm to 11 pm, except Monday.
We recommend: Oxtail Soup
This was the first Thai restaurant I visited in Cardiff. On my first visit, I ordered basic dishes such as spicy and sour seafood noodle soup and beef pad Thai (fried noodles). The soup was too sour and salty, cooked with generous amount of noodles and fresh prawns. On the other hand, the Beef Pad Thai tasted sweet and though it is a fried dish, it was surprisingly not greasy.
On my next visit, I ordered Green Papaya Salad with one chili which consists of refreshing sliced green papaya, sliced carrots, cabbage, and fried nuts. The salad leaves you with tingling sour and spicy taste and works good  as an appetizer.
On the other hand, the special main dish is the Duck Yellow Curry. Although a little too sweet for my taste, the tender duck meat keeps you wanting for more. You can choose how spicy you want your dishes to be.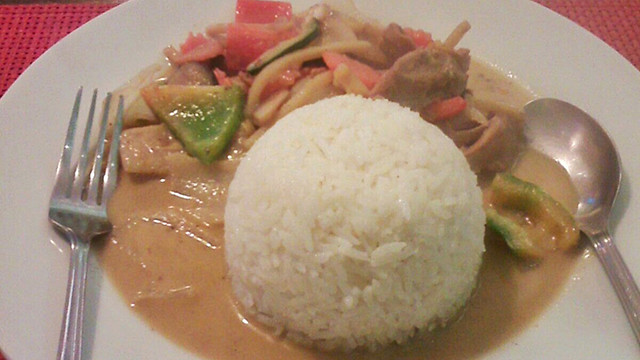 This restaurant is ranked second for its tasty dishes, especially the special dishes.
Prices: ££
Opening Times: 6-10 PM everyday
We recommend: Green Papaya Salad
Although it is a cosy, intimate place to be in, I wasn't too impressed on my first visit. I tried the two basic dishes: Penang Laksa (noodle in fish broth) and Beef Rendang (slow cooked beef in coconut milk and spices) and found them to be not quite up to the mark. The Penang Laksa tasted too bland and the Beef Rendang was too hard to chew.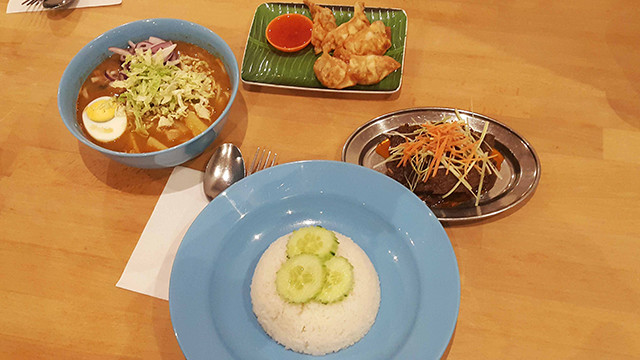 Only on my second visit, I tried Nyonya Chicken Rendang. It was similar to the Rendang I had before but the chicken worked quite well. It was well cooked and had a salty taste.
Another exquisite dish is King Prawn Okra Sambal, a dish made of prawns fried with okra, shrimp paste and chilies. It was rich and tasty, thanks to the combination of shrimp paste and chilies. It came with some of most  fresh, best-cooked shrimp that I have eaten in my time at Cardiff.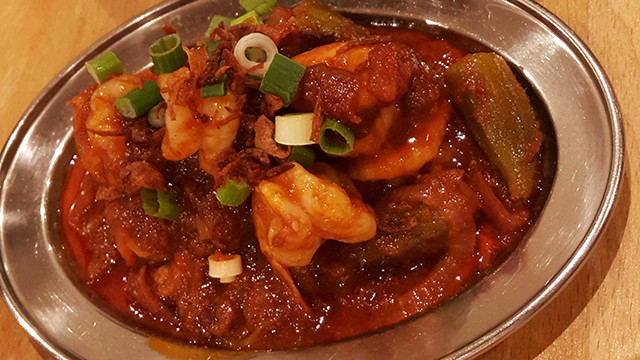 Price Range : £££
Opening Times: 12 pm to 3 pm and 6-10 PM every day, except Sunday
We recommend: King Prawn Okra Sambal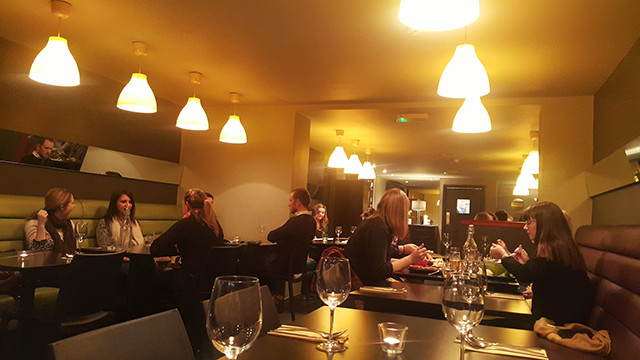 The restaurant looks bright and modern from the outside. Though it can only fit around 20 people, the stylish decor gives it a comfortable feel that makes you want to stay in for hours. I ordered Dom Yam Gung (spicy and sour seafood soup) and Kow Pat Boo (crab meat fried rice). The soup serves as an amazing appetizer. The soup was incredibly spicy because of the orange spices similar to the original soup I had in Thailand.
On the other hand, Kow Pat Boo, a specialty of the place looked promising, with crab meat fried rice accompanied by a piece of fried crab leg, spicy salty soy sauce, a piece of lime and green papaya salad. The fried crab leg had a good amount of meat and went well with the salty soy sauce. I wouldn't mind visiting the place again.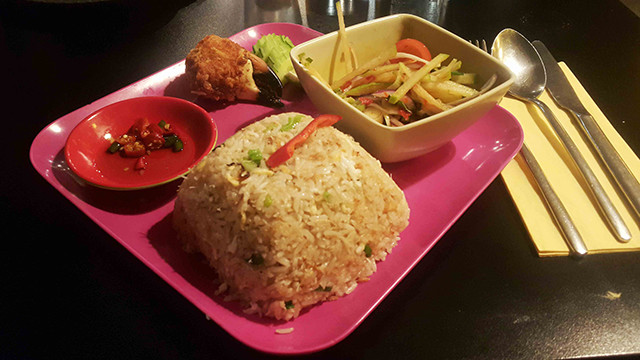 Price Range : ££££
Opening Times: 5 pm to 10 pm
We recommend: Kow Pat Boo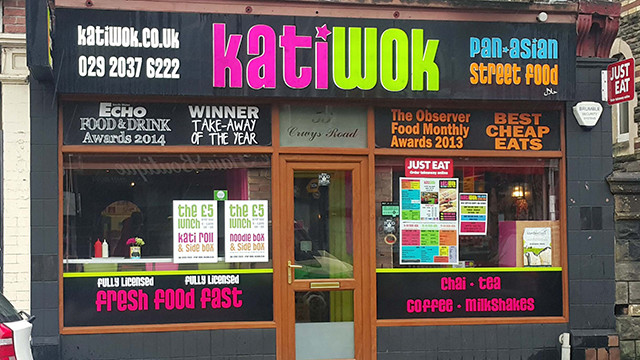 The fusion restaurant is quite colorful to look at. On my first visit, I ordered the Special Chicken and Prawn Fried Rice. My order arrived in take away box even though I was eating it in. The portion was quite big and had a sizeable quantity of meat. But the fried rice didn't have a distinct taste. It was quite spicy and a little too greasy.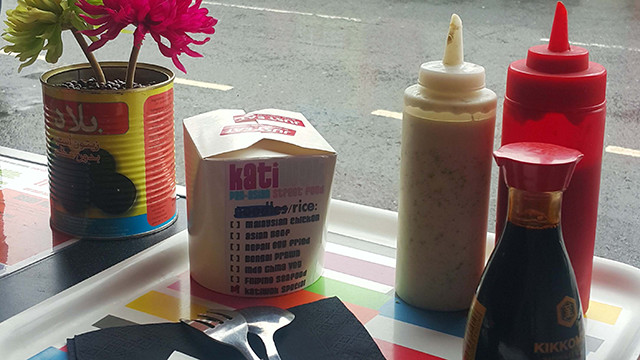 Prices : ££
Opening Times: 12 pm to 2.30 pm and 5-10.30 PM on weekdays, 12-11.30 pm on Saturday, and 12- 10.30 on Sunday. Closed on Monday.
We recommend: Chicken and Prawn Fried Rice