As Banksy's mural in Port Talbot paints a powerful message, let's take a stroll through his hometown of Bristol and the meanings his socially conscious street art contains.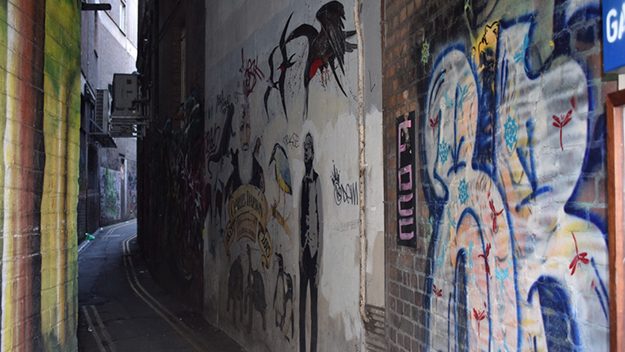 I stand at the first piece of street art painted legally in Bristol, silently witnessing a portrait of a man suspecting his wife of an extramarital affair. Traces of its long history of vandalism and subsequent cleaning are present in the spots of blue paint, a remnant of a paintball gun attack.
Chunyi, a student at UWE Bristol, and my fellow tourist, whispers to me "I used to live opposite this painting. Every morning, I would wake up and look at it, and try to find out what it meant." I nod at her briefly, but my eyes fall back on "Well Hung Lover", a Banksy classic.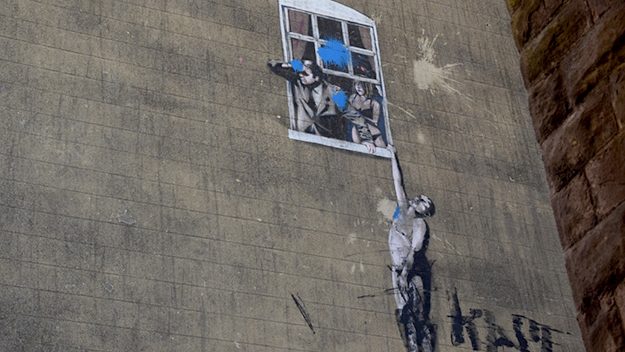 In December 2018, celebrated street artist Banksy visited the town of Port Talbot, Wales, and overnight, painted a mural anonymously– a child playing with snow, which on a closer look, reveals itself to be ash, perhaps showcasing the town's long history of industrial pollution.
Bristol, the city he calls home, has a reputation as the street art capital of the United Kingdom. With thousands of drawings, sketches, paintings, etchings and writings on its walls, it has turned several underground street artists into celebrities. I remember once being told that the city views its buildings as fresh canvases to give its street artists.
A fan of street art, one Sunday, I decided to go on a quest in Bristol to see as much of it as I can. I signed up for a street art tour, organized by "Where the Wall" (7.80), a reputed art tourism agency. 50 minutes from Cardiff by bus, and ten minutes' walk from the station took me to College Green, where my tour group met.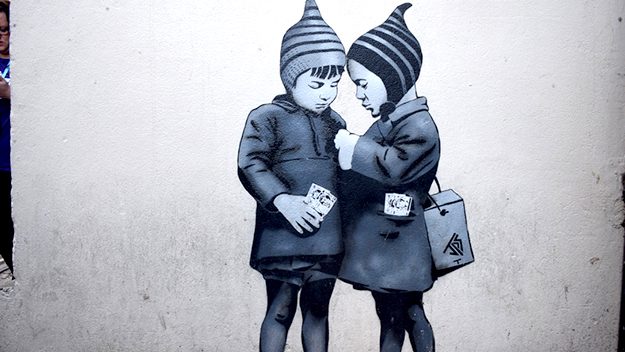 Our tour was conducted in a circle, starting from the Bear Pit, a haven dedicated to artists. As we began strolling down to Frogmore Street, a rush of excitement flows through me.
Camille Vansette, our tour guide, notices our fascination with the Banksy piece, the first stop on our tour, and says "Bristol's street art is incredibly interpretive. As I pass a piece of street art, I love trying to find hidden meanings and symbols in it, because most of them are so creative."
From there, we proceed two streets towards another memorable piece of art, 'The Big Deal' by JPS Stencils. A street artist who takes inspiration from both pop culture and his idol Banksy, showcases the hidden meanings in society through this seemingly innocent painting.
"He shows a pair of kids dealing cards, and aims to ask the question 'What is the big deal?' to the masses," says Camille.
Wandering a little further, we arrive at the Centerspace Gallery, the entrance of which is located through a labyrinthine tunnel of walls covered in artistic drawings and messages.I marvel sheer volume of colors and creativity that have brightened up the gray walls of the tunnel.
As we wander through the tunnel, I feel like an explorer. Each time I look at the tunnel, I see a new piece of art.  There are sketches in politically rousing styles, such as an etching of USA President Donald Trump in bright green with the letters 'KKK' on it, put up shortly after his election. On the floors of the tunnel, hidden in plain sight unless you look close, are small seals.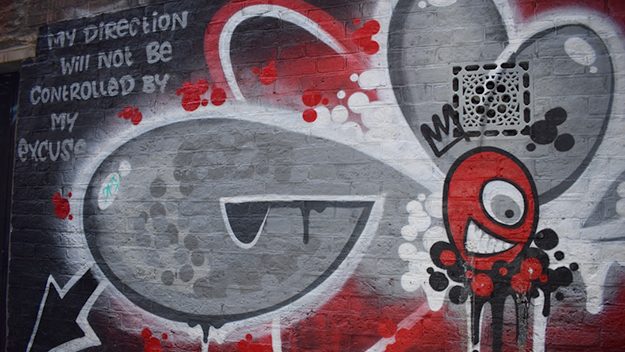 As a perfect symbol of the light at the end of the tunnel stands the motivational sketch, painted in bold red, with the words "My direction is not my excuse" – the artists' reassurance to society that nothing stands in the way of getting your goal..
We exit the tunnel, and walk across a square to the City Centre, under several arches that also feature graffiti. Our group continues to marvel at just how much the city has given itself to its artistic side.
We come to several pieces that are a legacy of Bristol's 2011 See No Evil festival, which commissioned street artists to paint on buildings all over the city. On a six-story-high building, I see a mother tenderly holding her child, in a painting by El Manc called 'Clothed Against the Sun.' Made in delicate concentric lines, it shines like a beacon against the sun. As we pass through the streets, I keep glancing back at it – it looks different from every angle.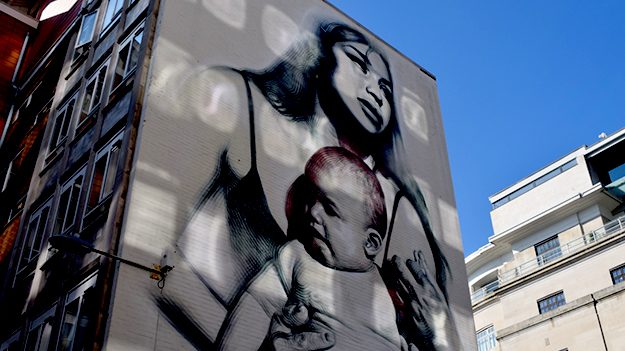 A building nearby holds Nick Walker's 'Vandal.' Walker, a pioneer of the 1980s Bristol street art movement, uses the painting to express his feelings about the financial crisis through the image of a man in a top hat pouring orange paint on the ground.
In the short walk to Bond Street, the images grew more and more poignant. On the walls of a tall building, produced by the artist after climbing to the top of the building opposite, is a beautiful representation of loneliness that is prevalent in today's society, personified through stick figures. "The Wolf", by El Manc stands nearby, showing a wolf struggling to break free of ropes, a stark reminder of the struggles that people face to break free from society.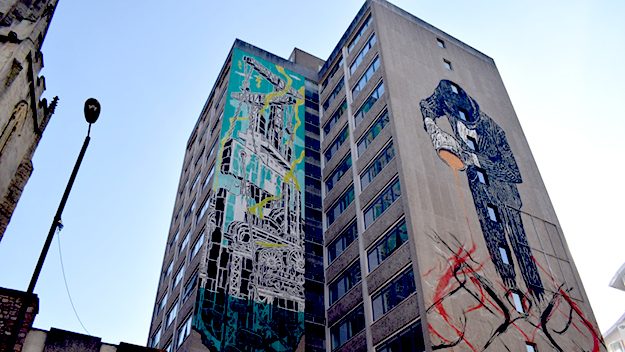 "The Vandal", by Nick Walker, attempts to describe his feelings on the financial crisis.As you arrive in Stokes Croft, the artistic quarter of Bristol, you can see a piece of street art on almost every wall, cleverly built into the exterior construction of the buildings. The Full Moon, a pub located close to the entrance, is covered entirely in ethereal drawings of the galaxy, encouraged by the owner. Artists such as SMAK, Sled One and Wents have made their name and home here.
The last stop of our wandering is another Banksy, 'The Mild Mild West.' Done in response to the 1990s police disapproval of Bristol's rave parties, it shows a teddy bear throwing a flame at three police officers. "It shows that art and the hipster movement would always be able to keep one step ahead of any attempts to stop it," says Camille.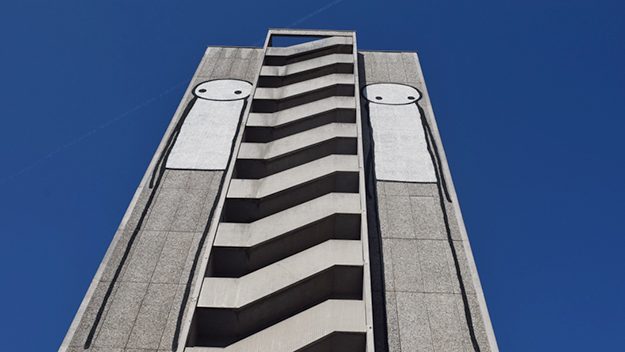 On every wall, there seems to be a message. Sometimes obvious, sometimes discreet, each of them are links in the circle that makes Bristol a paradise for art lovers. As I walk out near the Bear Pit to board my bus back to Cardiff, I feel satiated: my quest to see the city's soul is complete.