Put on a comfortable hoodie and head over to Hogwurst for a warm brew and some tasty treats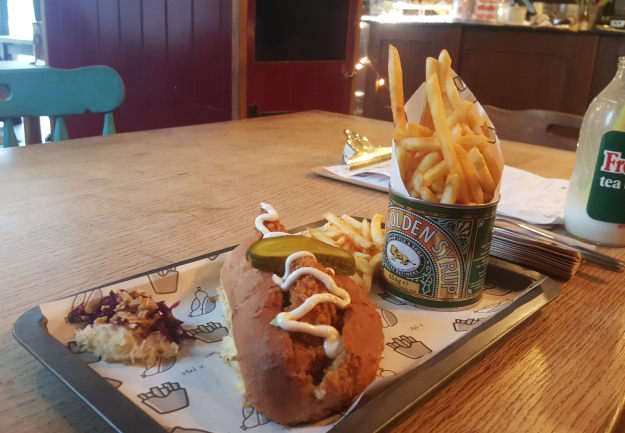 It's a rainy afternoon, deadlines are approaching and you're feeling hungry. Nestled in Cathays is Hogwurst, an independent café situated on North Road. Whether you're looking for a cheeky snack or a hearty meal, this café will have something to satisfy your appetite.
Hoggies was opened in 2014 by Hoa Dieu, out of his passion for food. The leading concept was to introduce an affordable gourmet hot dog to Cardiff for students to enjoy.
"The problem with hot dogs is that they had a bad reputation as the poor cousin to the burger, often served from jars and made from gristle and poor quality meat," says Dieu.
"Our meat content is 100% real meat. Our suppliers are true masters in their craft."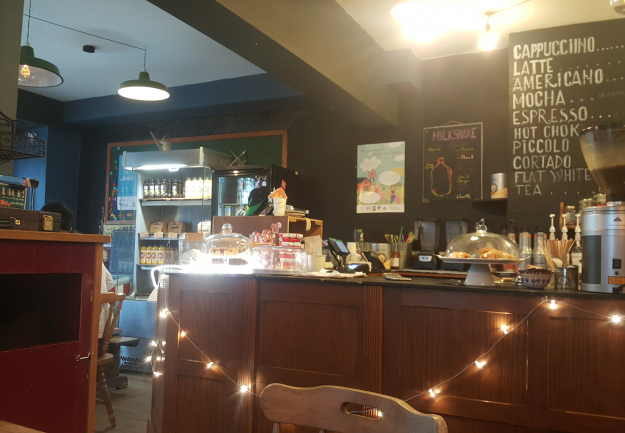 Board games sit in a pile near the window, on standby for a rainy day.
"The whole concept from the food to the individualistic decor is intended for an informal and casual experience," says Dieu.
"Nobbly chairs and kooky tables are what we are about. No table cloths and no snooty waiters, because we like to encourage interaction," he adds.
Hogwurst has become something of a de facto study centre. With fast WiFi connectivity and soft rock tunes playing in the background, Dieu's only regret is that he wishes the premises were bigger.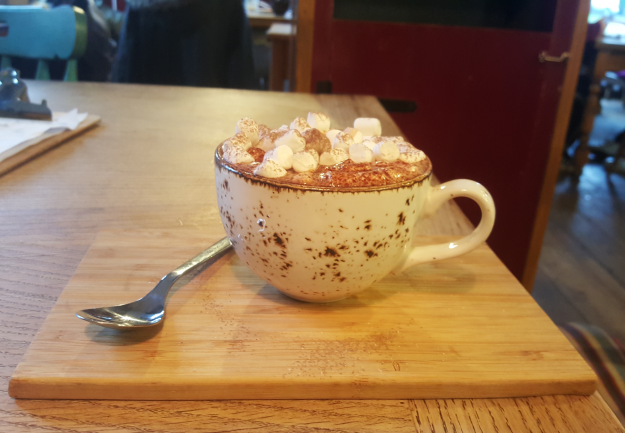 Billy is a chef and has been working at Hogwurst for a year and a half. He likes the close-knit working environment: "If this was in London, it would be full. There are only four of us working here full time; it's a very relaxed place to be."
Food options range from breakfast baps to Nachos.
Opting for the chicken mayo hot dog, the meal was served within 20 minutes. Portions were generous and the presentation was superb. The hot dog, salad and evenly-cut fries were placed delicately on a small tray.
The sweetness of the brioche bun complemented the chicken which was warm and flavoursome.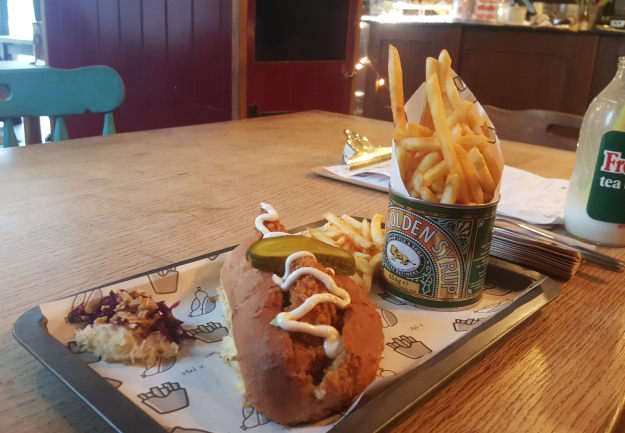 "The story of the bun is that it has to be pillow soft and fresh. In came Allen's Bakery, which has been there for over 130 years. They produce our brioche often baked at 6am and delivered to us by 10am ready for hotdogging. The two were meant to be together," says Dieu.
Milkshakes cost £3.50 and the choices are aplenty. Served in bottles with colourful straws, the shakes have a smooth consistency and sweet taste.
Prices are in the mid-range with most meals costing £8.50. This includes a hot dog, pickle and a choice of salted fries or salad.
Making a positive difference in the community is at the heart of the business as Hoggies donates £1 to the charity "Action Against Hunger" for every customer that orders the Frank and Bun hot dog.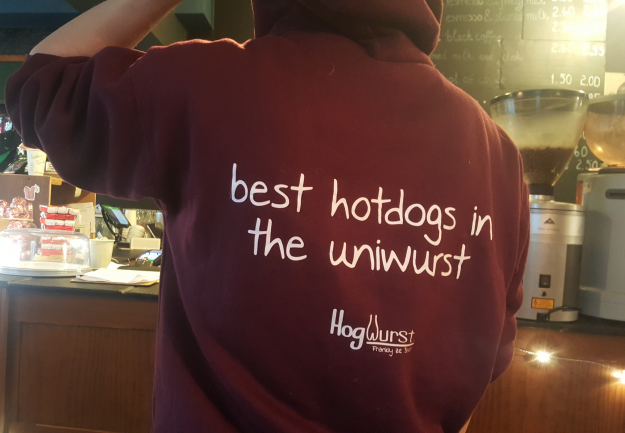 "Action Against Hunger was a great way for us to help through the medium of food," says Dieu.
"Many of our customers are international students and this reminds us of the wider world. We are fortunate here to have a plethora of food options. Some aren't so lucky."
"This is our way of recognising and appreciating what we have. Thanks to the generosity of our customers, we have raised hundreds of pounds so far."
There is a conscious effort to use recycled materials wherever possible. From the napkins to the tins used to serve fries, the café tries to operate in an environmentally friendly fashion.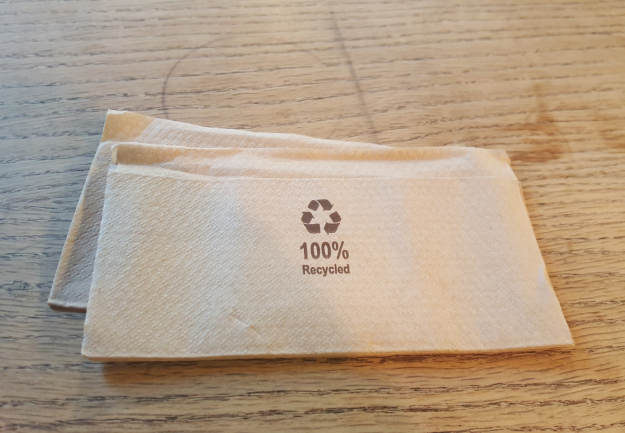 Running Hogwurst has not come without its challenges.
According to Billy, a difficulty for Hoggies has been visibility: "The Deliveroo guy's been lost for half an hour before. People don't really notice us. This is what busy looks like," he says, panning around to look at 12 customers sitting at the tables across from the bar.
Dieu mentions the café's conflict with local estate agent, CPS homes: "Over the last couple of years, CPS have hired a coffee van handing out free coffee in exchange for students details."
"It's been an ongoing issue with them; it's been going on for a few years now."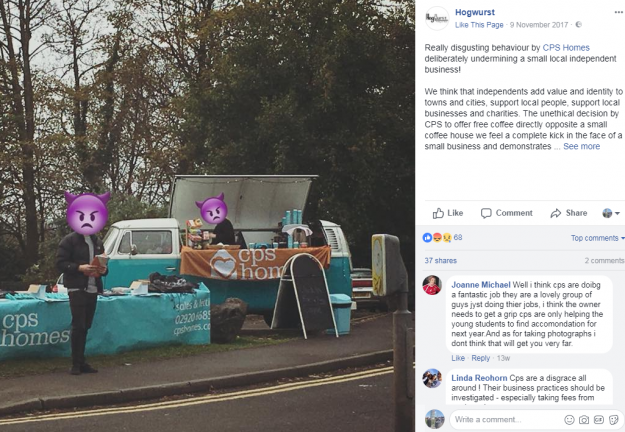 "The van is positioned directly across the road in the pub car park. Inevitably it has had a big impact on our café. We are a small community based cafe and question why CPS would want to jeopardise our existence."
Billy adds: "We've seen students start to open the doors and then they turn away when they see the free coffee."
"We've just gotten to the end of our tether with it. They have no concern for the impact it has on a business which not only serves the student population but employs them too," says Dieu.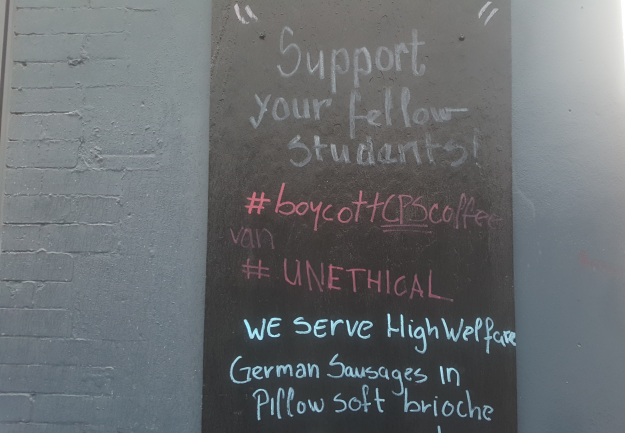 "We believe in consumer choice and the bettering of product…but their sole intention is to gather student details for direct marketing and as collateral, they have no concern for the impact it has on a business that serves and employs the student population," says Dieu.
"We don't mind competition but what we call into question are the ethical and moral standards of CPS in deciding to do this."
CPS were said to have been unsympathetic when confronted, and they have continued to periodically rent the coffee van.
Despite all of this, Hoggies continues to faithfully serve the student population by offering a discount of 10% off food orders.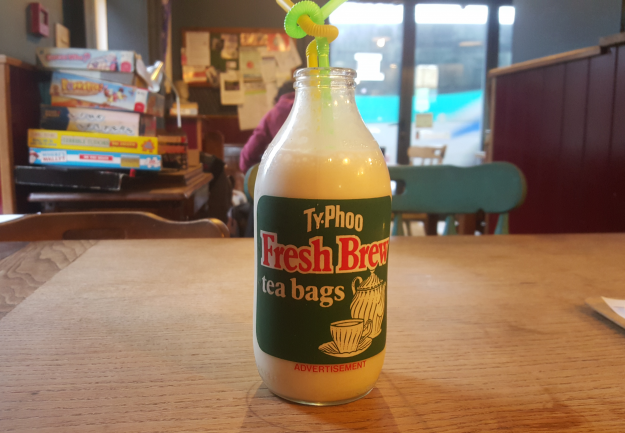 For a full look at the menu, click here
Hoggies is open daily from 9:30am till 10pm, and on Mondays from 9:30am till 6pm.
Check out their website by clicking on this link
A selection of 18 milkshakes are on offer, so why not give one a try?