Some unusually enchanting floral meadow paintings caught people's eyes on Dec 2nd in Penarth. Who is this artist?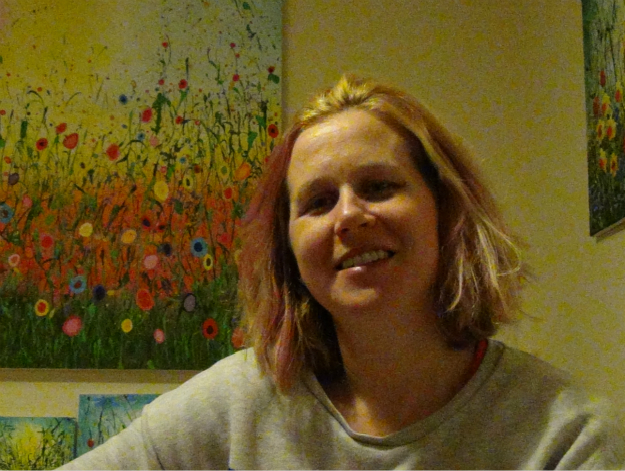 Sitting in a small room located on 138 Pwllmelin Road, which was used as both kitchen and studio with a dim light obviously inadequate for painting, Rachel recalled the experiences providing her with the very first inspirations, which traced back to her school years.
"There(In Aberystwyth University) I studied photography and portraiture and I enjoyed portraiture because it was a challenge to me, but I've always loved abstract art and impressionism. I love Monet, Pollock,
Martisse
, Kandinsky. I love all of those. I've always been drawn back to texture painting." Rachel regarded impressionism and cubism as the source of inspirations she drew on. As a consequence, her paintings epitomized abstractness, emotionality, and a touch of ethereality.
However, speaking of her present unique style, it is not just these traits of the artistic genres that make her works stand out. A friend's suggestion also played a pivotal part in the process of the formation of her unique style of artistic creation, acting as a beacon lighting up her advance.
"Last summer my friend asked me to do a meadow painting, and I agreed and I just fell in love with it, and I thought I do this for living. I really wanted to do meadows." Rachel shared the precious eureka moment of her art life with her face beaming with delight, looking at her works leaning to the walls with satisfaction.
"This painting has many layers, including the background,the meadow, the stems, the flowers, and the iridescent dots on the surface brightening up the whole work, so they are actually more complicated than it looks," Rachel pointed at one peace of her works," every piece is unique, as you can see, the flowers, the backgrounds, the atmosphere are all different from each other."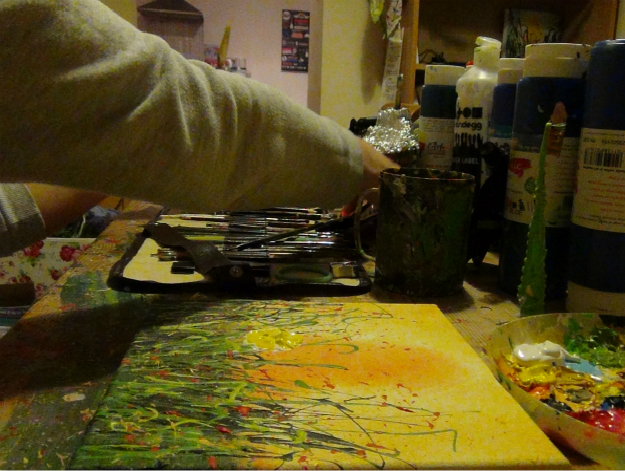 Nonetheless, when it comes to income, being an artist is always considered to be a great challenge. It is never a way to make a fortune, especially when the expenses on paints, canvases, brushes and the time spent on working and social media for self-promotion are taken into account.
Despite these difficulties, Rachel deems she can manage the operation of her industry well," Because I specialize in this style of paintings, people who want abstract flowers come to me directly with a list of things for commission, which is usually like what I do anyway. I have got two regular customers."
Such a lush day, most important day for me so far in my art adventure, thank you @galleryllanelli for displaying my work for sale ?? pic.twitter.com/SgMlSMMa8o

— Artist Rachel Trott (@Artistrachtrott) 7 October 2016
Nevertheless, as is widely acknowledged, it has been a baffling knotty problem for perseverant and original artists to guarantee the balance between artistic creation and life. As for Rachel, the situation seems to be even harsher, as she has three kids with the eldest child being 8 years old.
"I work in evenings to balance looking after the children and in daytime. " Moreover, the love for kids is also reflected in her plan for her industry. "I am gonna do art workshops for children, especially disabled children. So they will come here and I will teach them either meadow art or a certain type of technique."
Against this back drop of fast-paced living, being an artist has becoming increasingly difficult, as the gap between the aspirations and the reality is expanding. According to the hardship young artists are facing with, Rachel commented, "You've got to be determined, to paint till you are tired, because you just have to keep going. For everything, you have to be 100 percent into it."
"Sometimes I'm sitting here, putting paints together, and I'm so tired. However, I love it, as this is sort of a psychological therapy to me. You have to bridge the gap on your own, as no one will do that for you." Additionally, Rachel shared the words she lived by, "There's no such word called can't".
Talking of the prospect, Rachel said with a yearning tone, "Actually I have a ten-year plan. In the next few years, I want to get well-known in Wales. As for the ten-year plan, I want to build an orangery, which is like an extension on the house to get more daylight in to paint, goes out and has a large glass roof."
Although he orangery she depicted made a sharp contrast to the makeshift studio suffused with shadows, surrounded by her art works in a tiny room, Rachel never restraints herself in the current situation, always pursuing her dreams with perseverance.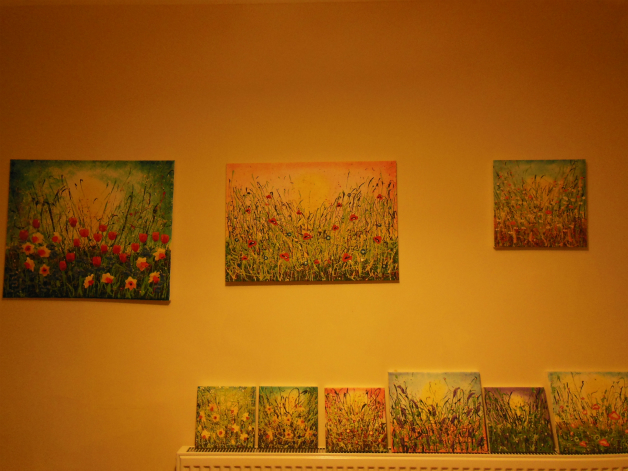 A famous saying by Frida Kahlo, a world-renowned female painter, offers a vivid depiction of Rachel's meadow flowers."I paint flowers so they will never die".